You are most likely very busy eyeballing all the crazy best Black Friday deals and I don't blame you, some of the deals are jaw-dropping. You expect Amazon to go low on the prices but these offers make you wonder what profit can actually be made on the products.
On the other hand, a lot of other retailers are equally as busy trying to undercut the online giant with their offers.
This Oral-B Pro 3 toothbrush deal is just as phenomenal as the features of this toothbrush. It doesn't have any of the 'smart' features that more expensive brushes have, but that's okay, because I think those features are largely useless anyway.
What the Oral-B Pro 3 brush does have is three different brushing modes for the most complete cleaning action yet, as well as a built-in pressure sensor that slows the brush down to minimise gum damage from over-brushing.
Of course, it's always worth noting that using an electric toothbrush instead of a manual one has many benefits. The oscillating, rotating and pulsating movements remove up to 500% more plaque, making your teeth feel clean. It is especially beneficial to use electric toothbrush for people who drink tea or coffee more often.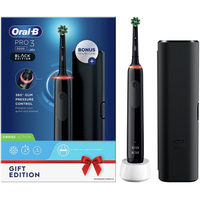 Oral-B Pro 3 Electric Toothbrush: was £89.99, now £39.60 at Amazon
The sleek handle of the Pro 3 electric toothbrush helps you brush like your dentist recommends: It helps you brush for 2 minutes with the professional timer and it notifies you every 30 seconds to change the area your are brushing.
Looking for something a little more expensive? Check out all of the Oral-B deals at Amazon now.