Do you ever have those days when you wish you could just go back to being a child? No responsibilities, not a care in the world... and a hot pink ride-on Lamborghini Urus!
That third one might have caught you by surprise, but that too could be part of your kids lives, thanks to a stonkingly good deal at Walmart. The stylish ride-on car is perfect for budding drivers of all ages – well, mostly those that are still in single figures, sadly.
As if it wasn't cool enough on its own, it's better than half price right now. You can pick one up for just $179.99 at Walmart!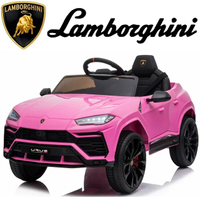 Lamborghini 12 V Powered Ride on Car: was $369.99, now $179.99 at Walmart
Save $190 on this awesome Lamborghini Urus ride-on car. It's perfect for kids who want to get around in style, and can be remote controlled, or driven in a more traditional way when the little ones are big enough to reach the pedal.
You're certain to have the coolest kid in the cul-de-sac with this. It's an officially licensed product, too, so you'll get the proper Lamborghini badges. My pick of the bunch is definitely the none-more-Barbie pink, though other finishes are available.
It can be used in two ways. For younger users, you can control the vehicle remotely. That gives access to three different speeds, plus a reverse and an emergency brake.
For those who are a bit older, the car can be used in a more traditional way. A foot pedal controls acceleration, while the steering wheel allows them to change direction. It's an EV, too, so no stick shift to worry about...
There's even – and no, I'm not kidding – a multimedia system built-in. That includes an MP3 player, with a USB input and buttons to control playback.
It's got stacks of safety features on board, too. There's a seatbelt to ensure they stay put, while doors on both sides of the cabin lock in place.
As these kinds of deals go, this is a pretty great one. You're saving $190 against the list price, making this a relative bargain! Don't hang around though – these deal windows are limited and they certainly won't stick around for long.