Conflict, desperation and epic battles over hastily built structures. Monopoly and Fortnite have a lot in common, so it's easy to see why the two have teamed up. Amazingly, it's now 45% off as well for Amazon Prime Day, so you won't need a Loot Llama to afford it.

This isn't just a re-skin of your grandad's Monopoly either. It comes with its own unique mechanics. Fight your friends and family for ownership of your favourite Fortnite locations like Tilted Towers, Loot Lake and Haunted Hills while dodging the signature Fortnite storm.
With loot chests, buildables and a head-to-head battle die, this is undoubtedly a Fortnite-style battle royale. Unlike traditional Monopoly which can drag on for days, this edition has a more definitive endgame. Instead of money, players have HP and the last one standing is the victor.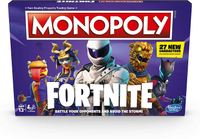 Hasbro Monopoly, Fortnite Edition: was £27 now £15.40
Whether you're sick of regular Monopoly or looking for a way to get little ones playing together, this is a great game for a family game night. With a Fortnite twist on the world's most famous board game, how could you go wrong?

If there's one thing Fortnite is famous for, it's skins, and this game doesn't disappoint. No longer will someone be left with the top hat or the iron. There are 27 different 'skins' for each player's piece including some of your favourite Fortnite characters.
Those who love Fortnite, or who have little ones that they want to play together with should seriously this 2-7 player game for a rowdy family game night. It starts with Fortnite Monopoly, and then maybe one day you'll be playing Settlers of Catan together. Parents, it might just spare you a night of being begged for V-Bucks.