With Amazon Prime Day looming ever closer, it's time to get the magnifying glass out and trawl through to find the best deals. It's what we do best here at T3 Towers, with decades of deal hunting experience to ensure you spend your hard-earned cash in all the right places.
One of the staple products on a big sales event like this is a big TV. They always seem to attract some really decent discounts, meaning you can add some quality to your home entertainment setup for less.
That's exactly what we have here. This 65-inch TV from Panasonic enjoys an early discount, taking the price down to just £579.99 at Amazon. That's the lowest price we've ever seen for this TV!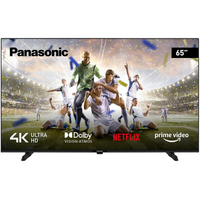 Panasonic TX-65MX610B: was £699.99, now £579.99 at Amazon
Save £120 on this 65-inch Panasonic TV! You'll enjoy 4k picture quality, Dolby Atmos and Dolby Vision for sumptuous audio and video, and you'll get Google Assistant and Amazon Alexa built-in!
For that money, you're getting an awful lot of TV. That's true physically, first and foremost. The 65-inch LED panel should be more than capable of filling your room with quality content.
It's also true elsewhere. You'll get a duo of smart assistants – Amazon Alexa and Google Assistant – built in, offering intuitive, hands-free control of your TV.
You'll also find all of the best streaming services available on the TV. Users will enjoy native access to platforms like Netflix and Amazon Prime, meaning there's no need to purchase any extra devices to watch your favourite shows.
Gamers aren't left out, either. While a 60Hz refresh rate might not quite match the best gaming TVs on the market, an integrated Game Mode reduces input lag to ensure all of your button presses happen instantly. That should be more than enough for most people.
Plus, with Dolby Atmos technology built in, you'll find a premium audio experience available right out of the box. Add in image standards like Dolby Vision, HDR10 and HLG, and you'll have a sumptuous audio-visual experience without having to add in anything else.
We're hoping this deal will last throughout the Prime Day sales period, but it's not guaranteed. If you're interested in picking one up, don't delay!