If you're like me, you'll be wondering why you're still feeling so sniffly long after allergy season is supposed to be over. All of my friends are currently leaving the house tissue free and without an antihistamine in sight - it's simply not fair. After a bit of research, I realised that allergy season was not contained within the time frame that I thought it was. It turns out that whilst trees are usually done with their pollen shred by late spring, plants such as grass and weeds are to blame for triggering summer allergies. Every day's a school day, right?
​​If that wasn't enough, there's also evidence which proves that summer air pollution can make allergy symptoms worse. When the air is warmer and more humid, it becomes easier for allergens to float around inside or outside of your home. However, after an uncomfortable few weeks, I've managed to find 5 different products that have helped me overcome the worst of my allergies. Find out what they are below so you can relieve your symptoms as well.
Before we begin, these tips on how to allergy-proof your home might also be useful!
1. Facial Steamer
Using a facial steamer will immediately warm up your respiratory system and soothe your sinuses. A short 10-minute treatment will help reduce wheezing, coughing and congestion, helping you breathe easier and cope with your summer allergy symptoms better. I found that using my steamer in the morning really set me up for the day, clearing my sinuses before I even stepped out of the door. This top-rated facial steamer is currently reduced on Amazon: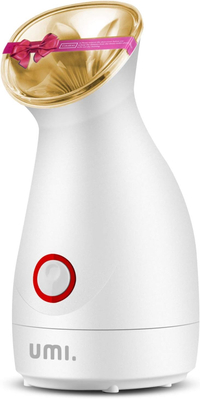 2. Air Purifier
Air purifiers are a great choice for people with frequent allergies, particularly when they come with HEPA filters that use purification ingredients to help filter out the allergens. They're particularly good if you suffer from allergies at night as they help cleanse the air in the daytime, leaving your sinuses nice and clear when you go to sleep. Using an air purifier has shown me how much I was affected by my allergies at night, so I'd really advise trying one out. Have a look at our 2023 list of the best air purifiers for some recommendations.
3. Barrier balms
Allergen barrier balms are wonderful for those who extremely suffer with airborne allergens. By applying the balm around the rim of the nostrils and the eye sockets, it traps allergens before they enter the body, helping to keep sufferers below their trigger level.
HayMax, maker of the famous organic allergen barrier balm, make some great natural balm options. My favourite is the Pure blend as I preferred the unscented version, and it stopped my eyes from itching almost immediately! They've also just received Best Allergen Barrier Balm Company 2023 in the UK Enterprise Awards 2023. You can buy their pots on their website for £8.49 each, as well as Holland & Barrett, Ocado and selected Superdrug and Boots.
4. Allergen-free duvet
'Allergen-free' or 'Anti-allergy' means that the pillow or duvet has been treated in some way to combat the development of dust mites or offer protection against other allergens. Sometimes, certain natural materials are used that are capable of repelling dust mites and fungal spores, keeping them away from your bedding instead of trapping them in. This is another effective way of keeping my allergy symptoms at bay during the night, vital for getting a good night's sleep. Read our article on how to choose the best duvet for allergies for more information!
5. Essential oils
Essential oils are a wonderful alternative treatment for allergy symptoms, especially if you're looking for something a bit more natural than over-the-counter drugs. The oils are derived from plants and you can apply them in many different ways, concentrating on the areas that you're specifically struggling with. Eucalyptus, lavender, peppermint, rosemary, frankincense, lemon, and tea tree scents are all wonderfully helpful for allergies. I just pop whatever fragrance I'm feeling into my essential oil diffuser and it clears my sinuses and makes me feel more relaxed. Make sure you read your 2023 list of the best essential oils so you know where to start.
Hopefully those 5 products will help you if you're struggling as well! If you're interested in finding out more, why don't you have a read about the different foods you can eat to help relieve allergy symptoms?