If you're on the hunt for a foldable phone, you'll know they don't come cheap. They're often more expensive than comparable slab phone counterparts, making it tough to justify for many.
Fortunately, Amazon Prime Day deals exist – and they've got us covered. They've got an unbelievable deal on the Samsung Galaxy Z Flip 4 – arguably still just about the best flip phone on the market.
Right now, you can snag a Z Flip 4 for just £599 at Amazon – that's a saving of £400! It's sure to be the best deal you'll get on a flip phone for a while, and you're getting a top model for that money.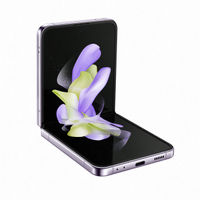 Samsung Galaxy Z Flip 4: was £999, now £599 at Amazon
Save £400 on the Samsung Galaxy Z Flip 4 this Amazon Prime Day. You'll get one of the best foldable phones on the market for a massively reduced price! Party like it's 2003.
The Samsung Galaxy Z Flip 4 is still one of the best-regarded flip phones on the market, despite having much more competition than it has in the past. The device packs a Snapdragon 8+ Gen 1 processor, for nippy performance across the board.
You'll also find a fairly capable camera setup which will do the job for all but the most professional of phone photographers. Plus, thanks to the folding nature of the device, you can use the rear camera to snap high-quality selfies.
When we tested the Z Flip 4, our reviewer was impressed with the battery life and the sturdiness of the build quality. That's important. Foldable phones have gained a slightly unfair reputation for being fragile. While that may be true of some models, our testing with this found it was more than capable of holding up to the rigors of day-to-day use.
At £599, this is likely to be one of the best deals you'll see all day. That's firmly in midrange phone territory, and is a great price for a whole lot of phone. I can see this one selling out pretty quickly, so don't hesitate if you're interested – you might even see me in the queue, too!