You're in the right place if you're looking for the lowest prices on the best Nintendo Switch game deals. The Nintendo Switch has seen Nintendo's reputation improve dramatically after the disappointment of the Wii U and we're seeing a strong line up of games on a regular basis now, even if the chart toppers are often familiar faces.
The Nintendo Switch was originally incredibly difficult to find in stores or at online retailers, bit the Japanese giant seems to be able to meet demand on a regular basis now and the portable console hybrid has easily passed the lifetime sales of the Wii U already. In short, it's the console everyone wants nowadays.
#1: Mario Kart 8 Deluxe deals
Mario Kart 8 Deluxe is a regular favourite all year round and we're not surprised to see it sitting at the top of the charts once again. This remaster of the Wii U original, missed by many who never bought that console, has been given a second life on the Switch and it looks absolutely gorgeous. Better yet, you're getting all of the premium DLC included for no extra charge. As multiplayer titles go, you'll struggle to find one that you'll keep coming back to as much as Mario Kart 8 Deluxe.
#2: Super Mario Odyssey deals
We've come a long way from Mario 64 back in the day (1996! Can you believe that?) and Super Mario Odyssey's collection of open-worlds are an absolute joy to behold. Mario's picked up a few new skills too, or his hat has. For reasons best left explained by the game, Mario's hat can now possess other lifeforms. Mario can even throw the hat to create an extra platform in the air. So if you want to find out why this is yet another Nintendo Switch game with a huge 97 score on Metacritic, be sure to check out the latest prices below.
#3: The Legend of Zelda: Breath of the Wild deals
Wii U owners were waiting forever for this game and it ended up being a launch title on the Nintendo Switch at the same time it arrived on the older console. It's been a strong seller ever since and has crept back into the top three of the charts over a year after its original release. A feat undoubtedly helped by that astonishing 97% Metacritic score. Sadly, this relentless popularity also means prices have stayed high, although you're saving a bit over the super high launch prices at least.
Bonus Round! Nintendo Labo deals
Let's face it, all the games above have been out for a long time now, so what about something new? Something a little outside of the box? Something you'll have to assemble yourself before you play with it? Ladies and gentlemen, boys and girls, can we introduce you to the world of Nintendo Labo?
Nintendo Labo comes with software and multiple sheets of robust cardboard shapes that you use (via onscreen instructions) to build new 'Toy-Cons' that you can slot your Switch controllers into. These include an RC car, piano, motorbike handlebars, a fishing rod and more in the Variety Kit. The Robot Kit comes with a large number of accessories for you (yes, actually you) to dress up as a robot so your in-game avatar can stomp around a city in the bundled-in minigames. Expect this to be huge by Christmas.
Nintendo Switch bundles of the week
Nintendo Switch | Super Mario Odyssey | £299.99 at Currys
Super Mario Odyssey's consistently high price makes it a relatively expensive purchase for any Nintendo Switch owner. But if you're yet to buy the console, this is the bundle to go for as you're essentially getting the game for just £20 on top of the console's base price.View Deal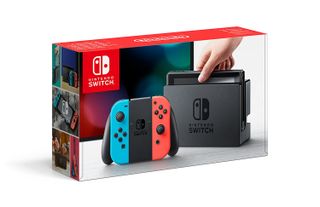 Nintendo Switch | carry case | play stand | $318 at Amazon
There aren't too many bundles to choose from in the US this week, but this one is the pick of the bunch. You're getting the neon version of the console with the red and blue controllers, a carry case and a playstand. Essential bits of kit if you're thinking of using the Switch away from the TV.
View Deal