When it comes to the best smartwatches there's one obvious winner for me: the Apple Watch. But I've found, as per so many of my friends, that once you've bought one there's often little reason to upgrade from generation to generation.
However, now the time has come, partly because I'm in the market for a new Apple Watch as a birthday treat, partly because this Memorial Day deal on the Apple Watch Series 8 has appeared – offering a solid 18% or $70 discount at Amazon.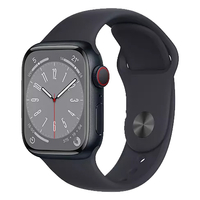 Apple Watch Series 8 (41mm): was $399, now $329 at Amazon.com
When it comes to the best fitness and smartwatches out there, there's no competition for me: the Apple Watch does it best. And the Apple Watch Series 8 looks super-smart when doing it too. I don't personally need the new temperature sensor feature addition on the Series 8, but know many friends who want this sought-after feature.
Yes, you'll note it's for the 41mm version of the Apple Watch 8, not the larger 45mm version, so it's a good discount for those with smaller wrists. I just about fall into that category, though, and don't like to wear larger watches as I find them too distracting. But do measure if it'll fit your wrist before buying!
The Apple Watch Series 8 adds a temperature sensor and Crash Detection features compared to its Series 7 predecessor, so you may find that one or both of those aren't deal-breakers for you. However, I'd not owned the Series 7 either, so this double-jump to the latest model is the best fit for me.
And, no, it's no Apple Watch Ultra: but I personally find the larger, sportier version a bit too big and chunky for my taste. So I'm happy to find that middle ground – and at this price point, especially this weekend, that seems like great value.