I've just found an early Black Friday deal on the 5-star Gozney Roccbox. The dual-fuel pizza oven is now 20% off in the Gozney Black Friday sale, with this price cut taking it down to its lowest ever price.
Originally priced at £399, the Gozney Roccbox is now £319.20, saving shoppers £79.80 (20%) on this premium pizza oven. Gozney deals are few and far between so if you've wanted to get your hands on a discounted Gozney Roccbox, this is the deal I'd choose.
The Gozney Roccbox is one of the best pizza ovens on the market today, specifically for its portability and dual-fuel power. The restaurant-grade pizza oven comes with a propane gas burner as standard but can also be used with wood with the detachable wood burner. It can reach temperatures of up to 500°C to make delicious and authentically-flavoured pizzas, which is just one of the many reasons T3's reviewer gave it 5 stars in our Gozney Roccbox review.
To view the Gozney Roccbox deal, click the link above or keep reading for more deals from the Gozney Black Friday sale.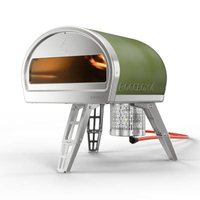 Gozney Roccbox: was £399, now £319.20 at Gozney
Get 20% off the Gozney Roccbox in the Gozney Black Friday sale. This 5-star pizza oven has a compact and stylish design which is easily portable, thanks to its retractable legs and detachable burner. It has a built-in thermometer for better heat control and comes with a pizza peel to remove and rotate your pizza from the mouth.
The Gozney Black Friday sale is running from now until 14th December 2023, giving you plenty of time to find low prices on pizza oven essentials. The sale also has pizza oven accessories deals, which can be used with all Gozney pizza ovens, including the Roccbox, the award-winning Dome and the new Dome S1.
The best deals I've found on pizza oven accessories include the pizza rocker which is now just £28 and offers a quick and professional way to cut your pizza.
If you're treating yourself to the Gozney Roccbox deal, the Roccbox cover is 20% off and ensures your pizza oven is well protected from the elements.
For more Roccbox accessories, the Roccbox turning peel lets you slide and turn your pizza for better coverage and cooking performance, and is now just £39.20.