If you're a serious gamer then one controller just won't cut it. One of the best things I did after buying my PlayStation 5 console was to add a second DualSense Wireless Controller (plus the DualSense Charging Station, another essential!) so I could always rotate controllers with full battery power.
If you've still not got yourself a second DualSense Wireless Controller for your PS5 then, well, now is the best time yet to do so. That's because UK retailer Argos is selling the official controller in its original white finish with a full third off the asking price. But you'll need to be quick, as the suggestion is that this deal will be dead and done by Thursday 10th August.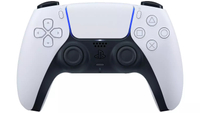 Sony PS5 DualSense Controller: was £59.99, now £39.99 at Argos
With a massive 33% off the white-finish official PlayStation 5 DualSense Wireless Controller you'll want to snap up this deal quick. It's thought to only be on offer until 10th August at Argos, which is currently offering a lower price than any other retailer online – as you can compare and verify in the live shopping widget embedded at the bottom of this page.
If you're not so into the white finish then Argos is also offering a third off the price of all the other options too: there's Camo, Blue, Pink, Red, or Black options. However, these colourways are all originally priced at £64.99 (so a fiver more than the white), with the discount taking them down to a decent £42.99 (so £3 more than the best offer).
And while this deal isn't for the pro-spec Sony DualSense Edge controller – that's more than five times the price, costing over £200 even at Amazon's best price, yowch! – I find using the 'standard' official DualSense controller is still one of the best console gaming experiences you can have.
Especially when the PlayStation 5 is a console with so many superb games. We've seen plenty of bargain titles pop up for sales periods, and with titles such as Horizon: Forbidden West dropping in price, or the massively overlooked Sackboy: A Big Adventure (which absolutely requires two, three or even four controllers!) also getting price-crunched, nabbing that extra official controller at this price is a savvy move indeed.