When it comes to the best cordless vacuum cleaners, vacuuming and mopping aren't usually two words that are heard in the same sentence. There are cordless floor cleaners out there that are able to do both, such as the Eufy MACH V1 Ultra, but mopping features have typically been swept up by the robot vacuums in recent years.
It was announced yesterday that Proscenic are aiming to change that perception with the launch of the P11, its first 2-in-1 cordless vacuum cleaner and mop. Designed to cater to the evolving needs of modern households, this cutting-edge appliance is more than just a vacuum cleaner, bringing an unparalleled convenience and efficiency to the daily cleaning routine.
PROSCENIC P11: PRICE AND AVAILABILITY
In the US, the Proscenic P11 is currently available on Amazon for $199.99. Buyers can currently apply a a $50 coupon and an exclusive $10 code (using the code 5U4VVSWH) which expires on September 30th. This makes it $139.99 altogether
For those of you in the UK, it will become available in early October for £179 with an additional £20 coupon, making it £159 in total.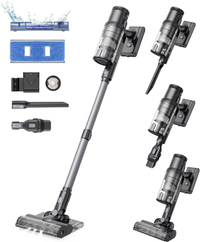 PROSCENIC P11: FEATURES
Mopping
The Proscenic P11 Mopping's standout feature is its detachable mopping base, which allows users to effortlessly switch between vacuuming and mopping in a single device. With a generous 340ml water tank with four outlets and 270-degree swivel steering, it easily navigates around obstacles while providing ample water for comprehensive and uniform floor mopping.
Impressive suction power
With a robust 400W digital motor and 35kPa strong suction power, the P11 is able to handle all kinds of dirt, debris and even pet hair. It can excel on various surfaces, including carpets, rugs and hard floors.
Lightweight and versatile design
At a lightweight 5.2lbs (2.4kg) in weight, the P11 is designed for ease of use and portability. Its unique convertible design allows it to transform effortlessly into a handheld vacuum with versatile attachments for tackling stairs, cars, furniture, and more. Thanks to an ergonomic design and an optimised centre of gravity, it offers a lighter feel during extended cleaning sessions, making it ideal for whole-house cleaning tasks.
LED display and touch panel
Another thoughtful feature is the onboard colour LED display and touch panel, which provides an intelligent cleaning experience, allowing users to monitor battery levels, choose from three cleaning modes, and receive error messages at a glance. It's also equipped with powerful LED lights and a multi-surface brush, allowing it to reveal hidden debris which significantly improves cleaning efficiency. No more missing dirt in those hard-to-see corners!
Removable battery
The removable battery offers flexibility in charging, whether users choose to mount the vacuum cleaner on the wall, inside a closet or simply lean it against the wall to maximise space. Enjoy up to 50 minutes of continuous cleaning without the need for recharging.
Five-layer filtration system
Proscenic's commitment to cleaner homes extends beyond just floors though. The P11 Mopping features a five-layer whole-machine filtration system, capturing an impressive 99.99% of dust particles. The washable filter reduces waste and ongoing costs, while one-touch dustbin emptying ensures users never have to touch the dirt itself. This advanced filtration system helps keep homes fresh all year round and maintains a hygienic living space.
The Proscenic P11 Mopping Vacuum Cleaner is ideal to cater for the needs of modern families, especially those with children and pets who demand a clean and healthy living space. It's the ultimate cleaning solution that combines power, convenience, and versatility to meet most users' floor cleaning needs. Grab yours on Amazon now before the discount expires, and set your alarms for next month if you're in the UK!
Looking to do a bit more research? Read our comparison piece between cordless vacuum cleaners and robot vacuum cleaners for more information!