I've been lucky enough to review some of the best OLED TVs in 2023 – and while at the high-end the likes of LG's G3 OLED are super impressive, if you're looking for one of the best TVs under £1000 instead, then the new LG CS model has just had a price cut.
That's to say: the LG CS OLED in 55-inch form now has £500 off its retail asking price in the UK, bringing it down to an appealing £999. That's less than you'll pay for the older yet similar LG C2 OLED, which is often regarded as the best OLED TV for most people.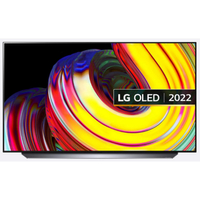 LG GS OLED 55-inch: was £1,499, now £999 at Amazon.co.uk
The 'CS' variant of LG's OLED TV line-up for 2023 isn't as bright as its higher-end cousins, but it's still a great display and for a chunk of cash less than the premium sets demand. The £500 off the 55-inch model makes for a very fair asking price indeed.
So what's the big difference between the LG CS OLED and LG C2 OLED? It's all about the 'Evo' panel being absent in the former, which is why it's the cheaper of the two, despite being newer. No Evo means not as much brightness overall.
But I think for most people in dark room conditions, where OLED's self-emissive technology can really show-off its perfect high-contrast output, you're really not going to suffer significantly by foregoing the Evo panel.
If brightness is what you're all about, however, then nothing can beat the LG G3 OLED, which is the best traditional OLED TV of 2023. So if you're looking for a wall-mount option to grace your living room this year and have access to much more cash then this model is well worth considering. For the rest of us, however, the LG CS is a great stand-mount alternative for a sensible asking price.