There's no better time to buy new technology than Black Friday. Multiple retailers offer impressive discounts, making it less wallet-intensive to pick up new goodies for you or your loved ones.
Don't think you have to wait until the event to get the bargains, though. Those tend to start in advance of the event itself, giving users an early chance to get a bargain. And for those of you on the hunt for a great Android phone, that's what I've found today.
The Nothing Phone (1) is one of our favourite handsets here at T3. It offers a no frills experience in a stylish package – and right now you can snag one for just £279 at Amazon!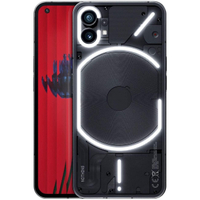 Nothing Phone (1): was £399, now £279 at Amazon
Save £120 on the impressive Nothing Phone (1). You'll get a capable Android phone with a quirky design – all for less than £300! That sounds like a no brainer to me.
You're getting a whole lot of technology for that price. In actual fact, the Phone (1) always represented a pretty good value offering, even at the retail price. Saving over £100 on that makes this incredibly attractive, and should place it near the top of your shopping list.
You'll find 8GB of RAM and 128GB of storage on offer here. If that doesn't work for you, 8+256GB and 12+256GB options are both available with slightly lesser discounts.
Paired with that, you'll find a Snapdragon processor, plus a dual 50MP rear camera setup. That's impressive for such a cheap handset, and surely means that this is currently the best camera experience you'll find on a phone under £300.
Elsewhere, the iconic Glyph lighting is present and correct on the rear of the device. That allows users to decipher notifications without having to check their screen, making it easy to know exactly which ones are worth picking up.
All of that comes to life via a gorgeous 120Hz AMOLED display. That's adaptive too, which conserves battery life by dropping the refresh rate when the full 120Hz is overkill.
At these prices, I can't see stock being left when the event itself comes around. If you're interested in picking one of these up, I'd definitely recommend jumping on it quickly!