I've been writing about the best Black Friday deals for years now and that, paired with being an avid gamer, means I'm always looking out for the best deals on consoles (I just bought an Xbox Series X after hesitating for too long). But it's the Nintendo Switch OLED that's just gotten yet another price drop – in one of the best early Black Friday deals I've seen.
View the Switch OLED deal at Amazon
When the Nintendo Switch OLED launched it was priced at £309.99. I've seen that get as low as £299 in the recent past – and actually all the way down to an incredible £256 for the white model just last week – and now the neon blue and red model (my favourite one, visually) has activated my CamelCamelCamel price alert, triggered at a fantastic £279.95.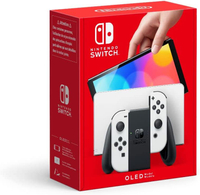 Nintendo Switch OLED: was £309, now £279.95 at Amazon
Nintendo's 5-star console is now available for a 5-star price – and in the best-looking neon blue and red Joy-Con combination finish. This is Nintendo's top-tier console with the biggest and best screen, hence the 'OLED model' name, and at this price it's a must-buy for any gaming fan who doesn't yet possess one.
I think there couldn't be a better time to buy the Nintendo Switch OLED either: with so many 5-star games available, including the recent Mario Bros. Wonder, there are just so many games worth picking up for Nintendo's console. The exclusives are what really sell it, such as the latest Zelda: Tears of the Kingdom. Or, if you want a Switch OLED with Mario Kart deal then that's currently under £300!
Even if a Nintendo Switch 2 does arrive in 2024, I don't think that really matters right now. If you've never taken the plunge to buy the original Switch then you'll still get loads of worthwhile play time from it – and at this kind of price you'll hopefully have some spare cash to buy that next all-important game. Playing on the Switch OLED's screen is particularly great given it's the biggest and brightest of any in the Switch series.
However, I wouldn't hang about – as I've been writing this very deal story I've watched the volume of discounted units available decrease – as I'm not convinced the price will drop yet further over Black Friday weekend. That said, as the white model was almost £25 less than this, you may wish to bide your time in the hope of the ultimate Switch deal returning...