I've been fortunate to review some of the best TVs in 2023 – and while at the high-end the likes of LG's G3 OLED are impressive (and also on sale in a best Black Friday deal), if you're looking for the best OLED TV for most people (i.e. one that's on a stand-mount, not wall-mount only), then the LG C3 OLED has suddenly dropped to its lowest-ever price as part of Amazon's Black Friday sales.
That's part of the best Black Friday deals we've found, with many retailers competing to cut prices to their best-ever levels in the lead-up to the big day on 24 November.
It's been a great opportunity to shop for some of the best Black Friday TV deals, with this 2023 LG OLED set a particular highlight if you're in the market for one of the best 65-inch TVs too.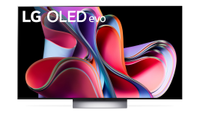 LG C3 OLED 65-inch: was £2,899, now £1599 at Amazon.co.uk
The update to 2022's award-winning LG C2 OLED, the newer C3 isn't massively different – but is a highly accomplished set that's among the best you can buy. What we've mainly been waiting for is a price drop that makes it worth jumping on, which is exactly what Amazon has managed to do for this sale!
So what's the big difference between the LG C2 OLED and LG C3 OLED? Well, the C3 is marginally brighter overall, and that's about the biggest difference. If it ain't broke, why fix it, right? Plus, whilst I've been browsing Amazon, it's clear that the 65-inch C2 OLED is now either out of stock or very limited, making way for the newer, better set as the best buy.
Where the best OLED TVs really impress is with handling dark room conditions, as OLED's self-emissive technology can really show off its perfect high-contrast output, where black sits against white with no light bleed or haloing. It's really a sight to behold and the LC C3 OLED is the master at it.
I've verified the 65-inch LG OLED C3's price is at its lowest-ever using independent site CamelCamelCamel, which cost more during the earlier Amazon Prime Day sale. I think that's a decent saving, and if I was buying an OLED TV right now I'd be deciding between this LG or the more sound adept Panasonic MZ2000 – the latter being much pricier, so this LG seems like a no-brainer for a special purchase.