Sony has slashed the price of the PlayStation 5 in the UK, US and Germany.
You can now get hold of the hugely-popular console for the lowest price it's ever been. Some retailers, such as Amazon in the UK, are slashing prices even more than Sony's recommended discount.
It's even down to £399 in some places, with stock being replenished after a brief period of being sold out.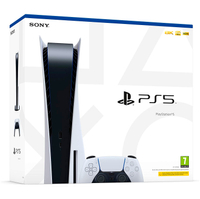 Sony PlayStation 5 UK deal: was £479.99, now £399 at Amazon
More than 40 million PS5's have been sold around the world and now you can find out why too, with this amazing 17% discount. That's for the full PlayStation 5 with 4K Blu-ray disc drive built in.
The deal is available on Amazon and other select retailers in each country. You can also get it for a song from Sony's own online store.
Be aware though that the offer is only for a limited time and will end soon. It states on Sony's own store site that it will finish on 7 September 2023. However, it could be sooner on other retail sites.
Why choose a PlayStation 5 over Xbox Series X?
It's usually a hard call to choose the PS5 over an Xbox Series X, especially after Microsoft raised the price of its console to match Sony's. However, with this discount saving you a bundle, you could get yourself a console and a game for the same price as the rival hardware.
In addition, while Xbox Game Pass Ultimate offers unbelievable value, so too does PlayStation Plus Extra or Premium. Both give you access to 100s of games to download and play from day one. Console gaming has never had it so good.
The PS5 also benefits from one of the most innovative controllers we've used over the years, with the DualSense giving you haptics and force feedback on the triggers that make many games feel more immersive.
With your major saving, you might even want to consider a second controller.
How to get the Sony PlayStation 5 deal in other countries
You can check out local retailers offering PS5 deals in other countries below.