As the days become more drab and dreary, there's one thing that many people are struggling with. It can cause a musty smell and leave discoloured patches on the walls, let alone have an effect on the foundation of your home. Yep you guessed it, damp.
Whilst there are lots of way to avoid moisture in the home, using a dehumidifer is a great option. The best dehumidifiers can help reduce the moisture levels in the air and prevent mould growth on affected surfaces. They are especially useful in winter, but particularly if your home is prone to serious damp and mould.
Having spoken to a lot of friends and family recently, finding a good dehumidifier for a decent price on Black Friday is a priority. It's the reason why I've been scouring the internet for a few days now, trying to find a good one to tell you about. Well, I don't mean to toot my own horn, but I've done it. Introducing the Devola 16L Compressor Dehumidifier...
Before you find out more, have you checked whether a compressor or desiccant dehumidifier is best for you and your home?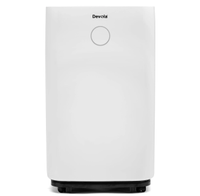 The 16L Compressor Dehumidifier With HEPA Filter (DV16L) is Devola's quietest model yet, coming in at just 45dB when on full speed. It's a highly effective for removing excess moisture from the air with a powerful extraction of up to 16L per day in temperatures as low as 5°. The unit also boasts a 12 hour timer, child lock and has an impressive air flow of 180m³/h.
If you didn't think that was enough, the auto-shut off function switches the unit off when the 4L water tank is at maximum capacity and will re-start when it is emptied. Alternatively, there is a continuous drainage option.
In addition to the HEPA filter that traps harmful particles and purifies the air, the unit also features a laundry mode to speed up the clothes drying process and is easily transported via its casters.
At the moment, there aren't actually that many dehumidifier Black Friday deals, so this unit is definitely one of the best. This may change as we approach the weekend, but until then, grab a Devola 16L Compressor Dehumidifier before they disappear!