I've been fortunate enough to review some of the best OLED TVs in 2023 – and two of my favourites, the wall-mount LG G3 OLED and LG C3 OLED stand-mount – join a third, the more entry-level LG B3 OLED, in offering an extra purchase incentive – but you'll have to act quick!
As part of LG's celebration of 10 years delivering OLED TVs to the public – yep, it's a 10th birthday, can you believe it? – the Korean company is offering its UK buyers the change to net £10,000 when purchasing an LG G3, C3 or B3 TV up to and including 24 October 2023.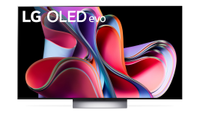 LG C3 OLED 55-inch: was £1,499, now £1,299 at Amazon.co.uk
While the LG G3 is the brighter set designed for wall-mounting, the LG C3 comes with a stand-mount and, given its price dropping, is likely to be the best LG OLED option for most people. The 55-inch set hits the sweet spot, and with a couple of hundred off the list price, plus the chance to win in the prize draw, it's a decent buy ahead of the sales season.
All you need to do is purchase – and that counts for any model size from 42-inch through to 83-inch – and head to LG's official prize draw website to enter by accepting the terms and conditions. Entries close from 24 November 2023, so you've got a little extra time if you're hoping to buy one of LG's best TVs in, say, the Amazon Prime Day 2 sales in mid-October.
If brightness is what you seek first and foremost then nothing can beat the LG G3 OLED, which is the best traditional OLED TV of 2023. It does have competition of course, from the likes of Panasonic's MZ2000 with built-in soundsystem to Philips' OLED+908 with built-in Ambilight, but neither of those offer a prize incentive. The wonders of birthdays, eh?
I've included a shopping widget for the LG G3, C3 and B3 OLED panels in 55-inch size below so you can see the best going rate at present. Their prices have been squeezed as part of this 'save and win' promotion, which is great to see – especially when the LG C2 OLED (from 2022) had been so much cheaper for so long, but now that gap has narrowed.