The spring sales are still in full swing with brilliant low prices on home and beauty products, including electric toothbrushes, hair straighteners, shavers, skincare and much more.
If you're looking to upgrade your dental hygiene, there are plenty of electric toothbrush deals at Amazon available, including this amazing discount on the Oral-B iO7. Right now, the Oral-B iO7 is 64% off, taking this premium electric toothbrush down to under £150.
View the Oral-B iO7 deal at Amazon
Originally priced at £399.99, the Oral-B iO7 is now £144.88, saving shoppers £255.11. Rated as one of the best electric toothbrushes on the market, this is the cheapest price the Oral-B iO7 has been for a while, so this deal is well worth taking advantage of today.
In our Oral-B iO7 review, we commented that there's "plenty to smile about with the iO7's handy feedback-filled display and helpful pressure sensor." With 5 cleaning modes to choose from, the Oral-B iO7 is easy to customise and once you've connected it to the app, you can see a live representation of your teeth while you brush and win medals for your cleaning performance.
The Oral-B iO7 is available in black for £149.97 or in white for £144.88 which is the cheapest option. When you buy the Oral-B iO7, you'll receive the electric toothbrush handle with the ultimate clean brush head, the charger, 1 replacement brush head holder and a premium travel case.
To view the Oral-B iO7 deal, click the link above to head over to Amazon or keep reading for more Oral-B deals.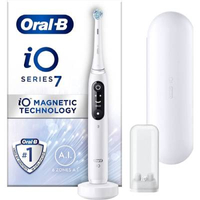 Oral-B iO7: £399.99, £144.88 at Amazon
Get 64% off the Oral-B iO7 electric toothbrush at Amazon. Featuring AI and an enhanced smart pressure sensor, the Oral-B iO7 has a fun interactive display and uses the unique round brush head to tackle its 5 cleaning modes: Daily Clean, Gum Care, Sensitive, Intense Clean and Whitening. The most affordable model in Oral-B's iO range, the Oral-B iO7 is now even cheaper in the white colourway.
While the Oral-B iO7 isn't the newest addition to the iO range, it's still a high quality electric toothbrush that can improve your oral health. However, if you fancy a newer edition from Oral-B, the Oral-B iO8 is also on sale at Amazon.
The successor to the Oral-B iO7, the Oral-B iO8 is super advanced and features 6 cleaning modes. It comes with the Oral-B iO8 handle with the ultimate clean brush head, charger, magnetic pouch and a refill holder… and it's currently 62% off at Amazon.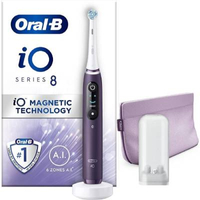 Oral-B iO8: £449.99, £170 at Amazon
Save £279.99 on the Oral-B iO8 in the Amazon deals. This electric toothbrush uses revolutionary magnetic iO technology to deliver a professional clean and gentle brushing experience. Its extra cleaning mode is Super Sensitive, so it's ideal for people with sensitive teeth and gums. Available in white or violet.