When it comes to the best MacBooks, I'm fondest of my MacBook Air, which I bought recently to upgrade an older model so I could get in on Apple's silicon experience (whether you want M1 for a bargain, or more powerful and newer M2). I'm certainly not disappointed with the performance either – but the Mac experience is easy to upgrade for the better too.
It seems almost obvious to kit out your Apple setup with accessories to improve your workflow, which is exactly what this $45 accessory has done for me! I'm talking about Belkin's 7-in-1 adapter, which as someone who still uses older peripherals, means I can benefit from the full-size USB ports, output to a monitor via HDMI, and even plug in a full-size SD card from my camera.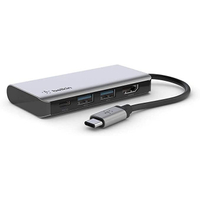 Belkin 7-in-1 adapter for MacBook Air: was $49.99, now $44.99 at Amazon.com
Finding the two USB-C/Thunderbolt ports on your MacBook to be a little restrictive? This ace accessory, which is super affordable, contains SD, microSD, USB-C (3.0 PD), HDMI 2.0, and 2x USB-A 3.0 ports.
I know, it might not be the most 'exciting' product on the planet, but trust me: for the sake of spending less than fifty bucks it'll deliver back its worth to you instantly. It doesn't eat up a MacBook Air USB-C/Thunderbolt port either really, as there's a Power Delivery 3.0 USB-C slot on the product itself (with 85W power).
Whether you're a creative using one of the best mirrorless cameras and want the ease of card input (there's microSD too), a heavy peripherals user at your desk, or you just need additional inputs whilst on-the-go, I've found Belkin's budget device to be a time-saver.
I think it looks pretty smart too, for something so affordable, especially considering the company makes uber-fancy $400 versions to sit on your desk. I'd rather pay the $45 thanks and am glad I did – I think it's a magical little box that I now can't live without, whether at the desk or when on the go.