Trying to work out the best MacBook for your needs can be tough. There are a lot of different options, with different processors and vastly different price points.
In my opinion, the M1 MacBook Air is still one of the best options out there. It offers an unparalleled price-to-performance ratio, punching way above its weight. Whether you just need something for surfing the web, or want to tackle some hardcore, intensive tasks, the M1 Air will have you covered – I've used mine for everything from music production and video editing to gaming.
Right now, you can get this brilliant laptop for even less at Best Buy. With $200 knocked off the list price, you can snag one for just $799.99, which is an absolute bargain!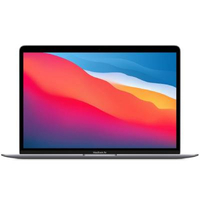 MacBook Air: was $999.99, now $799.99 at Best Buy
The M1 MacBook Air is a hardcore machine which can handle just about any task you throw at it. It's also really comfortable, thanks to the wedge-shaped design – and it can be yours for even less right now.
Inside, this model packs Apple's M1 chip. That was the first in-house designed chip for the MacBook range, and it did a great job of signalling the intent of the Cupertino-based company.
That's not all though. You'll also bag a crisp Retina display and a really brilliant keyboard that makes typing feel effortless. That keyboard is packed into a wedge-shaped lower body. It's a small touch, but in my opinion it's much more comfortable in use than the more square-shouldered MacBook designs.
There's also no fan inside. That's brilliant for scenarios where you need to be ultra quiet – for example when recording music or podcasts. And, remarkably, it doesn't overheat. Whatever wizardry has been put inside the chassis does a brilliant job of keeping things cool. In three years of use, I've only ever managed to get the chassis to a lukewarm level.
So, how can you tell if this is the right model for you? Well, it will likely come down to your usage. If you use a laptop for some pretty intensive tasks – coding, video production, photo editing – it might be worth considering the newer M2 MacBook Air or even the 16-inch MacBook Pro. That's not to say this model couldn't handle those tasks – it almost certainly could – but those tasks are more likely to see the benefit of the M2 chip.
If your daily usage is more like some word processing, web surfing and spreadsheet work, in my opinion, there's absolutely no need to look beyond this. The M1 MacBook Air will eat up those tasks without breaking a sweat – and save you a packet in the process!