When it comes to the best iPads, I'm fondest of my 12.9-inch iPad Pro, which I bought recently to upgrade an older model so I could get in on Apple's upgraded silicon experience (whether you want an older-model M1 bargain, or the more powerful and newer M2). I'm certainly not disappointed with the performance either – but the iPad experience is easy to upgrade for sake of usability too.
It seems almost obvious to kit out your Apple setup with accessories to improve your workflow, which is exactly what this now half-price $50 accessory has done for me! I'm talking about Twelve South's Journal for iPad Pro, which as someone who uses the Apple Pencil (2nd Gen), means I can benefit from the ability to store Apple's stylus with ease and never lose it!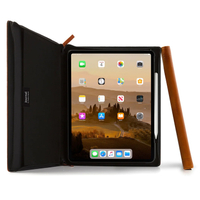 Twelve South Journal for iPad Pro: was $99.99, now $49.99 at Amazon.com
For protection of your iPad Pro 12.9, Twelve South's brown leather-finished Journal cover also doubles as a stand and accessory storage. It'll keep your tablet looking smart, while protecting it when stowed. And now it's half price so is an instabuy for any Apple user.
I know, it might not be the most 'exciting' product on the planet, but trust me: for the sake of spending a cent under fifty bucks it'll deliver back its worth to you instantly. It doesn't bulk the tablet out too much thanks to a 'snap-in' feature for the display, provides great protection for your iPad plus accessories, and can even be used as a stand – which I find ideal for using on train or airplane tables to watch my favorite shows.
So whether you're at home and just want to pack up your iPad, or are on the go and working (like I so often am), then the internal pocket of Twelve South's Journal makes it easy to carry a Bluetooth keyboard around – all without any concern of scratching that screen in the process. The zipper keeps everything secure too.
I think the Journal looks really smart too, finished in genuine brown leather, without excessive branding all over it, making your iPad Pro 12.9-inch look like a 'normal' notebook. I'd certainly rather pay the $50 for the peace of mind in protection, rather than be forking out hundreds of dollars in the future for a new iPad or repair. I think Twelve South's half-price bargain is a must-have that I now can't live without.