T3's best drone guide is full of DJI flying tripods, but you only have to scroll down that list to the third place to spot the odd one out: Zero Zero Robotics' HoverAir X1. This dinky little drone is a wonderful gadget for any content creators and photographers/videographers. Thanks to this deal, it's now also pretty cheap! Truly one of the best Black Friday deals we've seen so far.
Available to buy via Zero Zero Robotics' website or Amazon, the HoverAir X1 is truly a drone for the masses – a personal tripod, aerial camera buddy, and sound recordist all rolled into one tidy, eminently portable package. The offer is only available between 17-27 November 2023, so now is the time to get one of these puppies for cheap.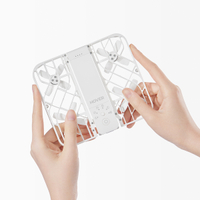 HoverAir X1: was $429, now $329 at Amazon
This pocket-sized 2.7K camera-equipped drone is the perfect gift for content creators. Since its launch, Zero Zero has rolled out new capabilities, including Gesture Control and Vertical Shooting. The HoverAir X1 combo is also reduced from $479 to $379 (available via the same link).
In our review, we said that we honestly can't remember being this excited about a new model since the inception of DJI's groundbreaking Mavic and Mini series. Granted, this much money for the drone, charger and two batteries isn't cheap, but it's still worth every penny, especially with this $100 offer.
No, it won't fly 200 metres away to capture a remarkable vista from high above like a DJI Mini, but it will become your best aerial buddy for close proximity shots of yourself, family and friends in a myriad of situations. Highly recommended.