There's not usually much to celebrate in January. The flood of chocolate, booze and presents has dried to a trickle. Enthusiasm for your new workout regime is already on the wane. And bridging the gap between paypackets would make even Isambard Kingdom Brunel break a sweat. Fortunately, the festivities aren't over here at T3: you can still treat yourself to a bargain by picking up three issues of our mag for just £3/$3!
Rather wait until payday? Then you're in luck: not only will you receive all three delivered straight to your door or device for just 20% of the cover price but you also have until 9:59am 1 February to order!
So don't miss out. Head on over to our store to get three issues of T3 for just £3 / $3!
5 REASONS TO SUBSCRIBE TO T3
Every new issue of T3 is a perfect parcel of cutting edge tech, providing you with the latest news and reviews about state-of-the-art gadgets.
Our features offer great insight into how you can upgrade different areas of your life, whether you're revamping your living room or transforming your commute.
Each section is overseen by tech experts with expertise in every area, from 8K TVs and Dolby Atmos soundbars to fitness kit and next-gen gaming.
We can help you save some cash. Not only are we offering this great discount on subscriptions, but the mag is packed full of bargains that will help your family and friends get top-tier tech for less.
You'll never miss an issue, as our print and digital editions will come straight to you, whether you're at home or on the go.
Take a look inside the latest issue
Even better, you can currently get three issues of T3 for just £3/$3 – that means you're saving a whopping 80% an issue! So make sure you head over to our store and get yours now!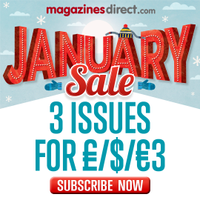 Get 3 issues of T3 magazine for just £3/$3!
Want the world's most essential tech and lifestyle upgrade advice delivered right to you? T3 magazine is filled with reviews of the hottest new gadgets, as well as incredible technology you've never heard of, but you need to know. It's the perfect gift, whether that's for someone else or just for yourself… choose digital, print, or get both in one bargain bundle!