Prime Day deals seem to get earlier and earlier each year, and if you don't want to wait until July here's one of the best we've seen so far.
This LG OLED A2 55-inch 4K Smart TV is $729 on Amazon. That's an incredible 57% off the £1,699 RRP and the best-ever price. LG makes some of the best TVs on the market so this deal is well worth your attention, especially with a bumper summer of sport around the corner. As a Smart TV it features apps for all of the best streaming services too, so save anything you were planning to watch on a lesser screen.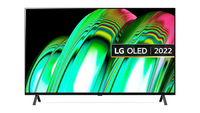 LG OLED A2 55-inch 4K OLED Smart TV: was 1,699 RRP now $729
Deals like this don't come around very often and with good reason. A 57% discount on a 55-inch 4K OLED TV is an incredible price. The 60Hz refresh rate may not be perfect for gaming but when it comes to watching shows and movies, you'll struggle to beat this TV.
LG OLED TVs produce stunning pictures but it is in the darkest blacks that you will notice the difference. The a7 gen 5 processor in this TV is great at showing deep contrasts and mapping colour tones realistically. Audio performance is also strong with Dolby Atmos offering immersive sound.
If you're an Amazon sceptic you can even find the same TV priced for $799 at Curry's.

Sounds great right? There's only one catch. This is not going to be your next great gaming TV. A 60Hz refresh rate is great for movies and TV and is useable for gaming but if you've got a PS5 or Xbox Series S, you'll want to shoot for something around the 100-120Hz mark for the smoothest experience. But if you're not a gamer then this is a deal worth considering.