THIS DEAL IS NOW GONE. Check out these pre-Black Friday Fitbit deals instead.
It's not like we didn't expect this to happen, but it's still nice to see: the Fitbit Versa 4, one of the best Fitbits on the market, is already cheaper at Amazon, merely weeks after it was launched. The fourth iteration of Fitbit's fitness-forward smartwatch, the Versa 4, comes fully equipped with the latest sensors and features to get you
and keep you fit.
Buy the Fitbit Versa 4 at Amazon, was £199.99, now £179, save £20.99 (10%) (opens in new tab)
Better still, it's not one of those 'Prime deals', so you won't need an account to get this offer! Need some more encouragement? There is also a cashback offer on this watch: claim £25 cashback when you buy the watch before 15/10/22 (T&Cs apply). Please note: the offer is only available if you buy the Waterfall Blue/Platinum colourway; the rest of the options still sell at full price.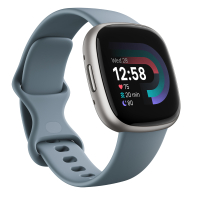 (opens in new tab)
Fitbit Versa 4: £199.99 £179 at Amazon UK (opens in new tab)
Save £20.99 - Boasting 6+ days of battery life, the Versa 4 is the latest iteration of Fitbit's best fitness smartwatch. The Versa 4 can track runs/walks/cycles automatically and even has a built-in GPS. Plus, it comes with a 6-month Premium subscription – for free!
Should you get a Fitbit Versa 4?
It might feel like it's still ages away, but January is, in fact, just around the corner. And we all know what happens in January: you will want to get fit after indulging yourself a bit too much in food and drinks over Christmas. Getting a fitness tracker can help you track your fitness efforts more easily; plus, investing in a Fitbit is an excellent motivator to start working out.
And there aren't many better smartwatches than the Fitbit Versa 4 for everyday fitness tracking. It has a built-in GPS, so you can go out for a run or a walk without taking your phone. It also measures Active Zone Minutes, which means the watch counts any activity that raises your heart rate over a certain level as exercise, helping you achieve the WHO-recommended 150 minutes of physical activity a week.
The Versa 4 provides a Daily Readiness Score, which estimates how ready your body is for exercising based on sleep, exercise load and other factors. Speaking of sleeping: the Versa 4, much like other Fitbits such as the Fitbit Charge 5 and the Fitbit Sense 2, is an excellent sleep tracker; yet another reason why you need one! (Make sure you also bookmark T3's best Fitbit deals page before Black Friday.)