The best sleep trackers of 2023 help you gain valuable insight into your sleep patterns and the quality and quantity of sleep you're getting. While a sleep tracker can't force you to go to bed at a reasonable time (not yet, anyway), it can show you how catching quality Z's can improve your energy levels for the next day... and that's just one of the many reasons you should be tracking your sleep.
There's some crossover between the best sleep trackers and the best fitness trackers; in fact, the number one sleep tracker right now is the Fitbit Charge 5, which holds the number two spot in our fitness tracker guide. While its heart rate and GPS accuracy aren't 100%, it's still a great all-rounder that's suitable for most people (if you're interested, here's exactly how Fitbit tracks sleep and how our fitness editor, Matt K, tracked his sleep for a month with the Fitbit Charge 5).
However, if you want all the sleep data, you should look at a dedicated sleep tracker like the Withings Sleep Analyzer, which sits under your mattress and keeps tabs on everything that happens at night. But we're getting ahead of ourselves! To get a better insight in your sleep patterns and how to improve your slumber, read on for our top picks for the best sleep trackers and shopping advice so you can find the best prices.
If you've landed on this guide because you're struggling to sleep, explore our ranking of the best mattresses or pick up one of the best weighted blankets.
Best sleep trackers ranking 2023
Why you can trust T3 Our expert reviewers spend hours testing and comparing products and services so you can choose the best for you. Find out more about how we test.
The Fitbit Charge 5 is a high-end fitness tracker with a stunning-looking AMOLED display; it's far classier than other Fitbits as well as more robust thanks to the protection provided by the Corning Gorilla Glass 3 screen. In our Fitbit Charge 5 review, our test noted that it's a little on the small side, but that makes it a comfortable fit when you're snoozing: you won't have to worry about it getting in the way. A subtle always-on screen can be tweaked on or off, proving useful at night.
As you might expect, this Fitbit does much more than just track sleep. With its extensive array of sensors, it can measure stress on your wrist, offer an ECG, along with a daily readiness score to give you insight into how you're doing today. Heart rate monitoring isn't perfect and as with other Fitbits, the Fitbit Charge 5 can get confused if you simply stay still. But for the core focus of this guide at least, the Fitbit ecosystem is well designed for detailed sleep analysis, right down to its monthly sleep profile tool. As one of the best Fitbits on the market, it's on the pricey side – you'll find more budget-friendly options further down our ranking.
If you want a smartwatch that also tracks your sleep comprehensively, the Withings Steel HR Sport is a fantastic if somewhat cumbersome option. It's a full-sized watch so it won't be the comfiest of things to wear if you lean on your wrist at night, but it tracks very accurately. That's thanks to automatic sleep monitoring that looks at your light and deep sleep cycles, detects any interruptions, and how regular they become. Each morning, you can enjoy some deep insight into how you're doing each night.
As well as that, the Withings Steel HR Sport is a powerful smartwatch for the active user. It tracks many different sports, has fantastic battery life, and estimates your ability level each step of the way. For those simply wanting to track their sleep, it's overkill, but if you want an all-in-one solution, it's great.
A little long in the tooth, the Fitbit Inspire 2 remains a reliable option if you want a budget-priced Fitbit that offers sleep and fitness tracking. It's a little basic, lacking GPS and Fitbit Pay, but as we explore in our Fitbit Inspire 2 review, for sleep tracking, you can't go wrong. It's sufficiently lightweight and comfortable enough that you won't notice wearing it at night. By doing so, you receive extensive stats via the Fitbit app each morning.
This includes a score out of 100 to show how well you slept and the length of time you were asleep, along with a breakdown of when you achieved REM sleep and when you were sleeping lightly. Upgrade to Fitbit Premium, and you can view your sleeping heart rate too, which can be very useful. See how this compares to another budget fitness tracker in our Samsung Galaxy Fit2 vs Fitbit Inspire 2 face-off.
Kokoon makes what we think are the two best sleep headphones around, and both come with sleep-tracking features built in. We think the in-ears are the better sleep tracker option because they're comfier to sleep in than the over-ears, which do appear further down our ranking (more on how the two compare in our Kokoon Nightbuds vs Kokoon Relax sleep headphones face-off).
While it isn't a fitness tracker, so it won't help out during the daytime hours, these are a good option for helping you sleep better, as well as tracking how well that sleep is going. When tied into the MyKokoon app, it's possible to look up guided relaxation exercises and natural soundscapes or listen to a podcast that is designed to soothe your mind. In our Kokoon Nightbuds review, our tester noted that it could take a bit of practice to master fitting them securely for the night, but once they're in, they're quite comfortable even if you toss and turn in the night.
The Nightbuds use an infrared light system to monitor your skin at night, tracking your heart rate and whether you're asleep. From there, it determines how long it took you to fall asleep and how long you slept. It uses that information to lower the volume of the recording you're listening to. Sound quality could be better, and you need to take some time to get used to them, but the Kokoon Nightbuds are a clever alternative to wearing something on your wrist, and they're a great way of incorporating relaxation techniques into your routine.
If the idea of wearing a wrist strap all night is unappealing then the Withings Sleep Analyzer is the solution for you. You slip it under your mattress, plug it in, and leave it to do all the hard work for you, allowing you to sleep encumbered. Thanks to that, it offers far more advanced sleep tracking than its competitors with an in-depth analysis of your sleep cycles, durations, and any interruptions.
It's also able to detect any snoring episodes as well as spot any signs for sleep apnea, an underdiagnosed condition that can be a huge problem if left untreated. In terms of sheer sleep tracking power, you can't go wrong with the Withings Sleep Analyzer but it is purely a sleep tracker. That means it's a bit of an expensive purchase to track one issue through your day, but we appreciate that its app ties into others well, giving you insight into your general health and body performance all day long.
There's also very little else out there that's quite as accurate as the Withings Sleep Analyzer and the fact it's so unobtrusive yet effective is very appealing. Head to our Withings Sleep Analyzer review to find out more.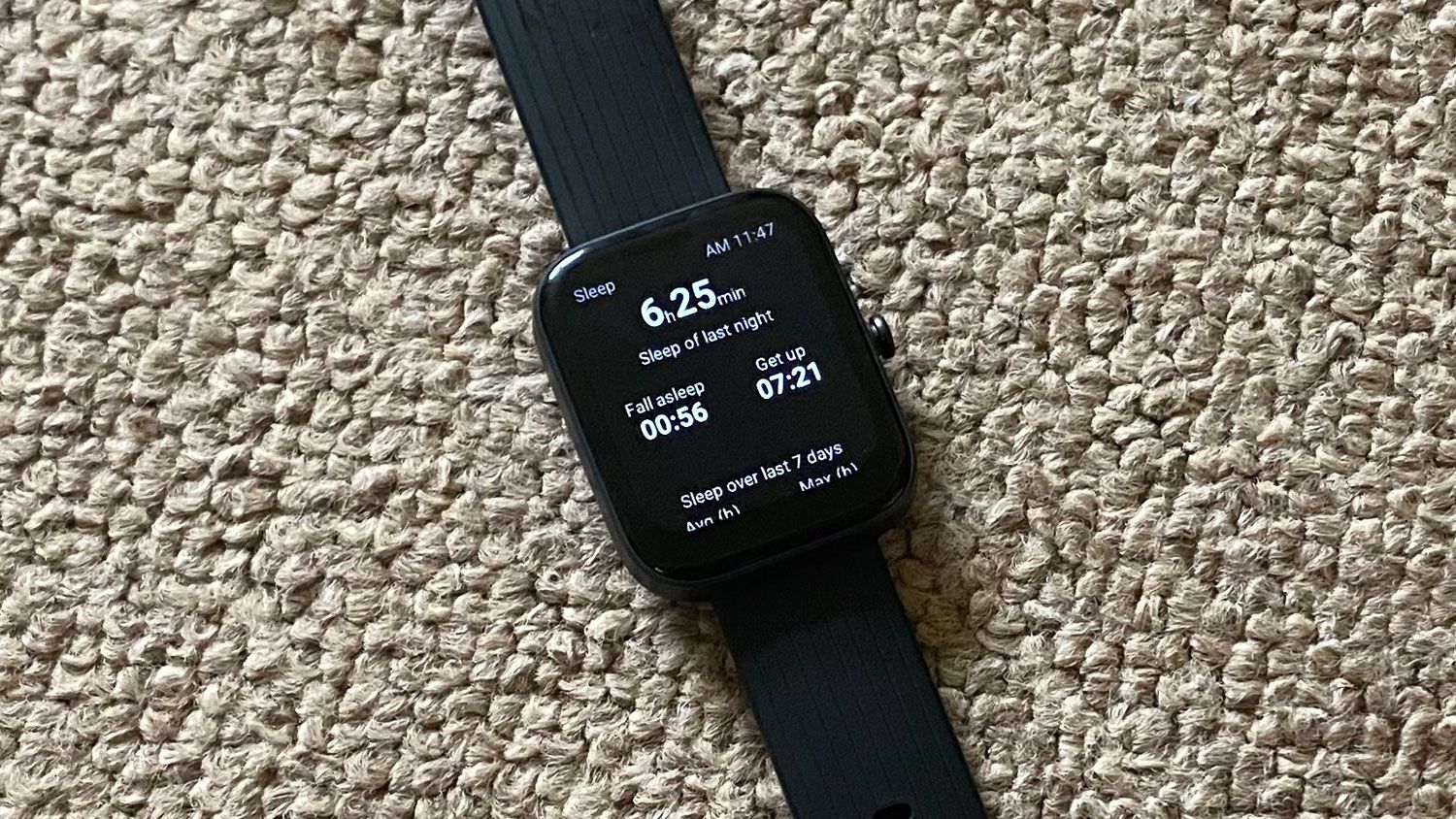 Another excellent budget sleep tracker is the Amazfit Bip 3 Pro. This cheap tracker's companion app contains plenty of insight for you to explore. It gives you a sleep score (plus emoji representation), a simple bar graph to highlight deep sleep cycles, and tells you your average heart rate for the night, too. You can see how well you're sleeping compared to other users, and it'll even encourages you to track what you're doing before you went to bed, so you can see if, for example, eating late in the day or playing a game before bed impacts your sleep.
You can't use this to monitor for sleep apnea or snoring, but other than that, its sleep features are pretty comprehensive. In our Amazfit Bip 3 Pro review, our tester actually found this device tracked sleep more accurately than the Fitbit Inspire 2. So why is that sitting above the Amazfit in our list? Because the latter is just not massively comfortable to sleep in. If you're not particularly sensitive to sticky straps, though, this could be a great choice for you.
On a tight budget? The Xiaomi Mi Band 4 might not have the 'wow' factor but it does exactly what you need of it, and it costs significantly less than other sleep trackers here. That instantly makes it appealing if you're not sure if you'll commit to wearing a sleep tracker every night. Like the others, it works as a general fitness tracker too so you can easily monitor your daily steps, calories burned, as well as your heart rate. It's swim-proof too proving ideal for avid swimmers.
In terms of sleep tracking, it uses its heart rate monitor alongside detecting your restful moments, before formulating a chart that picks up on sleep time, sleep depth and how many times you wake up. Like the device itself, the app isn't as stylish as the Fitbit but it's a lot cheaper. Just bear in mind that it's a little chunky for the night time.
If you've been considering investing in one of the best Garmin watches, but you also want to track your sleep, the Garmin Forerunner 55 is a good introduction to both. Considered the ideal first running watch, it's more affordable than other Garmins while offering plenty of options and workout tracking. Besides personalised run workout suggestions and all kinds of things for the daytime, it also allows you to track sleep duration, while recording sleep stages including REM sleep, and it monitors respiration rate too.
At times, it's not as accurate as something like the Withings Sleep Analyzer, but if you want something that's an all-rounder, the Garmin Forerunner 55 means you can monitor your activity levels 24/7 without feeling like you need to own a dedicated solution. Head to our Garmin Forerunner 55 review to find out more.
How to choose the best sleep tracker for you
There's no shortage of different sleep trackers out there. Catering for mostly every budget as well as lifestyle, it's important to know exactly what you want it to do for you before you make a purchase. Here's a brief overview of what to consider.
Know your budget. It's a common thing to consider with any technological purchase but it's important that you think about how much you want to spend. Sleep trackers can cost as little as £25-30 but they can also cost hundreds of pounds. Don't feel obliged to spend a lot unless you really need all the features.
Consider the features you want. Many sleep trackers do far more than just track your sleep. They also tend to track things like your steps each day, or even double up as smartwatches. It's important to know if you need these features or not as generally the more features, the more expensive the purchase.
How comfortable the tracker is. Do you want to wear a wristband all night? How about a full-on smartwatch? Either is perfectly possible but if you're a light sleeper, you may feel uncomfortable doing so which will then affect your ability to sleep. An under the mattress solution may be a better option here.