If you thought you were going to have to wait until Black Friday to get your hands on a cheap Fitbit deal, think again! Amazon is spoiling us and has cut the price of the Fitbit Sense 2, in this fantastic early Black Friday deal. We'd also like to add that, in our humble opinion (and as noted in our best Fitbit guide) that it's the best Fitbit currently on the market.
We had lots of great things to say about this stunning smartwatch in our Fitbit Sense 2 review; it's lightweight, has a slew of health features, including ECG, stress and sleep tracking, and is easy to control. The Sense 2 also tracks workouts automatically and makes complex health questions easy to understand by presenting them in a way that can be scanned quickly and effortlessly.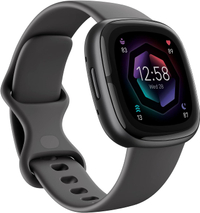 Fitbit Sense 2: was £269.99, now £177
Save 34% Continuously monitor your stress levels, track your sleep and much more with Fitbit's most advanced health and fitness smartwatch.
In comparison to its predecessor, the Sense, the Sense 2 also boasts 20 new sports tracking modes, so it has 40 altogether. As we touched on above, it can track your stress levels continuously with the new updated electrodermal activity (cEDA) sensor, by logging the changes in the sweat levels on your wrist. Previously, with the Sense you had to initiate a reading manually and cover the watch with the other hand for it to be able to provide this metric). The battery life may not be the longest (six days on full-charge), but with all its other great features and stunning design, it's not a deal breaker.