Most people treat Amazon Prime Day as a mini-Black Friday and shop for TVs, tablets and other home entertainment products – they aren't wrong. There are some decent cheap Prime Day deals out and about. For me, though, the best deal so far is this Potensic Atom SE Fly More offer that knocks a significant chunk off the asking price of this already inexpensive drone.
You might think this is just another clickbait article trying to grab your attention, but, as a matter of fact, I tried the Potensic Atom SE a few months ago and enjoyed it more than I care to admit. The Atom SE isn't the best drone, but it's a decent beginner drone for those who aren't quite sure about drone flying yet and don't want to splash serious cash on the DJI Mavic 3 Pro (yet).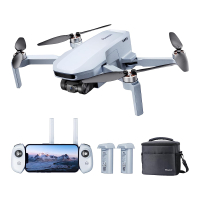 Potensic ATOM SE Drone Fly More Combo: was £300, now £253 at Amazon
This sub-249g drone package is ideal for beginner pilots looking to buy a flying tripod on a budget. The package includes the drone, the controller, a carry bag, and two batteries, so you can fly uninterrupted for longer. Equipped with a 1/3-inch CMOS Sony sensor, the Atom SE can shoot 12MP stills and 4K @ 30fps videos. Deal ends at 11:59 PM on Wednesday!
This little drone flies well and has plenty of top-notch features to get beginner drone pilots on board. It's great that the Atom SE offers many different flight modes (e.g. Follow Me), making it an excellent beginner-friendly drone. If you're looking for a cheap DJI Mini alternative, consider the Atom SE. At full price, it's not massively more affordable than the DJI Mini 2 SE but offers more flying modes and extra features, making it more appealing to those who prioritise the flying experience over camera footage. And at this price, it's an absolute steal.