Not all treadmills are designed to help you achieve maximum performance. In fact, some are best used as what's called an under-desk treadmill, slotted under your workstation. The Mobvoi Home Treadmill is one of these, and if you want to stay in top shape while hammering away on the keyboard or attending Zoom meetings, you'd better get one now as it's on offer for Amazon Prime Day.
The Mobvoi Home Treadmill is a cheap treadmill and can be used for walking or jogging; professional runners need not apply. Thanks to its small form factor and foldability, this running machine is ideal for shared living spaces and – of course – home offices. It can fold completely flat and be stored under the bed/sofa/desk when not in use.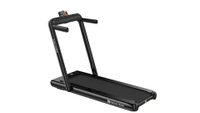 Mobvoi Home Treadmill: was £399.99, now £301.99 at Amazon
Need a small treadmill for walking or jogging? Look no further than the Mobvoi Home Treadmill. It can turn the running belt with speeds up to 12km/h, has a remote control for easier operation and even features a built-in Bluetooth speaker! No.1 best-selling treadmill on Amazon right now!
Should you buy the Mobvoi Home Treadmill on Amazon Prime Day?
As a walking treadmill, the Mobvoi Home Treadmill is a well-designed option in a crowded market. If you are looking for something you can put under a desk and walk while you work, it also works well for that purpose. There are other options that are similar, but Mobvoi is a trusted brand name with a support network.
As a runner's treadmill, it's a quality piece at a great price. You aren't going to do full-out sprint intervals, and there's no rise for simulating hills. However, it works surprisingly well for jogging. If you are just starting out and want something that will fit into your home without a huge cost, then the Mobvoi home treadmill is an excellent option.