Looking to purchase your first fitness tracker, specifically a Garmin watch? You're in luck! Black Friday 2024 may be just over a month away – where you'll be able to get your hands on great fitness deals (including cheap Garmin cheap watches) – but lots of brands have started their sales early.
One brand that's already offering some fantastic savings is Amazon, as they've just slashed the price of one of Garmin's best watches for beginners – the Forerunner 55 – an efficient, yet affordable option for those looking to purchase their first running watch.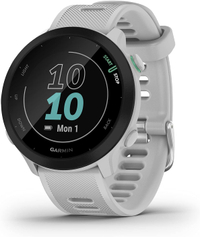 Garmin Forerunner 55: was £179.99, now £128
Save 29% on this lightweight, easy-to-use, fuss-free smartwatch. Track health metrics, from your steps to your heart rate and improve your running performance with Garmin Coach.
This Garmin smartwatch ticks lots of boxes and has everything a beginner would need in a smartwatch, while not bombarding you with complicated or unnecessary metrics. It has a solid battery life (up to two weeks), tracks your steps, heart rate, sleep, calories and even provides daily workout suggestions. The Garmin Coach is also particularly useful if you're looking to improve your running, as the adaptive running trainer can get you ready to run a 5k, 10k or half marathon in a set time.
In our Garmin Forerunner55 review, we even went as far to say we wouldn't recommend any other watch for beginner runners. Yes, there are undoubtedly more sleek, powerful and feature-full fitness trackers out there. But, beginners don't need to get bogged down in all the extra metrics (the reality is you won't use half of them anyway). You just need something that does the basics, and does them well, and if it looks good on your wrist, even better! That's what you get with the Forerunner 55.