The best dumbbells have historically been in high demand on Amazon Prime Day, as more people take an interest in fitness and their overall health. One brand renowned for their high tech adjustable dumbbells, thanks to their high-quality design and ease of use, is Bowflex, and their Selecttech 522 dumbbells are now at their lowest price this year in the Amazon Prime Day sale!
In our review of these dumbbells we said they worked exceptionally well for mid-workout weight changes, like when you're doing supersets or dropsets, as to switch the weight all you need to do is simply spin the dial and voilà! We found them to be the most reliable, compared to others on the market, and they've arguably become the most popular adjustable dumbbells — we even named them as 'best overall' in our adjustable dumbbell guide.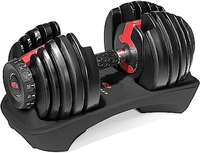 Bowflex SelectTech 522i Adjustable Dumbbell: now £169.90 at Amazon (was £200)
Save 15% – These dumbbells are ideal for weightlifting and will not only help save you space in your home, but time too. Forget having to faff around changing the weight of your dumbbell mid-workout, just spin the dial, choose between 2kg and 24kg, and carry on without minimal interruptions.
Not everyone has space for a full rack of dumbbells in their home (not to mention they're incredibly expensive) and that's where the Bowflex Selecttech 522 adjustable dumbbells comes in. Being able to select your dumbbell weight between 2-24kg basically provides you with a whole rack of dumbbells, in one. This makes them ideal for smaller homes, or those who don't have a space dedicated to a 'home gym'.
If you were also worrying about where you may store this one beefy dumbbell, then you don't need to, as the 522 comes equipped with a stand for you to keep it on, so it can be neatly stored out the way — whether that be on a shelf, in a cupboard, or maybe even on the floor after all.
We can appreciate it's not exactly the cheapest dumbbell out there, but when you compare these to the price of buying individual sets of dumbbells from 2-24lg, it's better value for money and, as we've previously mentioned, the quality is the best in the adjustable dumbbell market. Plus, the space-saving really is a big win and allows those who don't have heaps of room, who want to start strength training, to do so.