Games peripherals maker 8BitDo does things a bit differently to rivals. While it ranges a collection of controllers and other accessories, they tend to be designed with a retro feel and aesthetic in mind. And yet, they'll feature bang up-to-the-date tech to make life more simple.
There's no better example of this than the forthcoming 8BitDo Retro Wireless Mechanical Keyboard. Not only is it as clicky and substantial as the sort of keyboards I used several decades ago, the decals and colour theme is entirely based on the Japanese Famicom console that essentially took gaming to a new level in the 80s.
A version based on the US and UK Nintendo Entertainment System is also in the works, so you get to choose between them. But, when we saw them side-by-side at Gamescom 2023, it was the Fami Edition that had the edge for us.
The Japanese console sported a different shape and colour scheme to the global NES and that's reflected in the build and buttons on the keyboard. It is rendered in scarlet, beige and black.
The name strip across the top pays homage to the similar strips on the face of the Famicom. And, as an extra touch, the keys feature Japanese characters as well as English letters. You don't get that on the standard N Edition.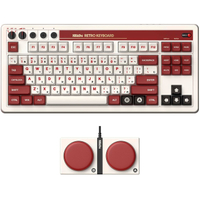 8BitDo Retro Mechanical Keyboard - Fami Edition
Priced at £89, the 8BitDo Retro Mechanical Keyboard is a chunky, premium accessory that offers both Bluetooth and Wi-Fi connectivity. You also get a separate pad with two large, programmable keys for gameplay or hotlinks.
In terms of features, the keyboard comes with heavy duty switches and hot swappable buttons. The keys can be reassigned by the user, thanks to dedicated software from the manufacturer, and there's 2,000mAh rechargeable Li-on battery inside. This lasts up to 200 hours of use and takes 4 hours to charge from flat.
You can connect the device to either an Android or Windows source using Bluetooth or 2.4G Wi-FI (the latter using an included adapter that is otherwise neatly stored in its own slot underneath).
There is hugely satisfying travel when a button is pressed, and the mappable dual super buttons feel substantial and robust. Basically, we'd be happy to use the Retro Keyboard for gaming or general productivity.
The 8BitDo Retro Mechanical Keyboard will be available from the end of October, priced at £89 / $99.99 for either of the two models.
We're looking forward to giving it more of a test in the near future.