Buying even the best walking shoes or best hiking boots won't guarantee your feet will be comfortable when you're out trekking. Why? Because not all shoes were created equal, therefore you must make sure you tailor your new footwear to fit your feet. This isn't hard, either – all you have to do is lace them up properly.
'Breaking in' walking shoes is old-fashioned, and in most cases, it's completely unnecessary unless you buy heavy ol' leather hiking boots. Modern hiking boots feature padded collars, synthetic, breathable mesh uppers and foamy, bouncy midsoles, making every step in the shoes comfortable.
That said, the last companies use to create the shoes can look very different from your feet, which means the interior of the boots won't necessarily feel comfortable to you, no matter how much padding is involved. This is where lacing comes into play. Trying different lacing methods can mean the difference between enjoying outdoor trips and wishing they ended sooner so you can take the shoes off quicker.
How to lace your walking shoes
There are tons of different lacing methods to choose from, offering solutions to heel slipping, tight toe boxes and more. And when it comes to lacing your shoes properly, the best source we could find is ASICS' Lacing Techniques for Runners guide, the most comprehensive article we found on the subject online.
For example, if you feel your heel slipping, try the 'runner's knot' or 'heel lock' method, where you lace walking shoes in the usual criss-cross pattern until the second-to-last eyelet. Then, thread the lace through the last eyelet so that the lace comes out on the inside of the shoe, creating a loop between the last two eyelets. Finally, finish by crossing your laces and inserting them through the loops you've created and pulling tightly, securing the shoe around your foot, and then tying the boots as normal.
(This does reduce the length of the laces, so be careful!)
Now that you know how to adjust your shoes to your liking, learn more about how to stay dry outdoors and what's breathability to ensure you choose the best walking trousers and the best waterproof jacket for your needs. Also, here are 7 essential camping cooler tricks to keep your stuff chilled for longer when on a trip.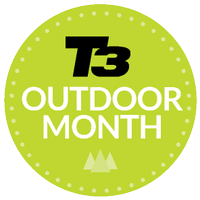 T3 Outdoor Month
T3's Outdoor Month is a 31-day celebration of all things the Great Outdoors. We have the best experts on board to provide active people with tips, tricks and product recommendations to help you enjoy time spent outside the confined walls of your home more.