Apple October 22nd launch event liveblog
Apple has confirmed an event for October 22 through a media invitation that carries the tagline "We still have a lot to cover." Join us for live coverage.
Apple has sent out media invitations for an event that will be held on October 22 and has included the tagline "We still have a lot to cover". Could this be the launch platform for an iPad Mini 2 with retina screen? Or an updated iPad 5?
An upgraded iPad mini will likely be the star of the event, but tech pundits have suggested the Mac Pro and Apple's OS X Mavericks will also get some share of the limelight. The event will be held at the Yerba Buena Center for the Arts in San Francisco and will begin at 10am pacific time which will be 6pm over here in the UK. Rumours of what to expect in the next iPad mini have been doing the rounds since the first one launched a year ago. You can check out our rumour round-up for the full lowdown. Article continues after our iPad Mini Retina and iPad Air hands-on videos.
LIVEBLOG (Refresh for latest updates
19:57: Before we go, here's some pricing for the new iPad mini 2 with Retina Display
--
19:55: That'll be it for us here on the liveblog. Thanks for joining us for a somewhat strange Apple keynote where the company seemed a little unsure of itself, perhaps lacking the cocksure swagger we've come to expect in recent years. Our team on the ground are currently grabbing hand-on shots as we speak, so stay tuned to T3.com for our first impressions as they come in throughout the evening.
19:53: Here's another big'un: Apple iPad mini 2 with Retina Display launched, set for November release
19:37: To recap, here are some of today's other big headlines. Follow the links for the full story.
Apple Mac OS X Mavericks is a free download, available today for all Mac users
Apple unveils new thinner, more powerful MacBook Pro models
19:25: That's the end of the presentation as Cook encourages attendees to get their hands on the new products in the dedicated area at the event. We'd imagine there'll be a bit of a queue, perhaps even a fight, to go hands on with the iPad Air.
19:23: "This is what we mean by 'Designed by Apple in California. Other companies would be incredibly proud to have just one of these products, but we couldn't be more pleased to present them all to you in time for the holidays." We have never heard Apple talk about "other companies" this much.
19:22: Cook summing up todays launches and says he "couldn't be prouder of the new iPads" before introducing a new video app for the iPad Air. Ixnay on the videos-ay, Apple. "We can't wait to see where you'll take it next," says the voiceover.
19:21:
19:20: Covers and cases. There are some. Doesn't look like we're going to get the rumoured keyboard covers yet. No TouchID for the iPad either. That's it for the iPad line-up. Cook is back on stage.
19:19: 4 faster thanks to the presence of the A7 and M7 chips. 8x graphical performance. Gets 2x faster MiMo Wi-Fi. New FaceTime HD. Comes in silver and whote and space grey and black. It's $399 or $529 with LTE. Available in November. Original iPad sticking around with the price lowered to $299 from $329. Nice way to disguise the price bump for the new model.
19:18: Most requested feature has been added. A 7.9-inch Retina Display. 2048 x 1536, the same resolution as the iPad Air.
19:17: Now we're onto the new iPad mini.
19:16: The iPad Air looks bloody awesome, but who called that name? *tumbleweed*
19:15: Oh yeah, it still has a 10-hour battery life and Retina Display.
19:13: Jony Ivy is talking through the new features in the video says Apple has been working on it for years, dreaming up the techn necessary to make this device possible when the time was right.
19:09: Weighs just 1.0lbs. It features the new A7, 64-bit desktop class chip and the M7 motion processor introduced within the iPhone 5S. iPad Air 8x faster than original iPad. Graphics are 72x faster than original iPad. Half of these improvements coming with the A7 chip in the new iPad Air. "Screaming fast iPad." First time used multiple antenna MiMo Wi-Fi tech for twice as fast Wi-Fi. Expanded LTE coverage with more carriers.
5-megapixel camera, 1080p video, New FaceTime HD camera. Starts at $499, $629 with 4G LTE. iPad 2 stays on sale, strangely at $399. iPad Air shipping on November 1. iPad 3 and 4 are gone from the line up, but iPad 2 remains? Weird.
19:08: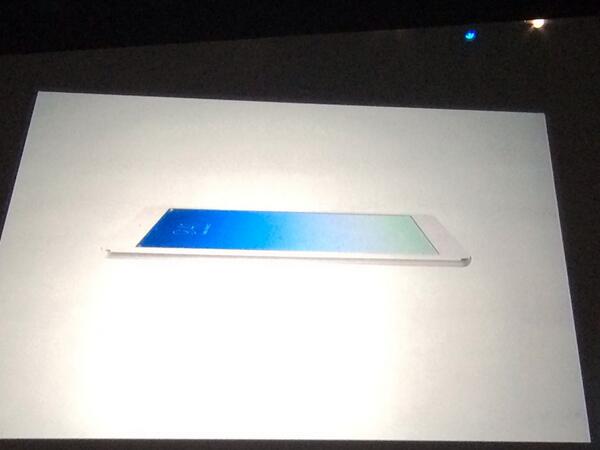 19:07: Here's the biggest step yet in fulfilling the vision for iPad. Thinner, lighter, more powerful than ever before. There's a new name 'iPad Air,' which draws the biggest cheer of the day so far. Smaller bezel "dramatically so" 43 per cent thinner than the previous version. "Amazingly thin," 7.5mm compared to 9.4mm on previous gen, 20 per cent thinner.
19:07: "This is just the beginning for iPad and we've ben busy working on the next generation of iPad," says Cook as he welcomes Schilller back on stage to build on the "new vision for mobile computing"
19:06: Dune buggying, flying planes, saving lives, choreographing dance, measuring sporting performance, playing games, powering DJ consoles, shooting videos..errrrrm campting on the side of a mountain.
19:05: Apparently not. Here's a video celebrating the creativity of iPad users.
19:05: Can we just have the new ones now, please?
19:03: 475,000 dedicated, custom designs "not these stretched out smartphone apps that our competitors are doing"
19:01: "Some thought the iPad wouldn't compete with netbooks. Who remembers netbooks?" says Tim as he brings up quotes from doubters. 170m iPads now sold, so eat that haters. Even the doubters are making tablets says Tim: "Regardless of what you might read about tablets solds, iPads are used 4x more than all of those tablets put together. This is what's important to us. People use it. People love it."
19:00: "Next up, iPad." FINALLY.
18:59:
18:58: Tim Cook is back on stage. Can he save the day?
18:57: All the productivity apps are available free too. Biggest updates to iLife and iWork ever and they're all free. "Biggest day ever for apps, says Eddy Cue.
18:55: Apple adding collaboration to iWork for iCloud. Others can edit the document too. Just like Google Docs then? Different users are colour coded. Just like Google Docs. The feature looks great, the demonstration is bordering on embarrassing, nay, cringeworthy.
18:51: Now Eddy is stumbling over his words. People aren't clapping when there are pauses for applause. This is all getting a bit weird. Has the big stage magic desserted, Apple? Say it ain't so, Joe? Now there's a weird iWork demo for poster making, making fun of Eddy Cue.
18:50: Cue is now talking about iWork. New UI in pages with formatting panels that are content sensitive, Not cluttering the screen with a lot of controls. Keynote 'the gold standard of presentation apps' has been powering this presentation and there's a host of new transitions with more realistic physics. "Best of all, they're even fun."
18:49: All Apple apps now free with the purchase of any iOS/Mac OS X device. Apple in the spirit of giving today, huh?
18:45: New virtual drummer feature in GarageBand being debuted. Gives you a virtual drummer, sort of like a session player. Actually, it is powered by actual session players. Every Mac now coming with GarageBand with a selection of session players and more that you can purchase. These drummers actually have names. This one's called 'Gavin.' No-one Rock and Roll has ever been called Gavin.
18:44: GarageBand going to 16 tracks or 32 tracks on a 64bit device. 64bit devices? That drops a serious hint about the new iPads following in the iPhone 5S' footsteps.
18:44: iPhoto for iPad will now let users print photobooks. iMovie is new for iOS 7 with easier sharing. I think we already know this. Cue is promising 'desktop like effects' for the iOS app. High speed and low speed video. iMovie Theatre "is like having a private screening room" and is available on Apple TV too.
18:43:
18:41: It's probably best that Apple is running losts of video demonstrations. Cook, Federighi and now Shiller have all been stuttering and stumbling over their words. Let's see if Eddy Cue can do better in his chat about apps.
18:40: And oh yeah, don't forget now. Mavericks is free for all!
18:38: Mac Pro will start at $2999 (UK price to follow). It's a good price for a Pro desktop, according to Phil, who explains how much the various components cost. It's available in December. No solid date yet. It's no louder than a Mac Mini too! "Astonishing for this kind of performance." Going to be assembled in the US by 2000 people. Now we're seeing a video about what it's like to create the new Mac Pro.
18:36: Filmmakers, photographers, music producers talking about how the Mac Pro is going to enhance their experience.
18:34: PCI flash memory 10 times faster than a hard drive, 1TB of storage. Thunderbolt 2 allows users to expand memory, offers 6 devices per port, will support upto three 4K displays. "There's never been a system that can do what the Mac Pro can do." HDMI, USB, 6 Tunhderbolt 2 Bluetooth 4.0 "packed and built for expansion"
18:32: Now we're onto to awesome Darth Vader-esque (or Black Vader if you're Phil Schiller) Mac Pro. Fastest processer ever in a Mac, up to 12-cores of Intel Xeon E5. Fastest memory ever for a Mac 1866Mhz with upto 64GB RAM. First to come standard with dual workstation GPU.
18:31: New MacBook Pro also shipping today. Not much fanfare for the new MacBook Pros. Very, very fast runthrough from Phil Schiller here. "The best line-up we've ever had."
18:29: New 13-inch MacBook Pro starting at $1299 with a Retina Display, 2.4GHz i5 processor, thinner, lighter, 9 hours of battery life and Haswell chips. Shipping today. UK price to follow.
18:28: "If you're a fan of 'The Black Knight' like I am, you can watch the whole trilogy on one charge." - I think you mean The Dark Knight, Phil?
18:26: Phil Schiller is on stage to talk about MacBooks. Right now he's recapping the products launched this summer.
18:26: Just to reiterate. Apple Mac OS X Mavericks is completely free, from today, for any Mac.
18:25: FREE Mavericks for everyone in a one-step process, regardless of which version of the OS Mac users are running. even for Macs dating back to 2007. It's available to download TODAY.Goodness gracious me, isn't that awesome?
18:23: Federighi wants it in the hands of as many users as possible. "Upgrading OS is as easy as downloading an app. Days of spending hundreds of dollars on an new OS are gone. Today we're announcing that OS X Mavericks is free."
18:20: He's now talking about inline replies to notifications within apps, (his wife made fun of him for his 'scandalous' untucked shirt) while also demoing notifications from the websites users have subscribed to. Users can now also click on invites within Mail to see it in Calendar view, while also locating the event and plotting travel details. We already know all of this stuff. 22 minutes in and nothing new yet.
18:18: Federighi is demonstrating iBooks Texbooks on a Mac. Dragging and dropping quotes. Make sure you credit your sources though, folks! He's also explaining how 'Tagging' documents allowes users to keep tabs on everything in one project. Multiple tags also available.
18:16: Safari brings shared links from people we follow, in line responses in Notifcations center, there are tags within Finder and better support for multiple displays. Maps app is now integrated with flyovers "looking great on the big Mac display" iBooks and iBooks textbooks are also included. Aaaaaaand, here's the demo. Apple usually uploads these keynotes to the web a few hours after the event so you'll be able to see these demos for yourself.
18:14: Battery life is supercharged with OS X Mavericks, while the compressed memory feature makes space in the memory by surpressing unused apps. Fits 6GB of data in 4GB of RAM. Graphics enhanced systemwide with integrated graphics, sharing CPU and GPU memory. High performance no matter what you're doing, says Craig.
18:11: Now we're onto Mac, which Cook calls a "delightful experience that our users just love." The "competition is confused, they went after netbooks and now they're trying to turn tablets into PCs and PCs into tablets. Who knows what they'll do next?" Cook assures that it still believes in the PC category and here comes Craig Federighi to talk about the products. Starting with Mavericks.
18:10: 60 Billion app downloads on the App Store. "Hard to imagine like without these amazing apps on the App Store", says the CEO.
18:09: Timberlake loves iTunes Radio as he chose to debut his album (Read: Was paid a bunch of money to release his album on iTunes Radio.
18:08: iOS 7 is the biggest change to iOS ever, Cook reminds us. Apparently we loved the redesign as 200m updated to iOS 7 in the first 5 days, making it the fastest software adoption ever. 64 per cent now running iOS 7. "Beats all the other guys" says Cook. By other guys he means those fragmented so-and-sos at Google.
18:07: People sure like getting their iPhones on launch day, huh? Lots of them.
18:06: Interesting tidbit from @T3dotcom
18:04: Cook touting the biggest iPhone launch ever for the recent iPhone 5S and iPhone 5C. 9 million sold in the first weekend. Cook is showing off a video detailing the excitement at an Apple retail store on day one.
18:03: Tim is on stage. "Thanks for joining us and good morning." Cook says we're going to see some amazing products that could only be developed by Apple.
18:02: And we're underway, with a promo video that seems to be touting Apple's innovative and flair for design, which first played at WWDC. "It takes time..." the company says. Perhaps a shot back at those "can't innovate anymore" jibes. Apple won't sign its work until it "enhances every life it touches."
17:57: @T3dotcom Twitter follower Joseph Guthrie wants something completely new from Apple. "Something that isn't an iPad, iPod, MacBook, iMac. Something new from Apple would impress me." We hear you Joseph, but will we get it today? We're about to find out. Hang on to your iHats, folks.
17:55: We're just five minutes away from the launch events getting underway in California and London. Remember, we'll be striving to get some hands-on time with the new iPads as soon as we're free from the press conference, so stay with us tonight. We can't guarantee breakfast in the morning, but we'll call you a cab.
17:45: We've still got time for a little good natured-humour courtesy of The Onion, right? Good.
17:40: 20 minutes to go. Time for some of this: Rocky IV: Original Motion Picture Soundtrack on Spotify
17:31: From the main man himself.
17:29: Anyway, with half an hour to go here's exactly what we expect to see. Remember we're live from the event in London, so stay tuned for some instant reaction to whatever Apple bestows upon an expectant army of fans this evening.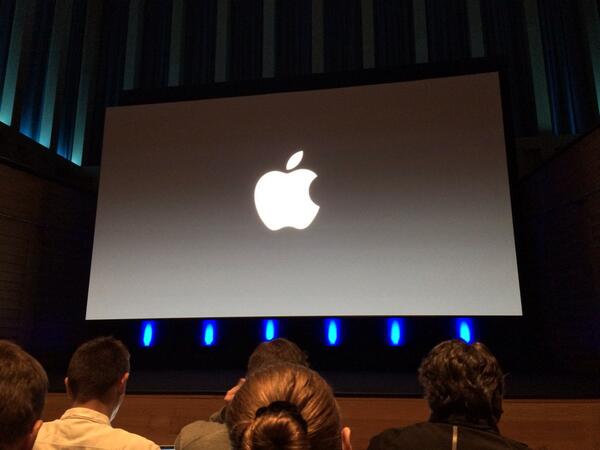 17:24: One thing we are likely to hear today are release dates for the new version of Mac OS X. Mavericks was previewed last summer, breaking the tradition of cat-themed naming conventions. We're also keen to know when that cylinrical Mac Pro is going to be up for grabs.
17:21: Will we get a surprise today? It seems like too many of these events have passed without one. Is that a sign of the times or a sign that Apple truly is lagging behind in the innovation department. Let us know your thoughts on Twitter @t3dotcom.
17:15: We're less than an hour away from what's likely to be Apple's final launch event of 2013 and T3 is live from the London based event. Make sure you'll following @T3dotcom on Twitter and Instagram for live updates from the launch as they happen. Luke and Rhi are in the building.