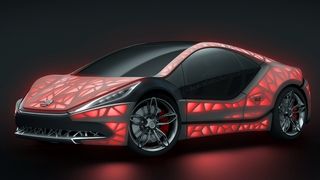 EDAG Light Cocoon
Engineering firm EDAG wants manufacturers to reassess the materials they use when creating the outer shells of vehicles. This 'Light Cocoon' concept takes a lightweight weatherproof fabric designed by outdoor clothing specialist Jack Wolfskin and wraps it over a 3D-printed shell. We're not sure the contraption would meet Europe's rigorous safety standards but it's a classy exercise in lightweight design. The lights are pretty, too.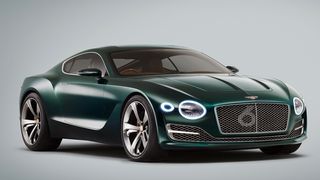 Bentley EXP 10 Speed 6
Bentley fans have waited a very long time for a proper two-seater sports car to wear the famous winged badge but that wait could soon be over. The EXP 10 Speed 6 is a nod towards an Aston Martin-bothering speed machine that would sit alongside the Bentley Continental GT in the model line-up and cost around £130,000. There is no official word on engines but a Bentley source told T3 that it would feature a hybrid powertrain to chase a younger, more environmentally savvy audience. Aircraft inspires the exterior styling and the cockpit is decked out in swathes of luxurious leather. It's a stunner.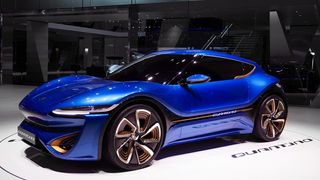 NanoFlowcell Quantino
NanoFlowcell was back at Geneva this year, touting another all-electric vehicle that uses its innovative flow cell technology. The Quantino features four low-voltage motors that drive each wheel, two tanks - one containing a negative and the other a positively charged ionic fluid - and a battery pack. According to the marque, the "affordable and practical" Quantino can have its ionic fluid tanks brimmed in the same time it takes to fill a normal internal combustion car with fuel. All-electric range is said to be more than 620 miles and the Quantino can reach speeds of 124mph. Although it's all speculation at the moment, as nobody has actually seen it work.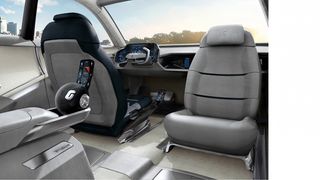 Audi Gea
A collaboration between Audi, the fitness experts at Technogym and design studio Italdesign Giugiaro, the Gea is "the world's first car with wellness mode." A gym on wheels, if you will. We're just going to quote the press release verbatim on this because, really, what can one say?
"Ideal for long-distance trips, it enables passengers to perform isometric exercises which are a great for muscle awakening. When the driver selects wellness mode, dashboard LED lights turn to amber, creating a warmer, more relaxing atmosphere.
"Two aluminium handles are fitted into the rear sets. By activating a sensor, the handles pop out of the compartment and can be used for upper body routines. For lower limbs, two flat boards have been fitted to the floor, also designed by Technogym. These can be made to be raised and used for stepping exercises. The monitor displays a video tutorial of Technogym exercise programmes to guide the user.
"There is also room between the seats for a small fridge compartment where drinks or juices can be conveniently stored. At the top, a small drawer contains cosmetics and a perfumed pouch for aromatherapy."
At last, the back-seat workout is a reality.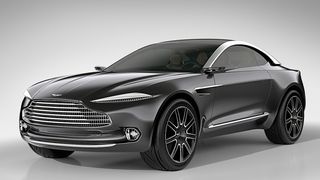 Aston Martin DBX
The British marque stunned the show floor by unveiling its idea of a "high luxury GT" vehicle. Most manufacturers would have said SUV but this is Aston Martin and they do things a little differently. Very little has been said about powertrain specifics, only that it's driven by an electric motor, which should go some way to offset the emissions created by the marque's new 7.0-litre V12 Vulcan. Could this signal a move towards more "family friendly" Aston vehicles? Who knows, but the old luxury SUV thing has been pretty profitable for the likes of Porsche, Mercedes-Benz and BMW.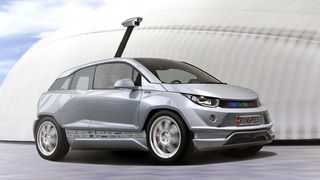 Rinspeed Budii
Pipping even the Gea for oddness, the Budii from Swiss design house Rinspeed is the latest in a line of bizarro-mobiles from them. Based on the BMW i3, it comes packed with a raft of odd tech, including a telescopic, roof-mounted laser scanner that maps the road ahead and adjusts the suspension and ride height to avoid run-ins with rocks and potholes. The Budii can also drive itself, pair with smart watches and creepily "follow" its owner, while the all-new infotainment system by Harman learns your habits and behaviours. Oh, and the steering wheel can robotically manoeuvre so both front seat passengers can take turns driving and there's a pair of Segway-esque personal scooters stashed in the rear. It's the future!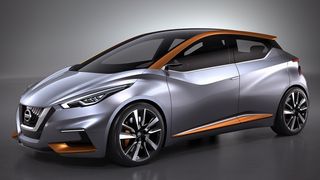 Nissan Sway
With swooping lines, sharp headlights, gigantic wheels and an as that won't quit, the Nissan Sway has all the makings of classic concept car. It's also classic in the sense that nothing was really said about what may power it or if it would actually go into production. Instead, the Sway is merely a design study that showcases what Nissan hatchbacks could look like in the future. The Micra is due a refresh soon and if it looks anything like this, we'll happily put a deposit down.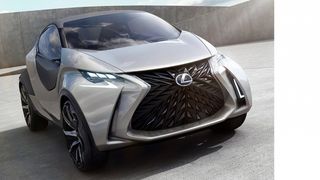 Lexus LF-SA
Geneva was jam-packed with lairy supercars, all battling for attention with their shiny wheels and ground-grazing body kits. But in amongst the petrol-powered beasts was this little concept from Lexus and when we say little, we mean it. The LF-SA measures just 3,400mm long, 1,700mm wide and 1,430mm high, making it smaller than a VW Up! It's by far the most minuscule thing in the current Lexus line-up and is aimed squarely at inner-city dwellers. There is a hologram-style digital screen inside and a large head-up display that shows various vehicle read-outs, plus enough room for four adults. Albeit small ones. And the grill is like some sort of alien pit-beast's maw - a plus, in our books.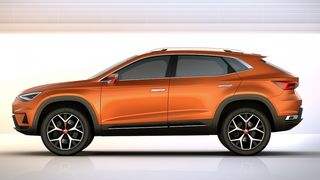 Seat 20V20
This is Seat's vision for the year 2020 in automotive form. The four-door sports coupe fuses an SUV body with the practicality and roominess of an estate, while turning heads with its 20-inch rims and aggressive styling. Inside, there are large TFT displays that sit flush in the dashboard and ace digital instrument binnacles. It's highly unlikely it will make production in this form but it's a good indication we can expect a big Seat Leon SUV to rival the Nissan Qashqai et al in the near future.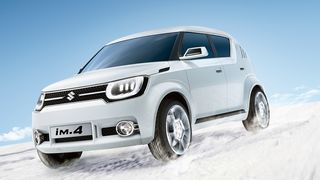 Suzuki iM-4 4x4
It's about time Suzuki started making fun cars again and things don't get much more entertaining than the iM-4 4x4, which boasts great exterior styling, a proper all-wheel-drive system and a hybrid powertrain inside its compact shell. It's touted as a concept for now but Suzuki says it could make it to production by 2016 as a funky alternative to its Jimny and Vitara SUVs.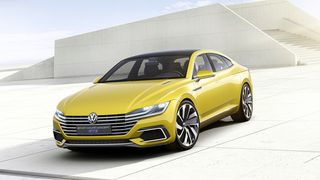 Volkswagen Sport Coupe Concept GTE
VW's stand was fairly quiet this year, slightly overshadowed by its sibling companies unleashing all sorts of madness nearby, but it did produce one gem in the form of the Sport Coupe GTE. Stylistically, it points towards a new look for the top-selling Passat CC, but dig deeper and you'll find a plug-in hybrid system, which fuses a 3.0-litre V6 with a pair of electric motors. The car can potentially rocket from 0-62mph in 5-seconds yet it can cover more than 745 miles on a full tank and charge. There's also some smart touchscreen tech on the inside, including a tactile centre console that does away with dials and switches altogether.