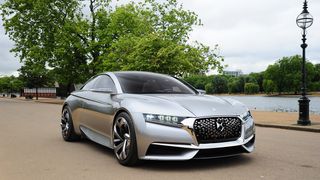 1. Introduction
This is the Divine DS, it was unveiledat the Paris Motor Show 2014, and represents a vision for the future of the DS brand.
T3 took a trip down to HydePark for a spin in the one-of-a-kind, very expensive vehicle. We also had a chat with the designer, and took plenty of pics.
Oh, and did we forget to mention? It's made by Citroën, designers fo the infamous Cactus.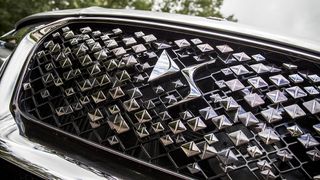 2. There's no Citroën badge
Have a close look around and you won't find a Citroën badge anywhere on this car.
Instead, it's marked as DS, a range that the French company are developing into a high-end brand in its own right.
It'll have to be something pretty special in order to to persuade customers from Audi, BMW, and Mercedes.
Has the DS concept got what it takes? Let's have a look.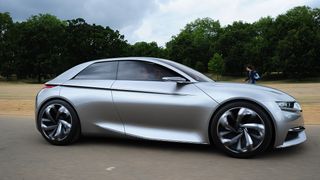 3. Sweeping sides
The Divine DS is a compact 4-door vehicle which measures 4.21m long and 1.98m wide. The strong curved sides are a striking graphical feature and the edges are set off with a sharp diamond-shaped detail.
The dramatic waistline starts life as a circle around the rear lights and tapers away naturally at the front. The body appears taught and dynamic.
The sharp sweep along the length of the car also cleverly conceals the door handles, (so much so we had no idea how to get in at first).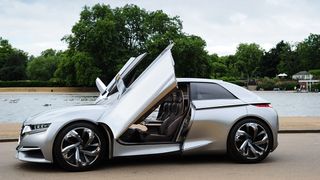 4. Suicide butterfly doors
Speaking of doors, this car doesn't include run of the mill hinges found on the Citroën C3, instead it has awesome part-butterfly, part-suicide doors.
The front doors open up like wings, with hinges at the base of the A-pillar. The rear doors open up from a hinge at the rear.
This looks great, but it's also functional -- ditching the B-pillar creates a big open space for easy entry and exit.
Unfortunately, we were told not to expect this to feature in production carsany time soon, as it presents numerous construction, crash protection, and torsional strength problems.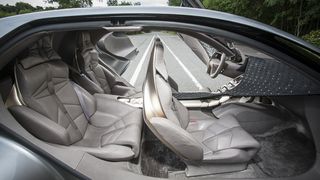 5. Haute couture interior
Once you've entered through the amazing doors you're greeted with an extremely lavish interior.
DS is introducing the term 'hyper-typage', which is a completely new philosophy that combineshaute couturefashion with interior design.
The car comes with a choice of three interior 'ambiences', 'Mâle' is a sober carbon fibre affair, 'Parisienne Chic' combines ivory-coloured leather with silk, satin, padded leather and studded crystals.
Finally there's 'Fatale Punk', which is bold and dark, featuring deep black padded leather studded with crystals, and door panels covered in Swarovski fabric, a materialcovered with millions of tiny crystals -- kind of like sandpaper.
As well as being flamboyant, the interior is also intelligent -- with a high-tech cockpit.
The controls of the Divine DS are grouped on an HD Touch Drive interface with a 10.4-inch screen.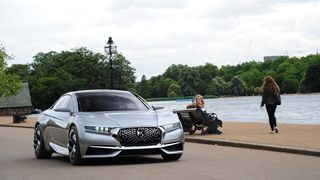 6. Advanced performance
To match theDivine DS concept's dynamic character, the car also has sporty performance to match.
The turbocharged direct-injection 1.6 THP petrol engine develops 270 bhp, with a maximum power output of 199kW at 6,000rpm and maximum torque of 330Nm between 1,900 and 5,500 rpm.
The engine will also be pretty easy on the environment, emitting just 145/km of CO2.
Unfortunately the Divine wasn't great to drive -- but that's understandable as it's not a production car.
The engine is carried over from the Peugeot RCZ-R, but it was only part-functional. It was noisy, got hot quickly and felt like it was about to fall apart. Still -- it's amazing they concept actually worked -- as most don't.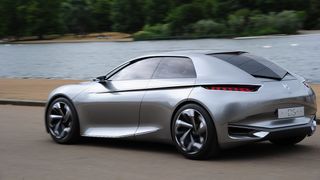 7. Dynamic rear shell
To help out with performance, the car also has a dynamic rear shell which adjusts to optimiseaerodynamic performance.
The shell's facets can move independently of one another, and act as a rear spoiler to either increase or reduce drag and downforce at the rear.
One of these facets includes a camera, the image of which is projected onto the interior cockpit -- aiding with rear visibility.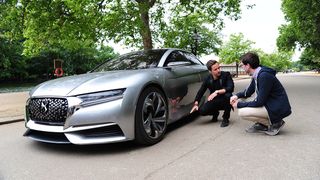 8. The designer
As well as taking the Divine DS for a short test drive we also had a chat with the designer, Damien Fressard.
Fressardwon Citroen's internal competition to conceptualise DS's future.
He took inspiration from jewelry, and the Louvre in Paris. He was clearly very proud of his work.
The processformhis first sketches to the completed concept took less than a year, and he's now working onan DSproduction car.