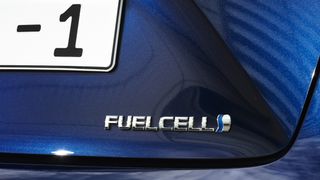 Introduction
Burning fossil fuels is bad, we know this, but so far there isn't a viable alternative to internal combustion engines for personal transport. Right now, if you want a reliable, robust vehicle with long range and a quick method of refueling, petrol or diesel is the way to go.
Of course, that's not the greenest method of propulsion, it both uses a limited natural resource, and emits harmful gases. Double threat.
Last week T3 flew over to Hamburg to drive the Toyota Mirai, one of the first hydrogen fuel cell powered vehicles available in Europe.
Hydrogen is considered by some as the fuel of the future, it's clean, green and has a number of desirable aspects (which we'll get onto later).
This is actually the second hydrogen powered car we've driven in as many weeks, you can read how we got on with the Hyundai ix35 Fuel Cell here
It's an exciting prospect, but is it a viable solution?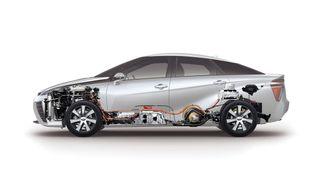 How does it work?
Without trying to get too technical, a fuel cell vehicle (FCV) is similar to an electric vehicle (EV). Both contain a battery which powers an electric motor, with this motor driving the wheels.
But whereas an EV battery draws power from the mains supply (a coal burning power station down the line), an FCV battery gets power from a chemical reaction within the fuel cell. Simple.
How does a fuel cell work? Well, for those who took Chemistry at A-Level: In a fuel cell, hydrogen is supplied to a negative electrode, where it is activated on the catalyst causing electrons to be released. The electrons freed from the hydrogen move from the negative electrodes to the positive electrodes, generating electricity.
Clear now? Good (Don't worry, you won't need to understand that to drive one).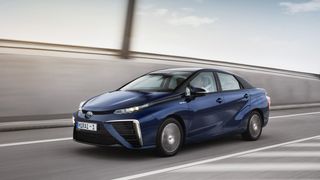 Driving
So, how does an FCV drive? Exactly like an electric vehicle.
That means there's instant torque available at the press of the throttle. There are no gears to deal with meaning acceleration is linear, and it's completely silent (although, Toyota artificially pumps futuristic whooshes into the cabin to give a sense of acceleration, effective).
The Mirai takes 9.6 seconds to reach 62 mph, but thanks to the instant torque, it can beat most Hamburg taxis off the line at traffic lights.
Still, it's no Tesla Model S (very few cars can match that) and tops out at 111 mph.
Handling is fairly standard for a car that isn't focused on sports, it could be described as 'wallowy'. The ride is incredibly comfortable on both motorways and German B-roads.
In other words, it's a simple car to drive and you don't need to be a rocket scientist at the controls.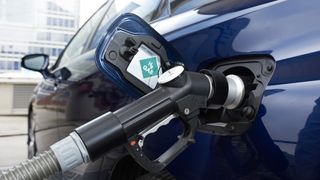 Refuelling
Charging an electric vehicle is not instantaneous. Even Tesla Superchargers take 30 minutes to provide around 80 per cent juice. Too long, especially if you don't get to the charging station first, and you need to wait for someone else to finish.
Save for a quick battery swap, it's difficult to see how this will improve any time soon.
This is one of the major advantages of Hydrogen as a fuel. FCVs can be refuelled just like petrol cars. Simply pull up to the pump, pull the trigger, pay, and away you go. We had the opportunity to experience this in Hamburg, and it really is that simple.
The fuel tank has a 4.6kg capacity, and once full, you're good for around 300 miles of driving. Hydrogen is priced around €9 (£6) per kg, so to fill a tank will cost around £30.
Hydrogen pumping stations have already been standardised, so you won't have the 'Tesla Only' Supercharger situation, and any FCV will be able to refill from any fuel station.
Hydrogen fuel is transported the same way that petrol is, but more advanced stations can actually have hydrogen 'brewing' stations on site.
Currently though, there are only three Hydrogen stations in the UK, two on the outskirts of London, and one in Swindon. There are already three more fueling stations scheduled before the end of 2016.
Clearly, the infrastructure needs to grow in order for the fuel to gain a wider adoption.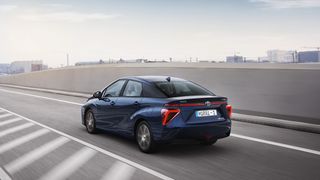 Safety
Worried about sitting on a Hindenburg disaster waiting to happen? Don't be. According to Toyota hydrogen-powered vehicles are perfectly safe.
The fuel is stored in two ultra-tough tanks, cased in layers of carbon fibre. In the unlikely event of a leak, the tank is fitted with sensors which instantly shut down the system when fuel is detected. The gas quickly disperses, and disaster is averted. Hopefully.
Toyota have even shot the tanks with a high caliber rifle, the bullet went straight through and it didn't result in an explosion. But don't try that at home.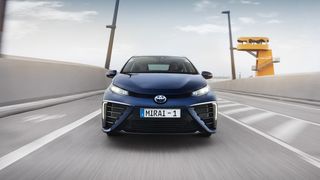 Design
We're not sure what to think about the design of the Toyota Mirai, from certain angles it looks reasonable enough, but from most others it's rather awkward looking.
The front, with it's large grills and striking lines, looks aggressive and purposeful. We particularly like the tall, thin indicator lights, and gaping grills (which harvest the oxygen necessary for the chemical reaction).
Move backwards and aesthetic starts to go down hill, with the tailgate appearing as if the designers had given up at that point.
We understand the design ethos, Toyota want to position the Mirai as a practical car, an everyday car that anyone can drive (which just happens to be powered by a future fuel). But we wish the Mirai was more aspirational, and looked like a Delorean... or something along those lines.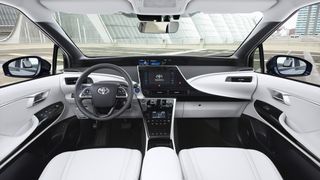 Interior
The interior of the Mirai is surprisingly plush, it's full of soft touch leather, shiny plastic and most importantly, tech.
Take a seat behind the wheel, put your seatbelt on, and the steering wheel will automatically extend into position. Very swish.
The control panel is all touch sensitive (no twirling knobs or pressing buttons here), and there's a virtual dash, which displays energy recovery, speed, range, hydrogen level, and other exciting information.
The driver's armrest contains a wireless charger for your smartphone, very useful if you own a Samsung Galaxy S6, not so if you use an iPhone.
Behind the steering wheel is an H2O button, which dumps the water created in the fuel cell. This water is so clean you could drink it, but we wouldn't recommend doing that, just in case.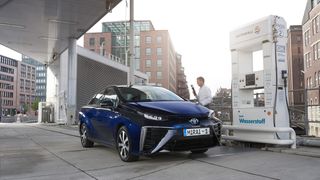 Verdict
The Toyota Mirai is an incredibly impressive car, as a proof on concept and a feat of engineering, it's very hard to fault, it's accessible, simple and appealing.
It's also an incredibly important car, showing everyone just how accessible and viable hydrogen is as an alternative fuel source.
Of course, just because it's efficient and futuristic doesn't mean you'll buy it. In fact, very few people will buy this car, partly because the UK infrastructurestill needs a lot of work, and partly because the Mirai costs £66,000, which is a tonne of money for what could easily be mistaken as a Prius (the Tesla Model S starts at £45,000, for comparison).
But it's an exciting prospect none the less.
We're not saying you shouldn't buy the Mirari, if you've got the money and you're looking to make an environmental statement, go for it, it's a very capable car. "Around 18" of these cars will be headed to the UK, among the first customers are Transport for London. Green Tomato Cars and ITM Power. So right now they're used to make a statement, but in the next decade we have no doubt hydrogen powered cars will become a lot more prevailent.