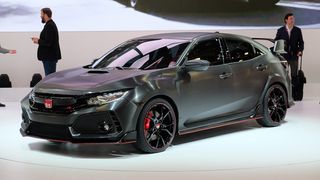 Introduction
When it comes to motor shows Paris is one that casts its gaze far ahead into the future. Sure, there are plenty of car launches and even older models on display, but the concepts are what really excite.
The amount of technology on display at the Paris Motor Show 2016 is impressive, and we're not just referring to autonomous driving. From external panel screens to steering wheel-free driving, there's plenty of glimpses at the future of driving.
We've been at the show to find the best cars being shown off this year. The results are some mind-melting concepts and stunning new releases that will have you throwing money at your screen - be warned. These are the best cars of the Paris Motor Show 2016.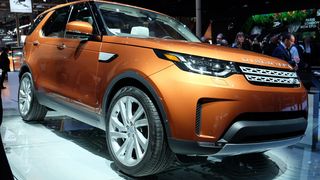 Land Rover Discovery
It's been 27 years since Land Rover launched its Discovery and this fifth generation redesign is the biggest change yet. The four-wheel drive SUV has had an aerodynamic refining on the outside and a complete technological evolution inside.
A world first for this class of car is two rows of motorised seats that can be controlled from anywhere using an app. Out shopping and want to have the seats flat when you're back? Just tap the app and it'll get the car ready for your arrival. Take that Ikea furniture.
Inside there's 3G Wi-Fi, nine USB ports, four 12V power sockets and plenty of space to store tablets and phones - all ideal for keeping the family entertained in the back.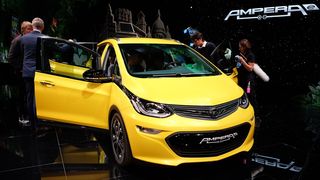 Opel Ampera-e
This all electric car has a range of 310-miles. Yes you read that right. Yes that's amazing for any electric car. And yes some version of this, likely by another model name, should also be coming to the UK in Vauxhall form.
The Ampera-e allegedly not only has range but is fun to drive too with, according to Opel, "the feistiness of a sports car." That's likely down to the 204hp motor that will deliver all the torque right away for a good pull away and a top speed of around 95mph.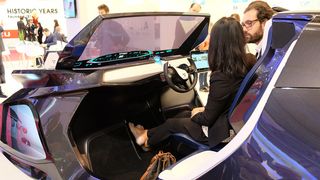 Segula
This little gem was hidden away at the back of the show, likely because it's a very future-focused concept. But there's a lot to love.
As you can see the car panels on the sides are actually displays, the bonnet can even show a heat map of the engine beneath. Inside there's a heads-up display and phone dock that make it the centre of the driving experience. The car even shows heart rate data from the driver right on the glass windscreen. Cool ideas but don't expect to see one on the road anytime soon.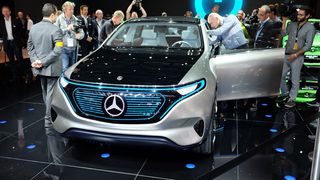 Mercedes-Benz Generation EQ concept
Mercedes-Benz has well and truly committed to electric with its new Generation EQ concept. This SUV is all-electric but still churns out 402hp and can manage an impressive 310-miles on a charge, apparently.
This is just the start as Merc says it'll have a host of ten electric cars available to buy as soon as 2025.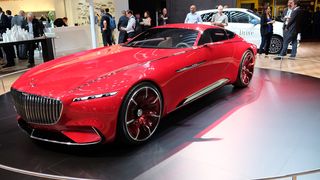 Maybach Vision
First shown off in the summer, the Maybach Vision concept has crossed the pond to reveal more than the fact it's really, really long at six metres.
The Vision is an all electric car that looks like something Lady Penelope from Thunderbirds would own. It's meant to be fast too with a limited 155mph top speed and 0-62mph time of just four seconds, all while somehow managing 310-miles on a charge.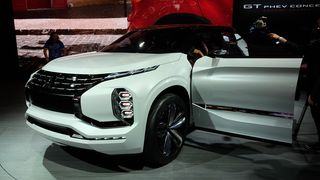 Mitsubishi GT-PHEV
This hybrid petrol-electric SUV is a beast that has taken the Outlander PHEV and improved it in nearly every way. The electric range is 43 miles more at 75 miles before the 2.5-litre engine needs to start working. That should a similarly legendary mpg rating then, all while looking better than ever.
The car is smart enough to close the grille vent to save fuel as well as adapt suspension, all very clever stuff to ultimately save the driver money on fuel.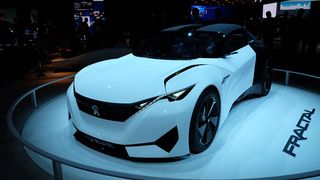 Peugeot Fractal
First unveiled at the Beijing Motor Show a few months back, the Peugeot Fractal still impresses on its home turf. The 2+2 seater coupe looks stunningly futuristic with aggressive lines and inspired new LED lighting designs.
The Fractal uses 3D printed cabin pyramid parts that act as a noise absorber to give a quieter ride, ideal to show off the 12-speaker sound system. The fully digital instrument panel keeps the inside futuristic too. Plus the whole car is electric at 201hp with a simulated exhaust that sounds like you'd imagine an awesome spaceship to scream. Stunning.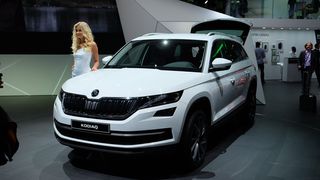 Skoda Kodiaq
The new Skoda Kodiaq SUV has arrived and it's coming with five or seven seater versions in two or four wheel drive from just £23,000. There will also be a 240hp diesel version for those that want a bit of kick.
The Kodiaq will rival the likes of the Hyundai Santa Fe offering a wider, taller and longer build with an extra 720-litres of storage space at 2,064 litres. The top end models will have seven seats, four-wheel drive and 2.0-litre diesel or petrol engines.
All the models will have Driving Mode Select to allow the car to alter engine response, gearbox, power steering and even air-conditioning to suit the terrain. Inside is an 8-inch touchscreen centre display plus wireless charging for phones.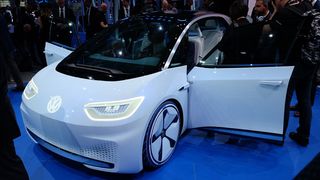 VW I.D.
Volkswagen has stolen the show with its I.D. concept. This electric car, promised for a 2020 release, features a steering wheel which retracts into the dash when self-driving mode is activated. Yup, just like I, Robot predicted.
Of course self-driving isn't promised to take effect until 2025 but it's cool to see this option is ready.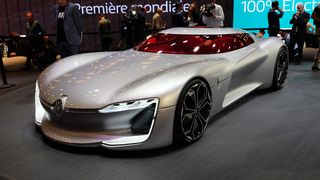 Renault Trezor
This stunning concept from Renault was revealed as a full electric car with a 0-62mph time of just 4-seconds. You probably spotted that long wheel base and super low form too, all aimed at standing out. But did you spot those hexagonal markings on the bonnet? They open as needed to cool the electrics by letting in air, keeping shut for aerodynamics usually.
The best bit? The whole front of the car and roof is a single piece that lifts off to let you out. Sure it won't be out anytime soon, but we can dream right?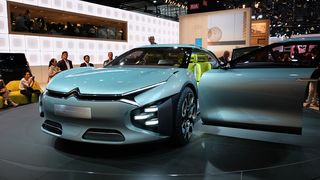 Citroen Cxperience
The Citroen Cxperience is the company's future-gazing version of a large family car. The suicide doors make access to the large innards easy while the hybrid electric drivetrain should save plenty on fuel.
The inside is largely touchscreen controlled using the 19-inch display which extends into a heads-up display for more information feedback. The front has a smartphone dock while the back has a tablet for control of seating and climate. The hybrid electric petrol setup offers between 150 and 200hp and can manage 30-miles on pure electric alone.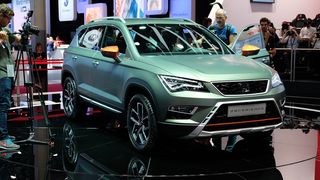 Seat Ateca X-Perience
This crossover is a concept version of the Seat Ateca that is built for the off-road driver. The company has added front and rear scuff plates, non-scratch paint, mud flaps, chrome roof rails, body cladding on the bumpers and side sills plus chunky off-road tyres and new alloys.
The X-Perience gets six modes of driving for snow, off-road, hill descent and more. All of which run from a 187bhp 2.0-litre TDI diesel engine and seven-speed DSG automatic gearbox.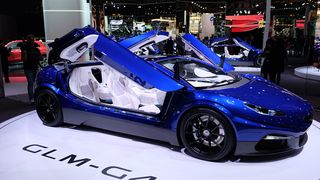 GLM G4
This supercar features the re-engineered body of the Savage Rivale Landyacht GTS but with a new electric powertrain replacing the old V8.
Winged doors, a lush interior and small, low build make this stunning and dangerous looking in equal measures.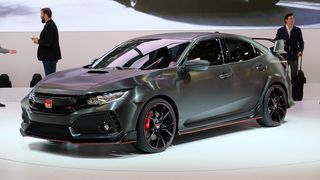 Honda Civic Type-R
Honda has shown off what its new Civic Type-R will look like. But it's done little else. Other than saying it will be faster than the last version little else was given away.
Of course rumours have suggested things like it'll still be two-wheel drive but we can expect that £30,000 price to get a hike.