Lefant is a relatively new name when it comes to the vacuum cleaner game. They did have some spectacular savings in the recent Amazon Prime Day sales with their M210 model (it's still on offer by the way!) but their most recent model, the Lefant N3, is what I've been reviewing recently.
The Lefant N3 promises an efficient and advanced cleaning experience, specifically designed to have a strong suction and mopping performance. I was intrigued to try it out, especially as it comes in at a higher price point than some of the others we've been featuring recently. It's no secret that we have some high-performing robots in our best robot vacuum cleaners guide, so it'll be interesting to see where the Lefant N3 comes into it.
Before we begin, have you ever considered whether you'd be best suited to a cordless vacuum cleaner or robot vacuum cleaner? Have a read of our comparison guide to find out for yourself!
Lefant N3 Robot Vacuum Review: Price and availability
The Lefant N3 is available in black, champagne or white on Amazon for an RRP of £549.99. However, they are currently offering 50% off for the whole of September! Have a look for yourself: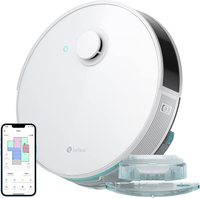 Lefant N3 Robot Vacuum Review: Unboxing and set-up
Unboxing the Lefant N3 was as simple as it could've been, especially as the packaging and components weren't excessive. Before the N3 arrived, I was researching some of the other models Lefant had to offer. Most of them seemed to have limited parts so I was relieved to see that the N3 was the same.
When I opened the box, I was greeted with the main body of the N3 itself which was already attached to the dustbin and water tank. Other components included the docking station and power adaptor, 4 x side brushes, cleaning tool, HEPA filter and sponge filter and a spare dry mop. I was particularly impressed with the size of the docking station. It was surprisingly small compared to other models, meaning the Lefant N3's base wouldn't have to be an eyesore when left out in my living room.
I was also so happy to find a Quick Start Guide! If you've read some of my other reviews, you'll know that I'm a huge fan of these and I'm always slightly disappointed when they're missing. It meant that I was able to get the N3 up and running without much effort at all. The user manual seemed extremely easy to understand as well, which is always a plus. I was happy to see that it explained how to maintain the vacuum cleaner, providing images on how to clean the dustbins, filters and water tank. The images were a really nice touch and a unique and simple way of explaining.
Lefant N3 Robot Vacuum Review: Design and features
There are many fantastic features to the Lefant N3 which make it an impressive and developed model. It's a new and improved version of the Lefant M1, and is labelled as having a suction power that is 25% higher. I haven't reviewed the M1 so I wouldn't be able to test that out, but it's a really promising start.
The N3 works by omitting high-frequency sonic vibrations (12,000 times per minute to be precise) that help to effectively remove stubborn stains. It also has 3 sets of laser lines and full-body electronic sensor, meaning it can accurately detect obstacles and avoid them precisely. This is a pretty basic feature for any robot vacuum cleaner, but I was intrigued to see how well the detection levels actually worked. I was also intrigued by the N3's 'advanced' carpet detection technology. After looking into things a bit further, I soon found out that this meant the N3 didn't work on carpets and is only designed to detect them and then steer away. Again, it's pretty common for robot vacuum cleaners not to work on carpets, but it would be a pretty fantastic feature if they did.
Whilst carpets may not be in the Lefant N3's repertoire, mopping certainly is. When in mopping mode, it is intelligently programmed to avoids carpets to prevent them from getting wet. This is great if you have a rug on your hardwood floor and you don't want to end up getting soggy feet! Its water tank is also intelligently designed to control the water flow in 3 different modes.
The Lefant N3 is also powered by a 5200mAh battery, providing up to 180 minutes of continuous cleaning and operating quietly to avoid disturbing you. When compared with some of the best cordless vacuum cleaners, this is a pretty impressive battery level and certainly makes opting for a robot vacuum cleaner more appealing. When the N3's cleaning is finished or the battery is low, it will automatically return to the charging station. As the docking station is small and inconspicuous, it didn't bother me that it was in my living room instead of a cupboard!
I was also extremely impressed with Lefant app. I was able to quickly download it and set up an account, followed by pairing the N3 model to my phone. The process probably took around 5 minutes! Another huge plus was the fact the N3 was able to map out the layout of my kitchen whilst cleaning at the same time! A lot of robot vacuum cleaners require the mapping to be done first, meaning it can take a while before it actually starts cleaning. The app also allows you to remotely control the N3, schedule cleanings, clean specific areas or rooms, set no-go zones, activate continuous cleaning and turn on the quiet mode. You can also use Amazon Alexa and Google Home to voice command the robot to start/stop the cleaning process.
It's looking good so far isn't it!
Lefant N3 Robot Vacuum Review: Performance
I started the Lefant N3 off in my kitchen, having purposefully left the crumbs on the floor from my toast that morning. It knew exactly what to do as soon as I turned it on, speaking out loud that it was about to start cleaning. As mentioned previously, the N3 started vacuuming straight away (mapping out the kitchen at the same time) with a white light indicating it was in cleaning mode.
It made its way around the kitchen really smoothly, using the side brushes to gather up dust and debris which it then vacuumed it up. It seemed to circle the kitchen a few times in 'cleaning mode' but I think it was doing that due to mapping at the same time. When I tried it again a few hours later and after the floor plan of my kitchen appeared on the app, it took a lot less time. I was particularly impressed with how good the suction was and how the floor brushes were able to get right underneath my cupboards and unit.
The mopping aspect of the N3 was also great. It was fairly easy to remove the water tank which is on the bottom of the vacuum cleaner. I then just had to add water, close the lid and pop it back on the machine. I pressed the button again and was impressed how it knew that it was time to mop. It started circling the kitchen and mopped the layout really well - no complaints at all!
It was slightly disappointing that the for the price, the N3 didn't have self-emptying features. When we look at robot hoovers such as the Ultenic T10 Elite and SwitchBot S10, they are able to empty out the dust (and the water in the SwitchBot 10's case) automatically without any user input. This undoubtedly makes life a little easier, especially for any allergy sufferers. However, the Lefant N3 does have a remarkably small docking station, so it completely depends on what your priority is.
It also had a nicely developed carpet detection system, allowing it to successfully recognise a carpet and steer away in another direction. This was the same for its obstacle detection feature, which also worked really well. When I tried placing it on the carpet, within 3 seconds it was telling me to lift it up and place it back on the hard floor.
As I've mentioned, I was disappointed that it didn't work on carpets. I was also hoping it would work on rugs, which is suggested in the user manual, but it didn't work on mine. As frustrating as this is, it doesn't take away from the fact that it is a very good robot vacuum cleaner with some nicely advanced cleaning features.
When the N3 was finished, it alerted me on the app that it had completed cleaning and was returning to its base. It did this with no issues at all, using its sensor to find the docking station which was in the corner of the room.
Lefant N3 Robot Vacuum Review: Verdict
The Lefant N3 is a great option if you're looking for an advanced robot vacuum cleaner with impressive cleaning features. Its suction power, obstacle detection and comprehensive app make it a great option, especially if you're looking for your robot to mop as well. Whilst it doesn't work on carpets or have any self-emptying features, it's an innovative robot vacuum cleaner that will be sure to impress.
Lefant N3 Robot Vacuum Review: Alternatives to consider
A similar model to the Lefant N3 is the Eufy Clean X9 Pro. Whilst it's significantly on the pricier side, the features between the two robot vacuum cleaners are pretty much the same. Both of them vacuum hard floors as well as mop, but the Eufy Clean X9 Pro has a much larger water tank that remains in the dock whilst it's doing its thing. Read our full review of the Eufy Clean X9 Pro to continue comparing!
If you were disappointed at the lack of carpet vacuuming with the Lefant N3, check out the iRobot Roomba S9+. It has an extremely powerful suction and that means it's an excellent option for those with a lot of carpet. It also automatically detects the type of floor surface it's on, ramping up or lowering the suction accordingly. Have a look at our full review of the iRobot Roomba S9+ to find out more - it got 5 stars if you didn't know!
Still hungry for more vacuum cleaner knowledge? Check our our maintenance guides for more information:
How to clean a vacuum cleaner: tips for cordless, handheld & robot vacuums
3 mistakes everyone makes with robot vacuum cleaners
How to save money on vacuum cleaners