If your current hoover has decided to give up on you recently, you may be looking for a new one on Amazon Prime Day today. Whether you're interested in a cordless vacuum, robot vacuum or car vacuum, we're absolutely positive that you'll find one that's right up your street.
However, there's one particular vacuum cleaner that has caught our eye almost immediately. Whilst bigger such as Dyson are discounted between 10% - 35%, there's now one vacuum cleaner that is currently priced at less than half price: the Lefant M210 Robot Vacuum Cleaner.
What is the Lefant M210?
The Lefant M210 is one of the most compact quiet robotic vacuums in the current market with incredibly powerful suction. At 2.8 inches high and only 11 inches long, this wireless robot vacuum can reach tight spaces and clean under furniture easily and efficiently.
It's designed with anti-collision sensors, object mapping, 360-degree sensors, multiple cleaning modes and long battery life, making it a wonderful choice for a deep, easy clean. It handles pet and human hair with tangle free technology and can also be controlled using the Lefant app and voice control - sounds pretty cool right?
A double HEPA filtration system effectively blocks particles and prevents secondary pollution, designed to capture up to 99% of dust, dander and pet allergens.
How much is the Lefant M210 in the Prime Day deal?
Usually sold for £219.99, the Lefant M210 is now available at an incredible £99.98. That's less than half price!
There is also a current promotion which enables anyone who buys a vacuum cleaner from Lefant to save £5 on mop accessories. These accessories are compatible with most Lefant models, including the M210.
With over 8791 reviews and an overall rating of 4.4 stars, we're sure that this is a deal not many people will be able to refuse.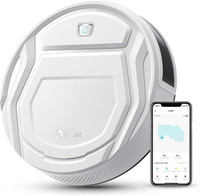 Lefant M210 Robot Vacuum Cleaner: was £219.99, now £99.98 (55% off!)
Grab an insane Prime Day deal bargain with the Lefant M210 Robot Vacuum Cleaner. It doesn't get much better than this!
What do you get with the Lefant M210?
When purchasing the Lefant M210 robot vacuum cleaner, you will receive a charging base, power adapter, 500ML large dust bin, two HEPA filters, four side brushes and a user manual.
The 500ml bin that only needs to be cleaned every 5 - 7 days. In comparison to most other 300ml bins, it can hold more waste and decrease the frequency of bin cleaning altogether.
Are there any other Lefant vacuum cleaners that have a Prime Day deal?
The Lefant M210 is currently the only vacuum cleaner from the Lefant range included in the Prime Day deals. However, we at T3 are keeping a close eye on this just in case any more pop up over the next day or so!
In the meantime, you can have a browse at the full Lefant range on Amazon.
Are you convinced? Have a look at 3 mistakes everyone makes with robot vacuum cleaners so you're fully prepared before your new baby arrives!