When I bought my Nintendo Switch it was purely because I wanted to play Zelda Breath of the Wild, which I still think is one of the greatest games ever made for the console. Now with the sequel, Tears of the Kingdom, fast on the approach for its 12th May release date, has already dropped to its lowest-ever pre-order price.
I'm forever pre-ordering the important 'big' games in a given year. I'd assumed I'd pre-order Tears of the Kingdom on Amazon, but it's not even available on that major site at the time of writing. Fortunately other sources are offering the summer blockbuster – and at rates better than the £59.99 recommended retail price set for launch.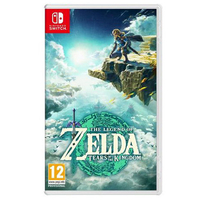 (opens in new tab)
Zelda: Tears of the Kingdom: was £59.99, now £49.85 at Hit.co.uk (opens in new tab)
Base.com changed to Hit.co.uk, just in case you've not heard of the brand change, as this is a reputable site.
It's also the cheapest place to pre-order Tears of the Kingdom for Nintendo Switch, undercutting Amazon and the other big sites.
This includes free postage too, and your card won't be charged until dispatch day closer to 12th May, so there's no up-front cost either!
I think Nintendo's release date for Tears of the Kingdom is very savvy too: it misses that glut of games launched around November/December every year, allowing enough of a buffer for avid gamers to be ready for the next big thing.
And seeing as January through to April schedules are fairly shallow, save for PlayStation VR2 for PlayStation 5 and my clear anticipation for Horizon: Call of the Mountain, I'm going to be clearing the decks, ordering a new SD card for my Switch, and getting ready to get stuck in.
Given how pricey games have become these days, that Hit.co.uk pre-order price is a really great deal too, undercutting other major retailers by a significant sum. It'll make me all the more gleeful to receive Tears of the Kingdom knowing I paid less than expected. Here's hoping the smile on my face will be even bigger from playing the actual game itself...