Gaming accessory company 8BitDo has introduced the cutest, dinkiest controller we've seen in a long while and it couldn't be better received around these parts. The 8BitDo Micro is a tiny gamepad that's perfectly suited for portable use and could solve an issue we've had with mobile gaming.
The rapid rise of the genre has been nothing short of epic, with modern phones, like the Samsung Galaxy S23 Ultra and iPhone 14 Pro being capable of running games we'd previously only seen on powerful home consoles. And, with the likes of Xbox Cloud Gaming and Nvidia GeForce Now available on Android and iOS devices, the bar for top-notch gameplay has never been higher.
However, our beef with triple-A gaming on mobile devices is that on-screen touch controls are hopeless. Try split second braking on Forza Horizon 5 when you can't even see the button to press or, if you have larger hands, the corner itself and you'll get what we mean.
That's why some form of physical controller is a must. There are some great clip-on accessories out there, such as the Backbone One, which turns your phone into a Nintendo Switch-style handset, but what if you're playing on an iPad or Android tablet? And, it's not practical to carry around a full-fledged wireless gamepad all the time.
That's where the 8BitDo Micro comes in. The Bluetooth controller measures just 72 x 40.7 x 14.1mm and weighs just 24.8g, yet manages to cram 16 mappable buttons into its tiny form factor.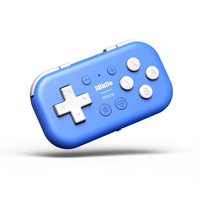 It is compatible with Android, Nintendo Switch and Raspberry Pi, with iOS and Windows support also available through the customisable "keyboard mode".
The controller has a quoted 10-hour battery life with USB-C charging and a dedicated button to switch it between modes (such as Nintendo Switch compatibility). As there's no thumbstick, it's perhaps best suited to retro games, although older gamers might be fine with the D-pad for more modern titles too.
The Micro is available in the US now, while a UK release is planned for 8 September 2023. It comes in two colours: blue and green.