It's part of my job to scout out genuinely good Black Friday deals – and if you're in the game of expanding your PlayStation 5's storage one of the best PS5 SSDs then this WD_Black SN850X drive with heatsink deal is an absolute bargain for the sales.
View the 2TB WD_Black SN850X deal on Western Digital Store
As part of Western Digital's Black Friday deals the 2TB SN850X has been chopped down to a £169 asking price, knocking £120 off the RRP. I'll repeat again: this is the two-terabyte option, not the smaller capacity, which makes it especially good value.
Indeed, I had installed this very drive in my PlayStation 5 – here's my step-by-step guide – except it was the smaller capacity. I kinda wish I had the 2TB SSD in there instead, but I couldn't afford its (then) pricier proposition.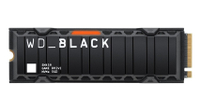 WD_Black SN850X 2TB with heatsink: was £289, now £169 at Western Digital
This storage expansion is ideal for PS5 as there's a built-in heatsink. Not only that it's got all the critical read-and-write speeds to adhere to Sony's console demands. And with the 2TB model being such a great price, it's the one to buy.
In our write-up of the WD Black SN850 we said: "If you like the idea of ludicrous read-and-write speeds that smoke the PS5 criteria, but want to buy a drive that comes with a heatsink attached for easier plug-and-play installation, then the WD Black SN850 Heatsink is a great option." It ticks all the boxes.
Indeed, as we've said before, even Mark Cerny, PlayStation's chief system architect, recommends the Western Digital drive. It supports the necessary read/write speeds up to 7000/6600MB/s and is the perfect partner for a PS5 console. I'd snap one up myself if I hadn't already installed a drive earlier this year.