There are no two ways about it, the WD_Black SN850 (with heatsink) is the best PS5 SSD out there. Normally we'd recommend the 1TB version but the 500GB version is still a monster, and now it's half price on Amazon in an early Prime Day deal.

If you've been browsing the best Amazon Prime Day gaming deals then you'll notice that a lot of the best games are already at cracking prices. But the PS5's storage space is limited. If you've already got one, then you're likely pushing the storage limit already and if you're looking to buy a new console, you'll want peace of mind that every game you acquire won't need to kill off a few existing favourites.
That's where the WD_Black SN850 with Heatsink comes in. This officially licensed by Sony PS5 SSD doesn't need you to disassemble your beloved console to install. The process is very simple and we've even got a step-by-step guide to help you out.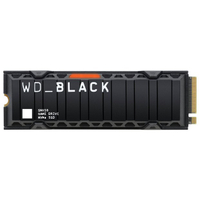 WD_BLACK SN850 with Heatsink (500GB): was £169.99 now £84.99 at Amazon
This is a great price on the number one PS5 SSD in the world, with the WD_Black SN850 with Heatsink dropping to £66.99 in the Amazon Black Friday sale. This drive offers faster speeds than that of the internal storage in the PS5 itself, and as it comes with a heatsink pre-applied, all the owner has to do is plug it in and get playing.
If you're worried about overheating, don't be. The SSD comes included with a heatsink to keep it cool and protect your console too. As for the performance of this external storage, expect up to 7000MB per second.

Trying to figure out how many titles 500GB will get you? We reckon you should be able to get about 10-15 AAA games onto your console, that's plenty of crime-fighting/street racing/galaxy saving.