Picture this: you're having a gaming session but don't fancy donning one of the best gaming headsets, nor disrupting the household with overtly loud sounds from your setup. So what are your options? Well, Panasonic has a solution that's one of the weirdest gadgets I've ever seen.
I'm talking about the Panasonic GNW10 Sound Slayer. Which is a wearable speaker designed with gamers in mind. But not like the best headphones, as the Sound Slayer doesn't make contact with your ears, it instead sits around your neck like one of those little aircraft pillows, albeit filled with speakers that project sound to your ears for immersion that way.
It's not the first time Panasonic has dabbled in wearable speakers, though, with the main image on this very article showing off the first-generation product, the SC-GN01 Sound Slayer, which came out back in October of 2021. That received a bunch of non-favourable reviews, though, so I suspect with the GNW10 that Panasonic has taken that on board for a much better experience.
The new Sound Slayer wearable speaker is actually 60 per cent larger than the original, and comes with four speakers that can deliver three-dimensional audio for true immersion. It's compatible with PC, plus PlayStation 5 and Nintendo Switch consoles, so it's nice and versatile for gamers on most platforms.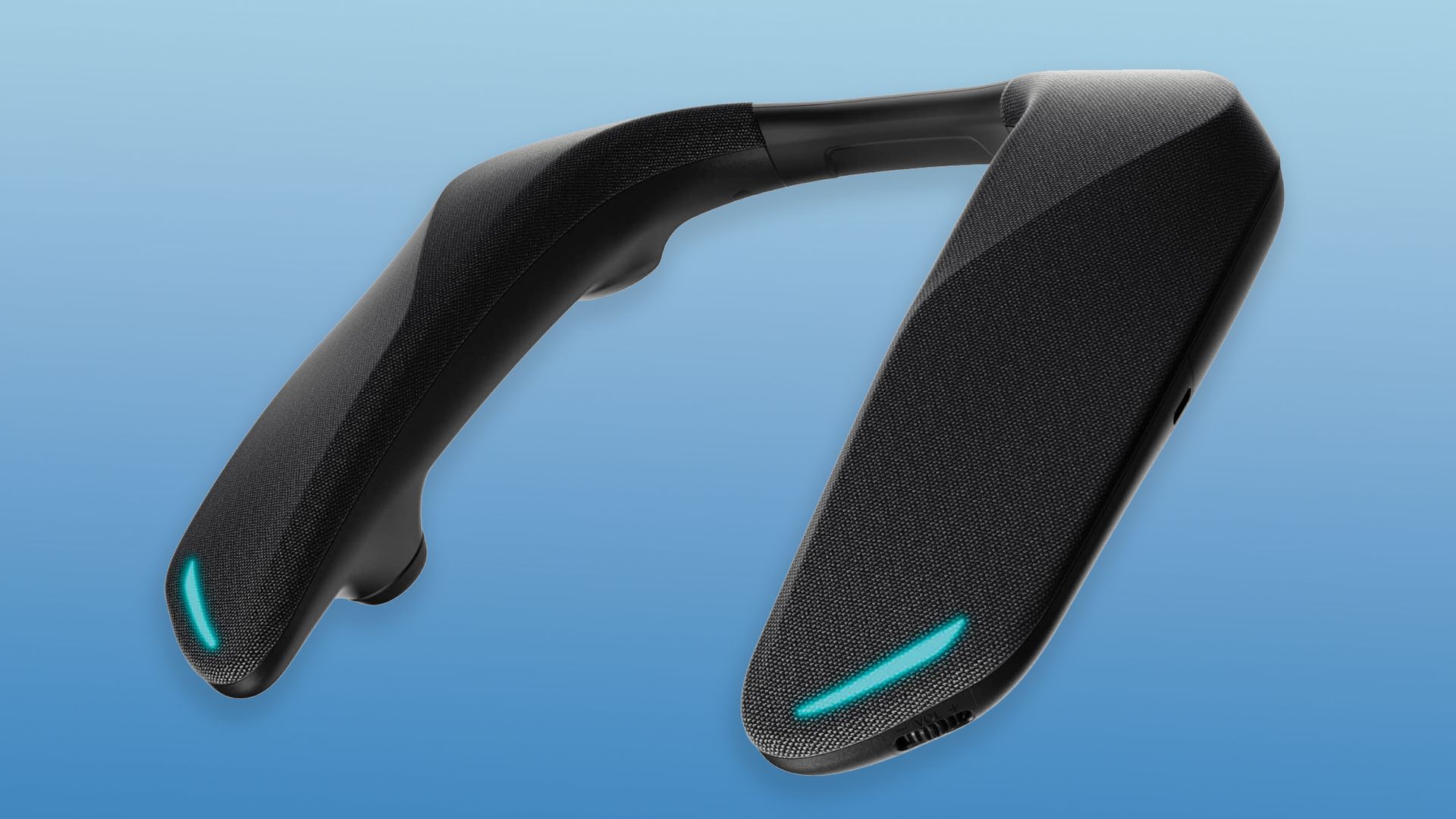 While Panasonic isn't always given kudos for being the most renowned audio player in the tech market, I'd like to remind you that it owns Technics, a well-reputed audio brand, and that legacy certainly provides audio skills within the company. Even Panasonic's top-tier 2023 TV, the MZ2000 OLED, delivers sound that I thought below its LG competition out of the water, which puts the Sound Slayer in a good position by default in my mind.
The wearable gaming speaker also includes LED lighting, voice activation, plus Panasonic's game-specific sound modes, such as RPG and FPS modes for role-playing and first-person shooter fans. Lag is said to be a speedy 20ms, so audio will reach your ears without you missing a beat (or shot, or secret passage, or whatever else).
Like the sound of it? Or just want to check out the GNW10 Sound Slayer to see how whacky it looks in real life? You'll need to wait a little, then, as it goes on sale sometime in December 2023, with a price tag of £299.99, and will only be sold directly from Panasonic's own platforms (and I'm not surprised at that asking price, really).