Democracy may have gotten us this far but the court of popular opinion has never been infallible. People get things wrong. Citizen Kane didn't win Best Picture, Harry Potter was rejected dozens of times and some people actually like eating mushrooms (no thanks!).
This brings me to The Killer, another case of public opinion being incorrect which has just landed from Netflix after a cinematic run. Yes, it's popular, sitting at no.1 on the global Netflix charts, but it's not loved and I think that's unforgivable. This movie sits at a meagre 61% audience score on Rotten Tomatoes and I'm here to fight for it and see David Fincher's latest movie get the adoration it deserves. In fact, I'd even argue that the 86% critics score is a little low.
Michael Fassbender is superb as an unnamed hitman whose commitment to the process is bordering on ritualistic. What's amazing is that you barely hear him speak, at least out loud. His voiceover reveals a very cynical and introspective character with a dark sense of humour. Oh, and he loves The Smiths, using their music to ground himself and lower his heart rate (to ensure the shot flies true). I never thought I needed to hear How Soon is Now? while on a sniper stakeout but it works brilliantly.
Aside from Tom Hanks' The Terminal, this might also be the movie with the most airport scenes ever. The Killer has more aliases and passports than Jason Bourne, but none of them are particularly exciting. And that's the point. He's a professional. But now trying to cover up and recover from a hit gone sideways that turns personal, there's no established playbook. This is an old-fashioned revenge story and all of his interactions with targets end one way.
That's not to say there's no drama, but in stark contrast to Fincher's Fight Club, none of this fighting is for show. It's cold, efficient and brutal. One scene in particular balances a close-quarters scrap (the most desperate in the film) with a television set playing a show about gardening (starring Fiona Bruce funnily enough), showing just how quickly things can escalate.
Fincher is an acclaimed director as he has managed to produce another beautiful movie with some shots framed in almost Wes Anderson-style perfection. If you've not checked out the best Black Friday TV deals, this movie might be worth taking a look for.
In a world where so many action movies are obsessed with a wink and a one-liner, the coldness of The Killer, and his unique affectations make it stand out from the pack. If that's not enough then how about the most excellent collection of Hawaiian shirts in a movie ever? Thought so.
---
Editor's Pick for Black Friday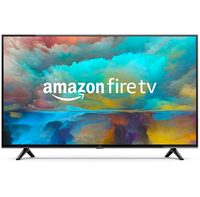 Amazon Fire TV 55-inch 4-series 4K: now £149.99 at Amazon (was £549.99)
Save 73% – This invite only deal can get you this great 55-inch smart TV for an incredible price. Register now so you don't miss out.