No, you haven't overslept... it's not Black Friday just yet! But you'd be forgiven for thinking it was with the sheer volume of incredible deals about right now. Amazon, in particular, have just opened up their suite of bargains and there are swathes of products worth buying.
In particular, I've found this pair of Bose QuietComfort Ultra Earbuds. These are my absolute favourite wireless earbuds on the market right now, offering the best hybrid of sound quality, noise cancellation and ease-of-use.
Despite being relatively new, you can snag a bargain on them. Pick up these brilliant earbuds for just £259.95 at Amazon right now – saving you £40!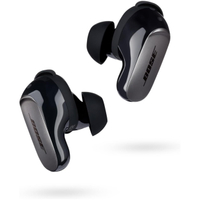 Bose QuietComfort Ultra Earbuds: was £299.95, now £259.95 at Amazon
Save £40 on the new Bose QuietComfort Ultra Earbuds. These are my favourite earbuds on the market right now, offering the best all-round package. Expect top tier sound quality and staggering noise cancellation!
I'm fortunate enough to get to test a lot of earbuds and audio products here at T3. Coupled with a long history working in music production environments and recording studios, I have a real ear for what makes good audio.
Far from being a cute little anecdote, I'm telling you this so that you know I know what I'm talking about. When I tell you that these are the best sounding earbuds I've used, you know you can trust that.
The sound quality is staggeringly good. There's a really powerful EQ in the app which allows you to tailor the audio to your use case. Plus, each band has been well tuned to ensure it is totally usable.
In terms of noise cancelling, this is pretty much as good as it gets. Pop it into action and you'll be transported out of the real world into the virtual reality of your music.
What's more, there's a brilliant Transparency mode on offer, too. That makes it easy to use these earbuds wherever you go, without fear of missing out on the action around you.