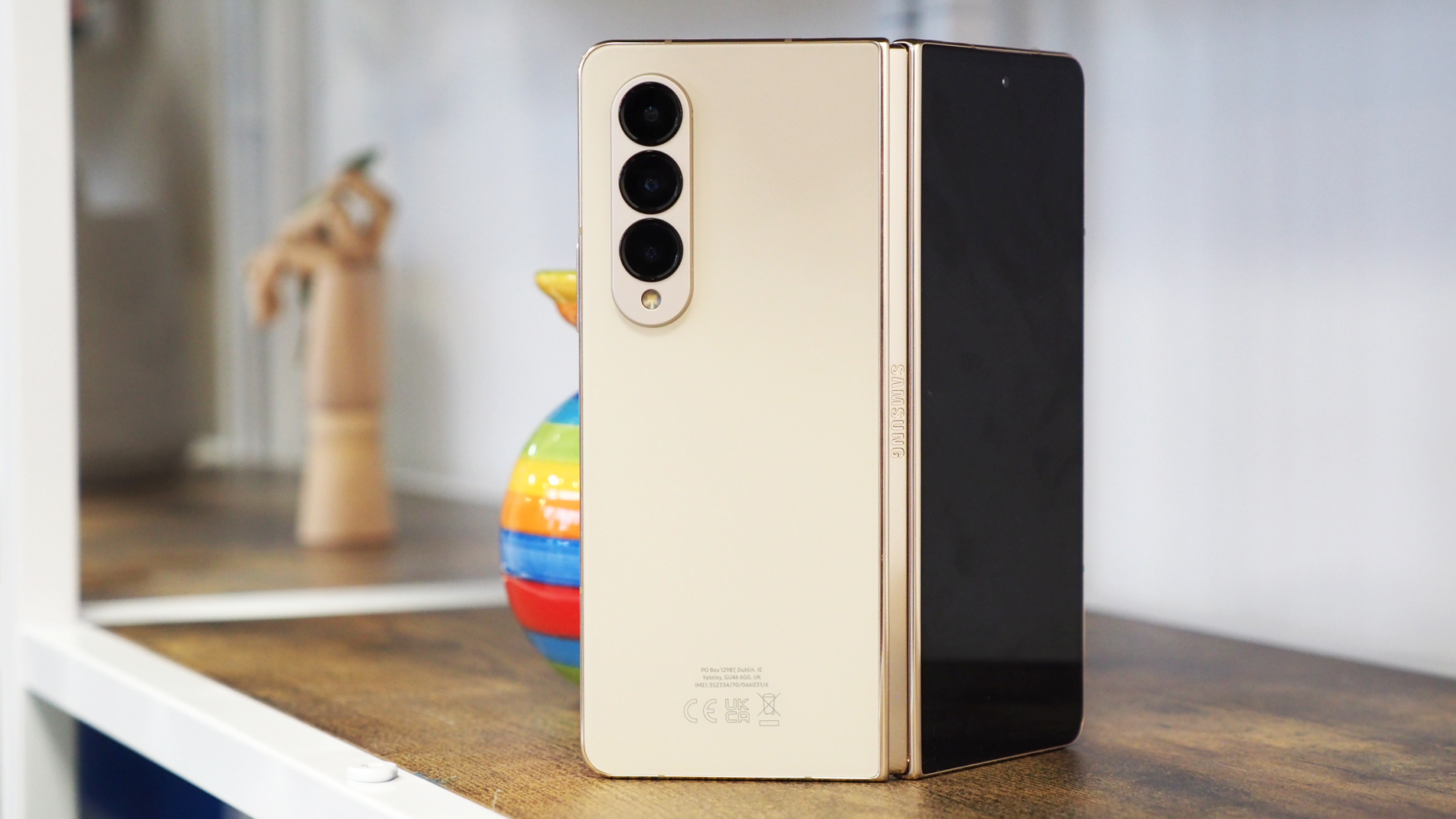 Samsung Galaxy Unpacked 2022 is now over. It was a great show with loads of awesome new Galaxy products unveiled. Below you can find a list of every product that has just been announced, along with pricing and release date information.
And here's T3's in-depth coverage of today's new products:
Samsung Galaxy Z Fold 4 review (early verdict)
Samsung Galaxy Z Flip 4 review (early verdict)
Galaxy Z Flip 4 vs Flip 3: is Samsung's new flip phone worth it?
Samsung Galaxy Z Fold 4 vs Fold 3: What's the difference?
Samsung Galaxy Z Fold 4 adds this cool Android 12L upgrade
Samsung's Galaxy Z Fold 4 exceeds £2,000 for the top model
Here's why I think the Samsung Galaxy Watch 5 is better than the Apple Watch
Samsung Galaxy Buds 2 Pro beat the AirPods Pro in some really cool ways
Refresh
Unpacked 2022? Completed it mate
So, why are we so confident we know what's about to be announced in Samsung Unpacked 2022? Well, using our razor sharp powers of deduction we've looked at this official tweet from Samsung's Twitter account, seen that it shows foldable phones, including very clearly a Flip, read the text which says "Next Galaxy Phones Now", and then read the text that says "10 August 2022, 14:00".
Watch something greater than before unfold at https://t.co/pJFipgbFzl #SamsungUnpackedJuly 27, 2022
See more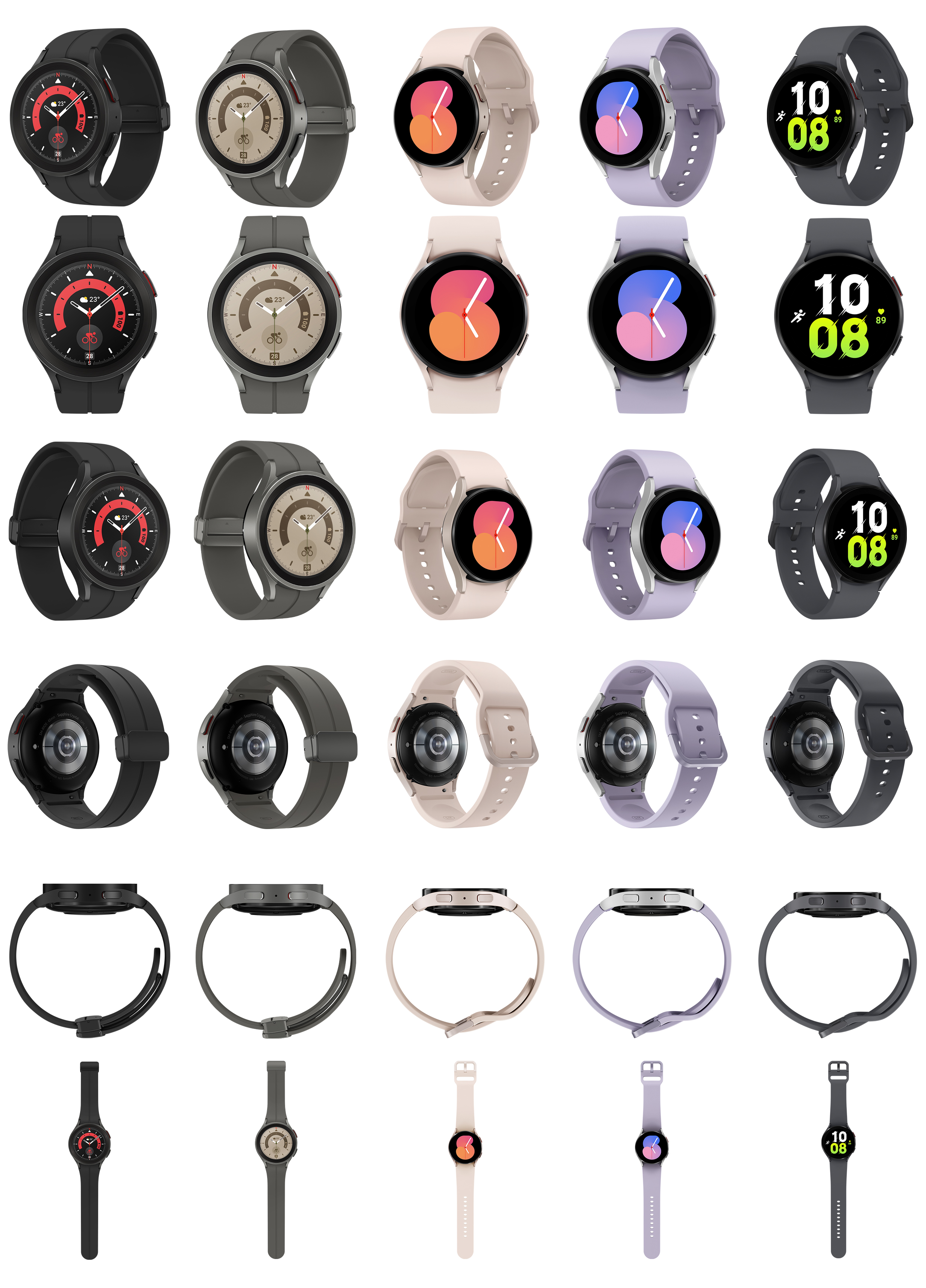 Seriously, though, this has been the leakiest event EVER
Samsung's own comical attempts to hide its new foldables aside, I think this has been the leakiest Unpacked event I've ever covered. We've seen both the new Fold 4 and Flip 4 in full numerous times already, including this recent baring of all, as well as this maximum exposure.
Only two days ago we also got to see the what appears to be the full range of Galaxy Watch 5 and Galaxy Watch 5 Pro models and colourways, too (check the image above). Oh, and we've also had details leak on the Watch 5 Pro's rumored specs, too.
In terms of both new foldable phones, we now also have full specs leaked.
Basically put, if Samsung doesn't reveal a Fold 4, Flip 4 and Watch 5 at this Samsung Unpacked event then it will have been the greatest misinformation campaign from leakers ever, with an entire industry wasting years of its life reporting on products that don't exist and creating art assets for vapourware products.
However, as Samsung is pressing ahead with its Unpacked event, we think it safe to say that these products do exist and are coming, and exactly as they have been shown in leaks.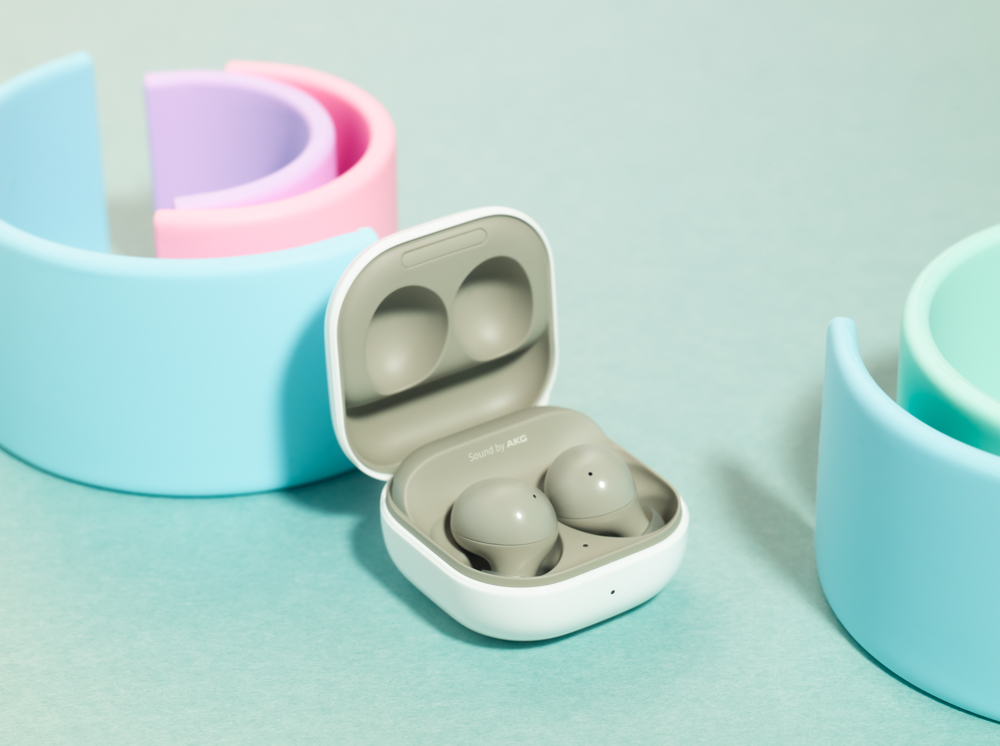 The real mystery remains the rumor of a Galaxy Buds 2 Pro launch
So, while we'll eat our T3 branded hats if we don't see a Fold 4, Flip 4 and Watch 5, we're still a bit more in the dark about the rumored new Galaxy Buds, which haven't been leaked visually.
There have, though, been reports by numerous outlets that very definitively state "Galaxy Buds Pro 2" as the model name and also point to some advanced features that the true wireless buds are believed to be coming with.
One of the most notable new features is Intelligent Active Noise Cancellation, which is reported to cut ambient noise by 33dB. We've also had word that the Buds 2 Pro will offer "exceptional sound quality".
From my point of view Samsung's Galaxy Buds have always been rock solid, those awful Galaxy Buds Live aside, but have consistently being a tier down from the best true wireless buds on the market. So if Samsung can really deliver the Pro-grade tech in the Buds 2 Pro, that will be a step in the right direction.
After all, with the best true wireless earbuds market so competitive now, Samsung will need to hit hard to stay relevant.
Being candid, Samsung is the ONLY foldable phone player in town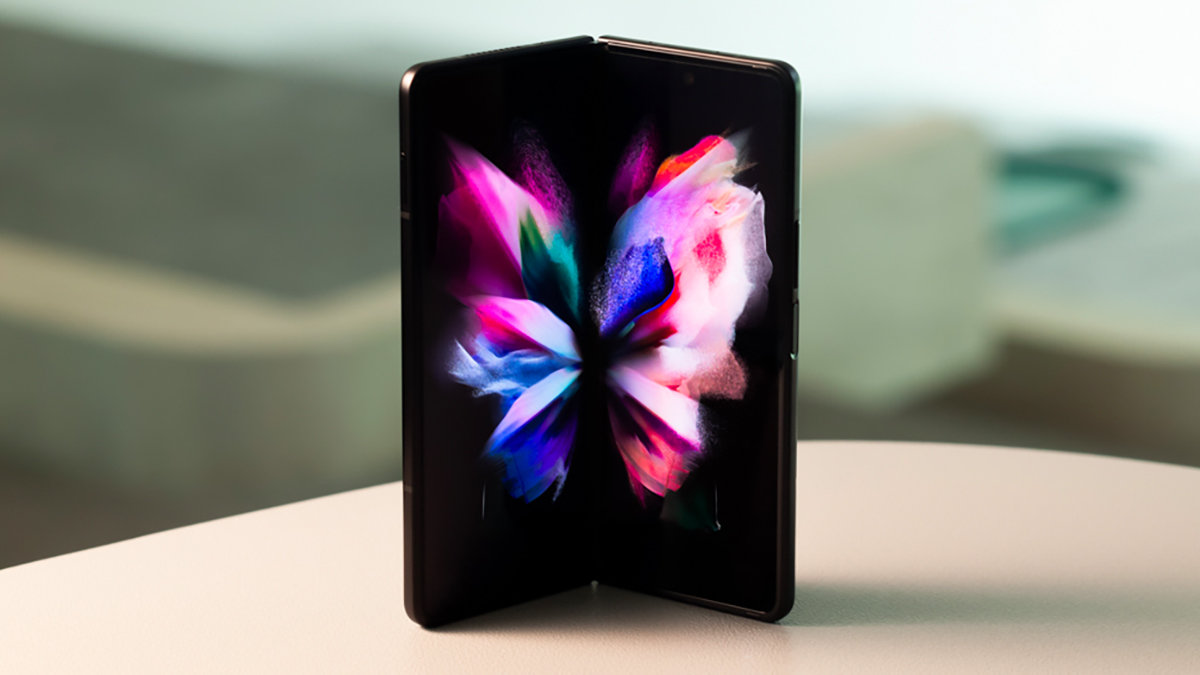 I think this recent piece from The Verge pretty much sums up the state of the foldable phones market in 2022. It's a landscape where Samsung is the only player of note. Samsung rules over the folding phone world with a golden fist, unmatched by any rival.
Yes, sure, there are other foldable phones on the market, but the thing is that each one is either markedly worse than Samsung's offerings or only available in very restrictive markets.
Truth be told, I've got really tired over the past few years of rival phone brands throwing huge hype under a new foldable phone of theirs, only for it then to be revealed that it is only available in one region and won't be getting a wide-spread release. If a phone does not have widespread release then, I'm sorry, it just isn't a contender.
Samsung's foldable phones are available to buy pretty much all the way round the world, as well as being technical leaders in the field.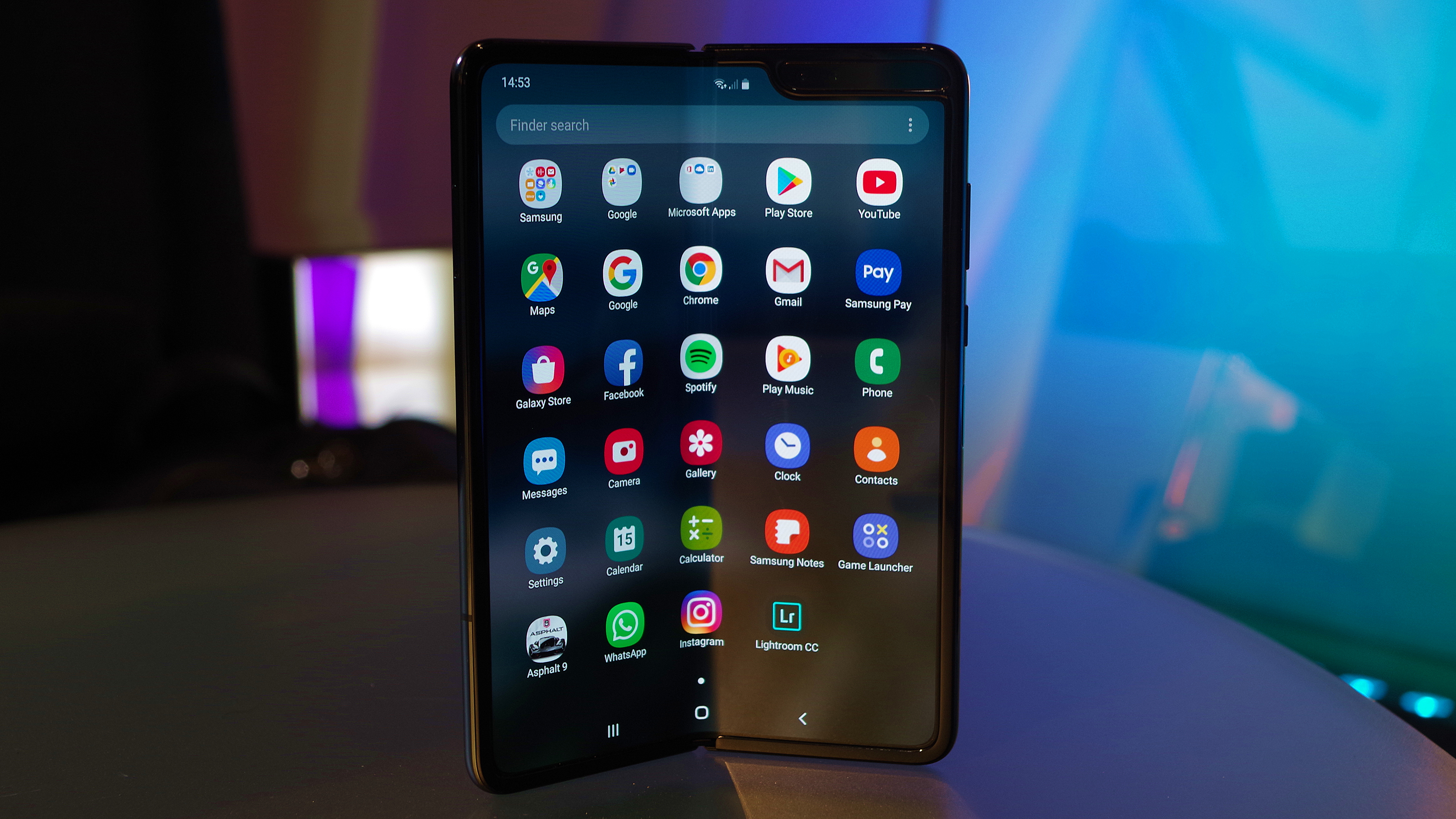 Who remembers the OG Galaxy Z Fold debacle?
I've been writing about phones here at T3.com for over 7 years, so I very much remember that Samsung's foldable phone prowess had the mother of all rocky starts.
Back in 2019 Samsung started to promote its new foldable phone and, after handing it out to the press, it soon became apparent that despite its technological wizardry, it had some serious defects.
Indeed, despite T3's going hands on a producing our own Samsung Galaxy Fold review, these defects led to the phone being effectively canned and unreleased, with it sent back to Samsung's engineers for fixing.
Wind the clock on six months and the OG Fold was back, and as I wrote at the time it was largely the same device, but this time with those defects fixed.
The truth is though even this fixed Fold never really got a big release and while the Fold 2 did get a wider release and better sales, it was far from mainstream. Indeed, it was only with last year's Samsung Galaxy Z Fold 3 (and almost more importantly, with its Samsung Galaxy Z Flip 3) that the South Korean maker's foldable phones really took off.
Now, in 2022, Samsung's president believes "the moment for foldable smartphones is here", pointing to potentially even more mainstream adoption.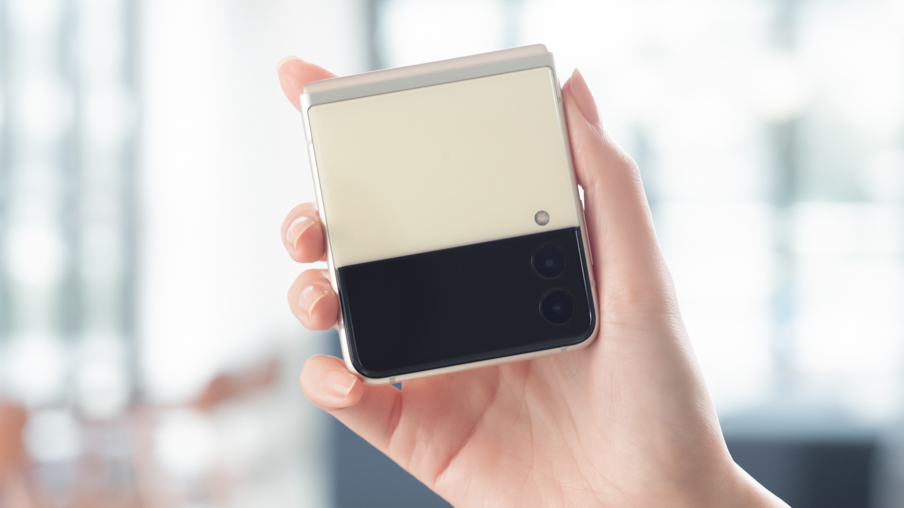 So, what do we want to see from the Galaxy Z Flip 4?
Regular readers of T3.com will know that I'm a big fan of the Samsung Galaxy Z Flip 3 phone. In fact, as I wrote last year, I actually prefer it to the Fold 3.
It's super stylish and portable, and gives me a huge nostalgia boost for my flip phones of yore. It's a super compact folding phone with flagship-grade specs. Woof!
That said, though, the Flip 3 is far from a perfect device. Indeed, in our Samsung Galaxy Z Flip 3 review we said that the phone had just an "average camera system", that its "crease could sometimes get in the way" and that it is "quite thick when folded up".
The Galaxy Z Flip 3's battery life is also not particularly impressive, with benchmarks by our sister site Tom's Guide showing it lasted only 6 hours.
As such, my wish list for the Z Flip 4 (and I naturally speak for all phone users), is a thinner phone with improved camera system and larger battery. And, the good news is that the latest leaks indicate we definitely are getting a larger battery capacity, with a 3,700mAh capacity delivered over the Flip 3's 3,300mAh.
On the crease thing, I didn't really have a problem with its visibility on the Fold 3, but according to leaks the crease visibility on both the Fold 4 and Flip 4 is going to be reduced.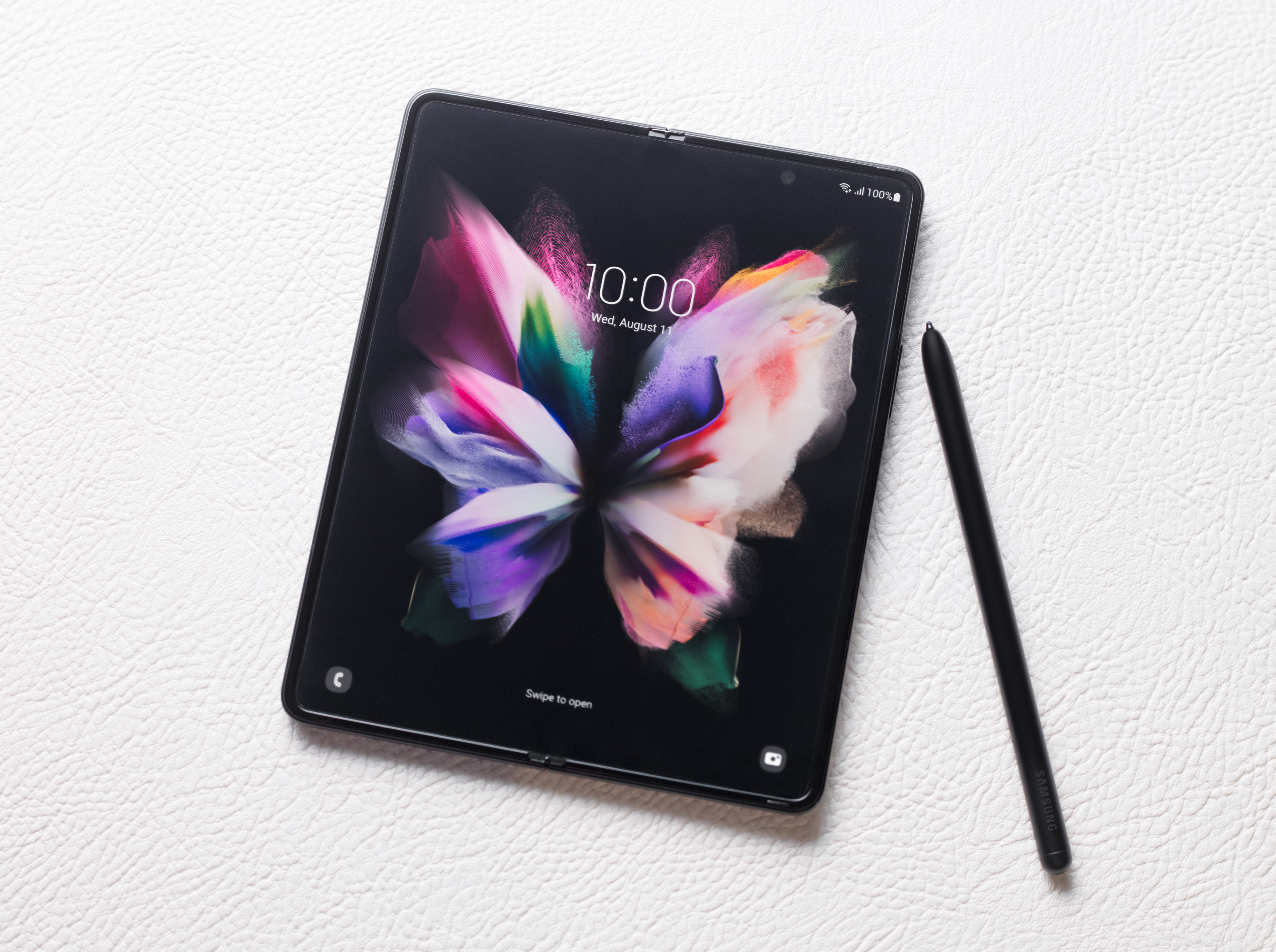 My Galaxy Z Fold 4 wish list? Why, thank you for asking
As I've written below, I actually prefer the Samsung Galaxy Flip over the Fold series so far, but that's not to say that a markedly improved Fold 4 couldn't make me a convert. Indeed, the idea of having a phone and tablet in one device really appeals to me.
However, the cost, size and minor deficiencies in the Fold 3's spec in comparison to non-folding Android flagships have turned me off so far.
For example, there is no getting away from the fact that Fold 3 costs a dump truck load of dosh. Right now, almost a year after launch, the Fold 3 is still £1,599 at the official Samsung store, and that is right at the top end of the phone market.
Needless to say, I hoping for a Galaxy Z Fold 4 price cut.
Secondly, there is also no getting away from the fact that the Fold series has, to date, being a bit of a chunk in the pocket in phone mode. It's like having two phones glued back to back in your pocket instead of one, so if the Fold 4 can be thinner and lighter, that would be a big improvement.
In terms of specs, the Fold 3 absolutely is a flagship phone, delivering a rapid processor, plenty of RAM and storage space, as well as 5G connectivity. However, it's battery life and camera system is not up to the standards of the best non-folding phones, so a bump in battery capacity and camera quality would be superb. Excitingly, it looks like the Fold 4 is coming with an upgraded under-display selfie camera, so that is a start.
So, yes, a thinner device with better cameras and a bigger battery please Samsung.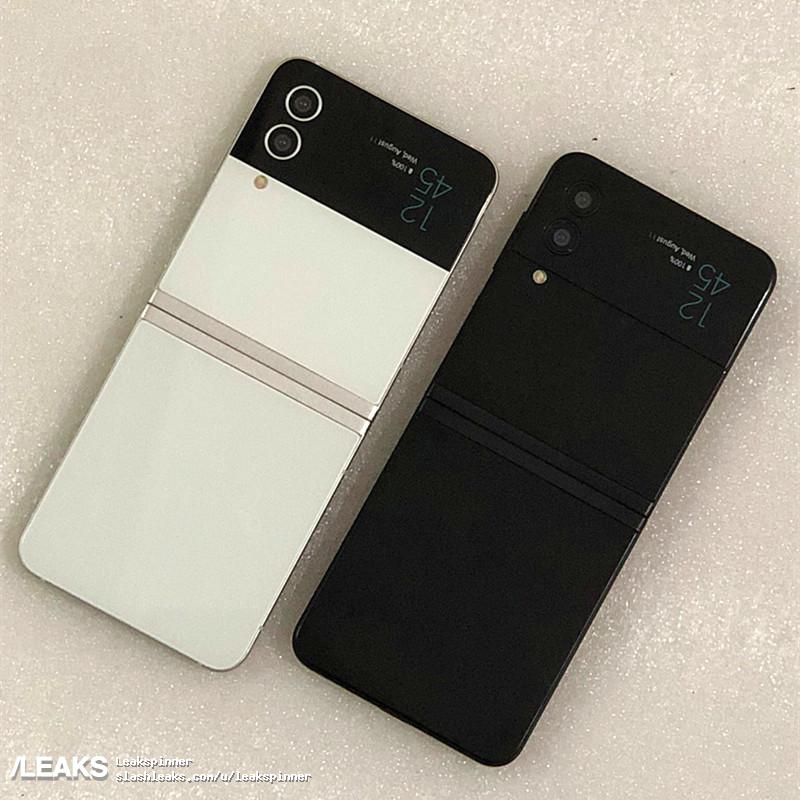 Well hello! What do we have here? Only a Flip 4 dummy unit leak
Well, if we hadn't seen the Samsung Galaxy Z Flip 4 enough ahead of its grand unveiling (cough), now we've got an even better look.
That's because a dummy unit of the phone has just leaked out over at Slashleaks, showing it off, in multiple colorways, in full.
We see the phone in both black and white, and it is evident there is a thinner bezel.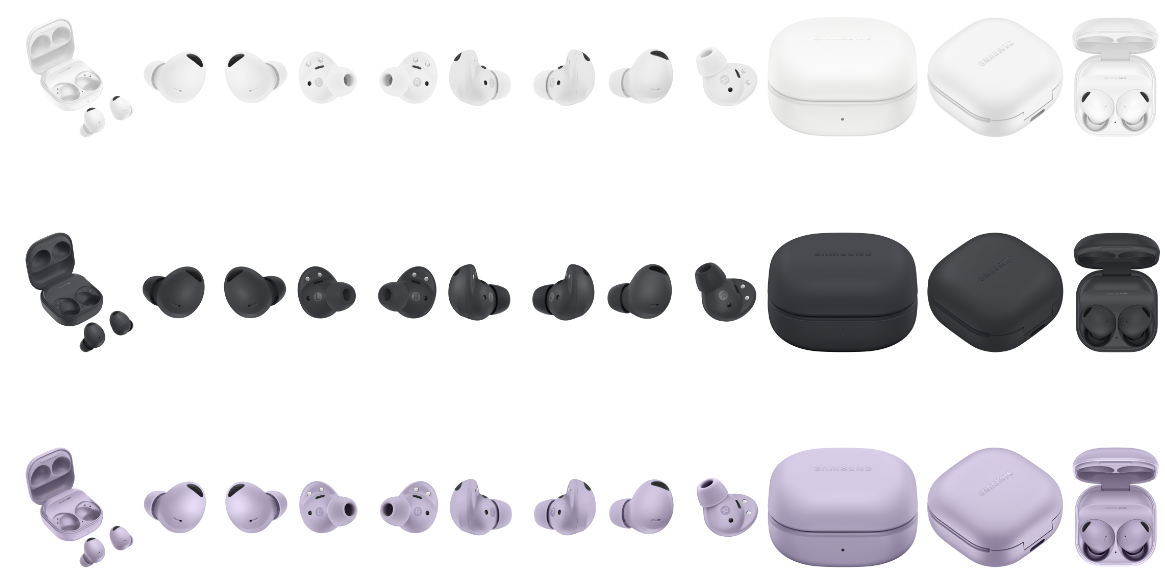 Cha-ching! Samsung Galaxy Buds 2 Pro leak
And there we go, we now have eyes on with all four products that Samsung is expected to launch at today's event.
The Galaxy Buds 2 Pro are a thing, with industry leaker Evan Blass posting up an image showing the wireless earbuds in full and in three different colorways. See above image for details.
The colors include black, purple and white.
According to leaks we're expecting Intelligent Active Noise Cancellation, better battery life, and more exceptional audio from these buds.
What do I think? They look like Galaxy Buds. I'd take a pair in white, along with - hopefully - an all-white Flip 4.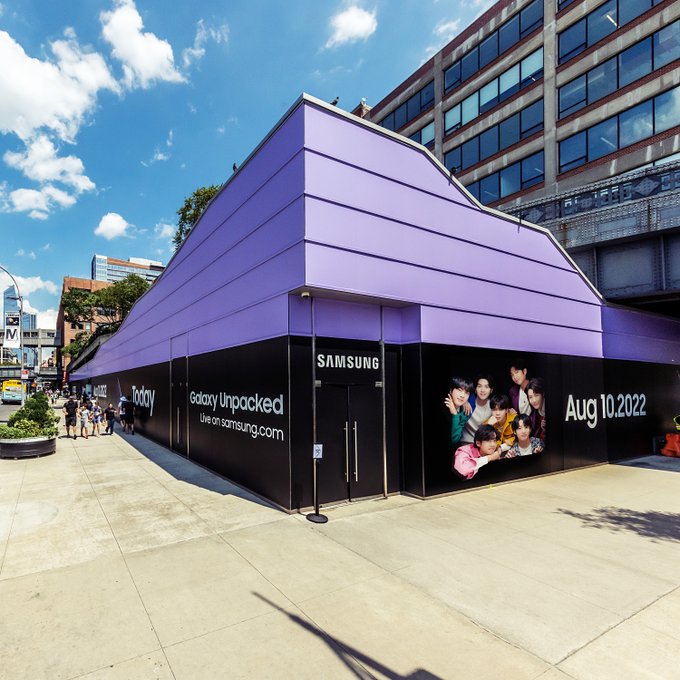 Huge news guys... K-pop group BTS are performing after Samsung Unpacked at Times Square in New York!
This is the news I know a lot of you have been waiting for. But, yes, it is confirmed that K-pop group BTS are going to be performing live after Samsung Unpacked 2022 at Times Square, New York, at 4PM EST.
I know, be still my beating heart...
In my opinion the high bar that BTS are going to have to beat was when BLACKPINK performed at Samsung Unpacked 2019.
Do this bunch of non-threatening boys have what it takes?
What's up NYC 🇺🇸 You're invited to the Samsung Unpacked Experience! 📩Experience the best of #GalaxyxBTS 💜 (with a special surprise! 💜🎁😉)📍: 60 10th Ave., New York🗓: From 11-31 Aug, Mon-Thu: 10:00-20:00, Fri-Sat: 10:00-21:00, Sun: 11:00-20:00 #SamsungUnpacked pic.twitter.com/C1OEJOiDFWAugust 10, 2022
See more
Samsung is also holding a Samsung Unpacked Experience in London, England, at 55 Regent Street. There's no BTS, obviously, but Samsung says you "may get a special surprise" if you attend.
Hello LDN 🇬🇧 Here's an exclusive invite to the Samsung Unpacked Experience (where you may even get a special surprise too~💜🎁😉)📍: 55 Regent St., London🗓: From 11-31 Aug, Mon-Fri: 10:00-20:00, Sat: 11:00-20:00, Sun: 12:00-18:00#GalaxyxBTS #SamsungUnpacked pic.twitter.com/TcHExXTwCMAugust 10, 2022
See more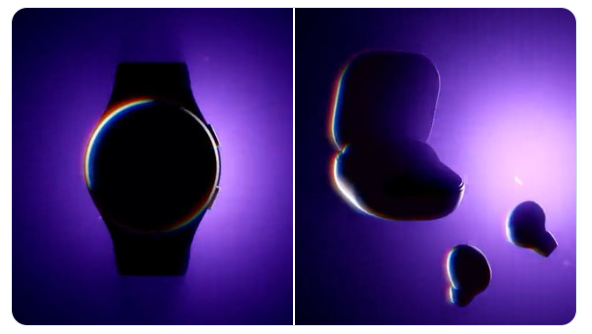 Umm... the Galaxy Watch 5 and Buds 2 Pro have been teased, again
Ok, despite us already seeing both these products in full, another leaked image has surfaced online that appears to show the Galaxy Watch 5 and Buds 2 Pro. The image shows both products in shadow, backlit by a violet light, so no details are discernible. However, we can see the shape of both products, which matches the actual images we've now seen.
I guess that is a good thing, as it is more evidence that what we've seen on both these products to date is accurate.
New teasers from Samsung #SamsungUnpacked pic.twitter.com/cDFGKhA9FNAugust 9, 2022
See more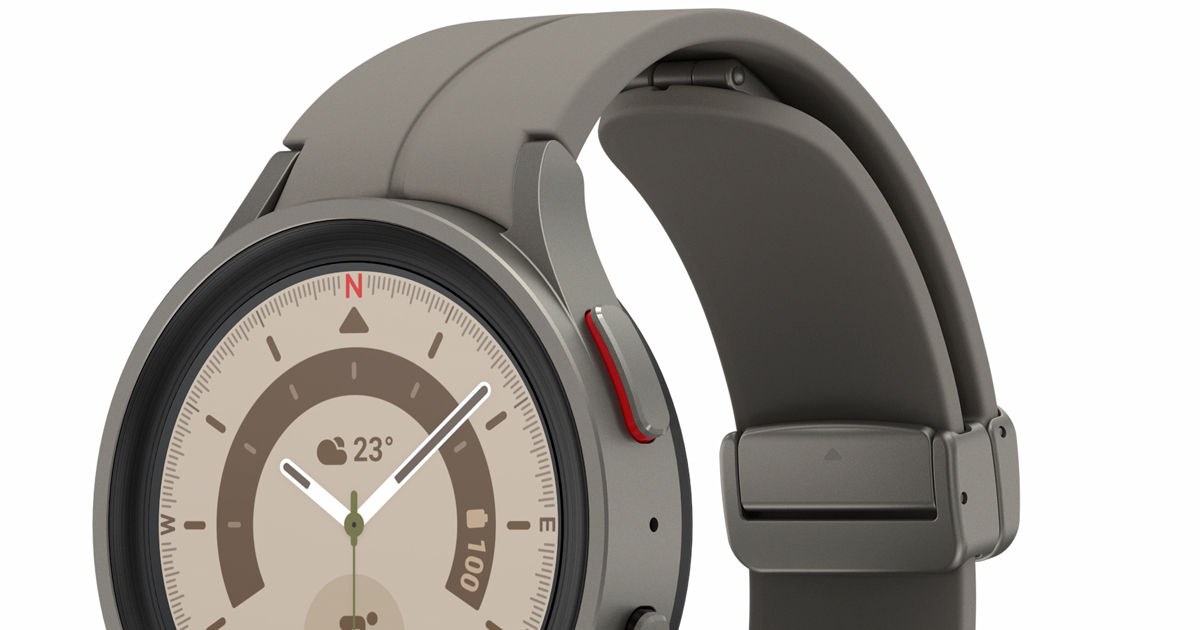 Let's talk Galaxy Watch 5
So... what's the skinny on Samsung's new wearable? Well, technically it is two wearables as we're expecting a Galaxy Watch 5 and Galaxy Watch 5 Pro.
The Galaxy Watch 5 will apparently come in two sizes, a 40mm variant and a 44mm model. The smaller watch is rumored to have a 1.19-inch AMOLED display with a resolution of 396x396 pixels and a weight of 28.7 grams. While the 44mm variant will have a larger case and heavier weight, 33.5 grams, but will be equipped with the same 1.19--inch screen.
As for the Galaxy Watch 5 Pro, this model with have 1.36-inch display with a resolution of 450x450 pixels, a 45mm sizing and a 46.5-gram weight. This version is expected to come with a much larger battery, too.
So, that's three models of the Galaxy Watch 5 to choose from. Right now I'm using a OnePlus Watch, which has been perfectly serviceable for me since its launch, but I could be tempted by the Galaxy Watch 5 Pro providing the price is right.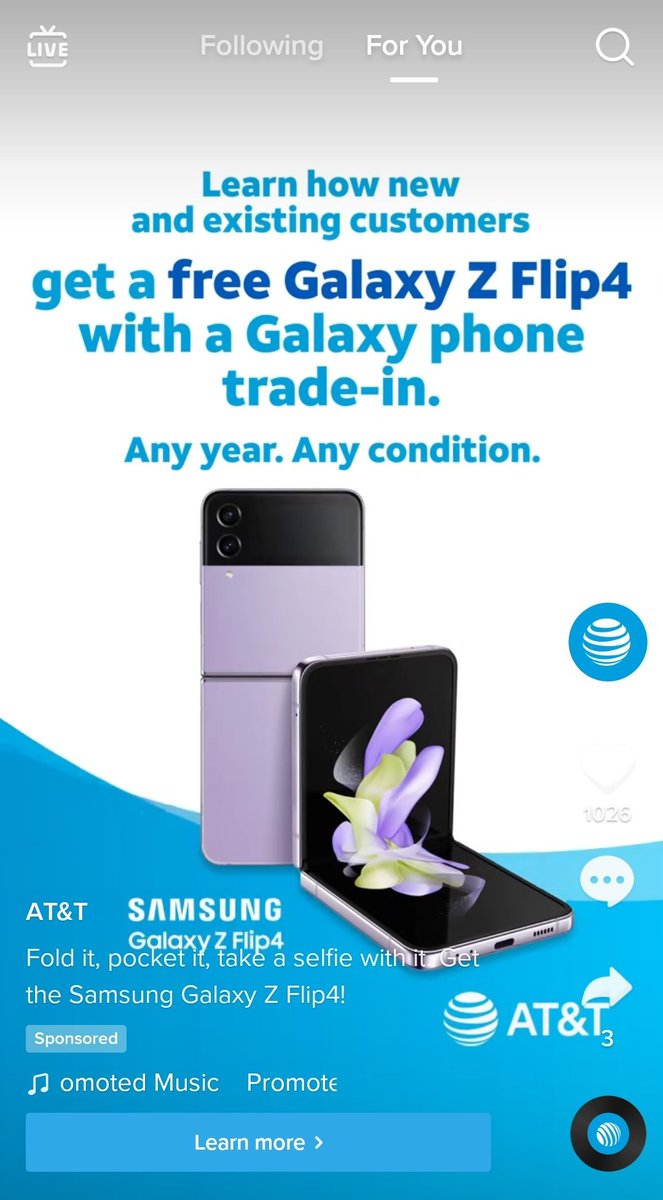 Uh oh... Samsung sure ain't going to like this
Whoops! It looks like US network AT&T has dropped an advert for the new Galaxy Z Flip 4 a little early.
As spotted by Twitter user Anshel Sag, the advert went live on TikTok and shows the Galaxy Z Flip 4 in full.
Text by the phone says: "Learn how new and existing customers get a free Galaxy Z Flip 4 with a Galaxy phone trade-in. Any year. Any condition."
Well, that's a very big nail in the Galaxy Z Flip 4 being a thing barn.
And to think that Samsung Unpacked hasn't even happened yet. What is Samsung going to think of this? Has AT&T just pooped all over an embargo?
I expect a strongly worded letter from the South Korean maker could soon land in AT&T's mailbox.
Oops, @ATT you kinda blew the embargo with this @SamsungMobile #Flip4 ad on @TikTok... pic.twitter.com/DXz8y8y1knAugust 10, 2022
See more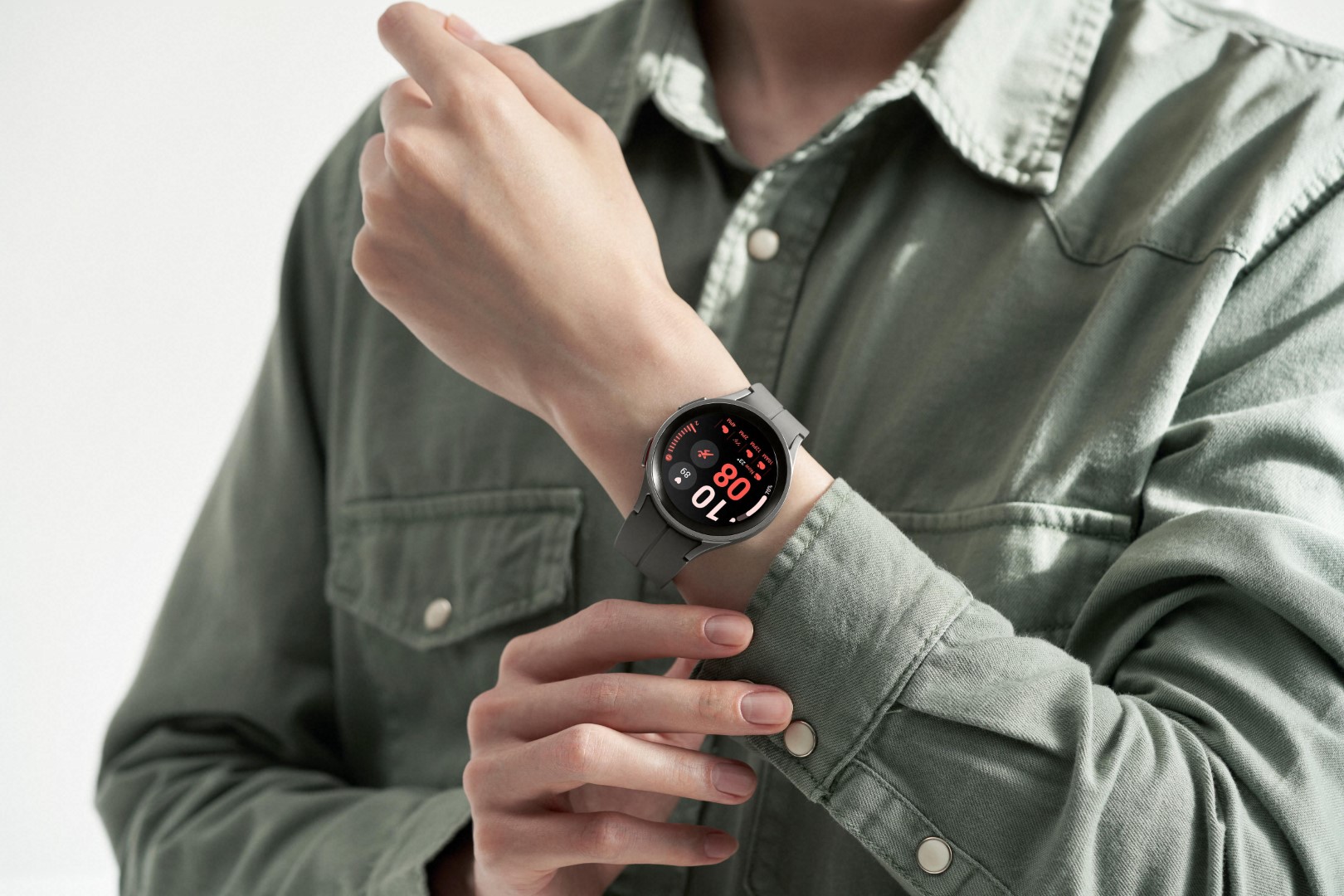 Woah! And now we've got full details of the Watch 5 and Watch 5 Pro, along with what looks like an official marketing image
Notebookcheck.net seem to know something nobody else does, as the publication appears to have just blown Samsung's big official Galaxy Watch 5 reveal.
That's because Notebookcheck.net has just published this piece, which not only reveals what it says are full details about the Watch 5 and Watch 5 Pro, but also use what looks like a very official press image.
What's more, the piece is written as if the Watch 5 and Watch 5 Pro have already been announced, which is very odd considering Samsung Unpacked hasn't even started yet!
Is Samsung going to be writing them another sternly worded letter? Who knows at this point.
However, for us mere mortals still waiting for Samsung's official unveiling of the products, it's great news, as we now know exactly what we're getting.
According to the very well informed publication, the Watch 5 wearables are coming with improved sensors, bigger battery capacities and tough new sapphire crystal glass display covers.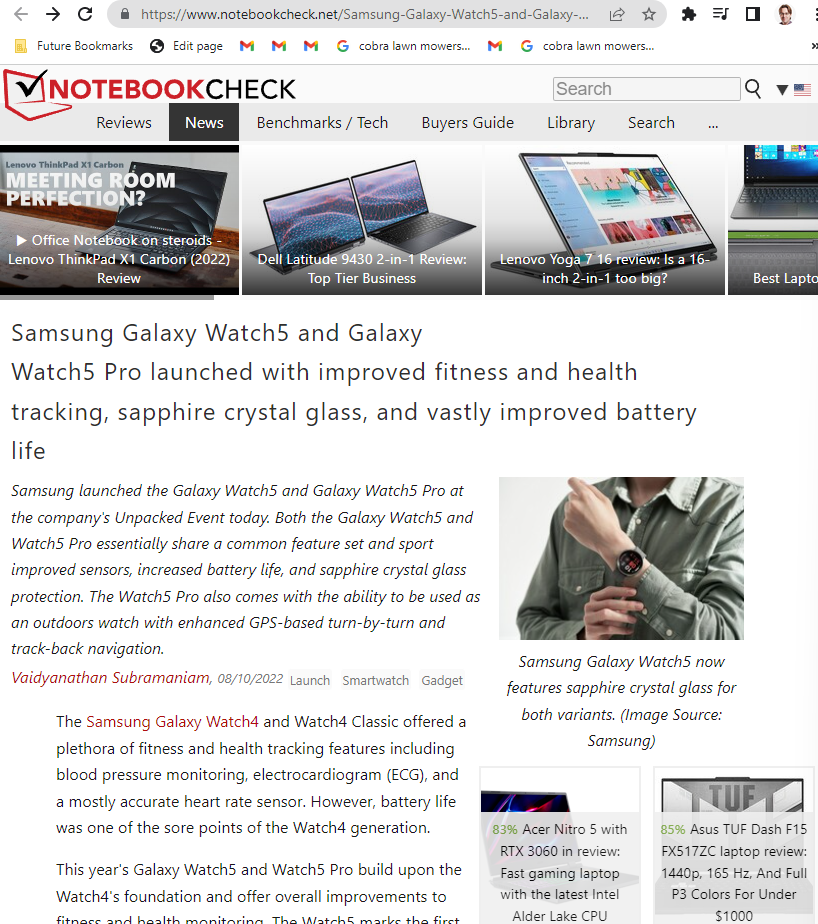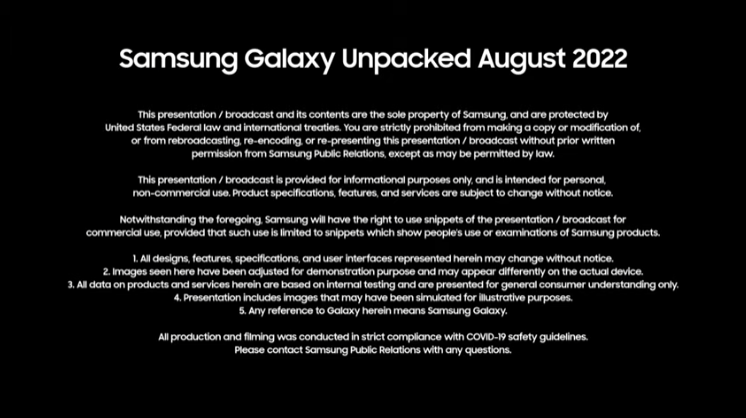 OK, it's go time! Woo hoo! Samsung Unpacked 2022 is live!
And here we go! All the leaks say we're in for a big show so let's hope Samsung delivers.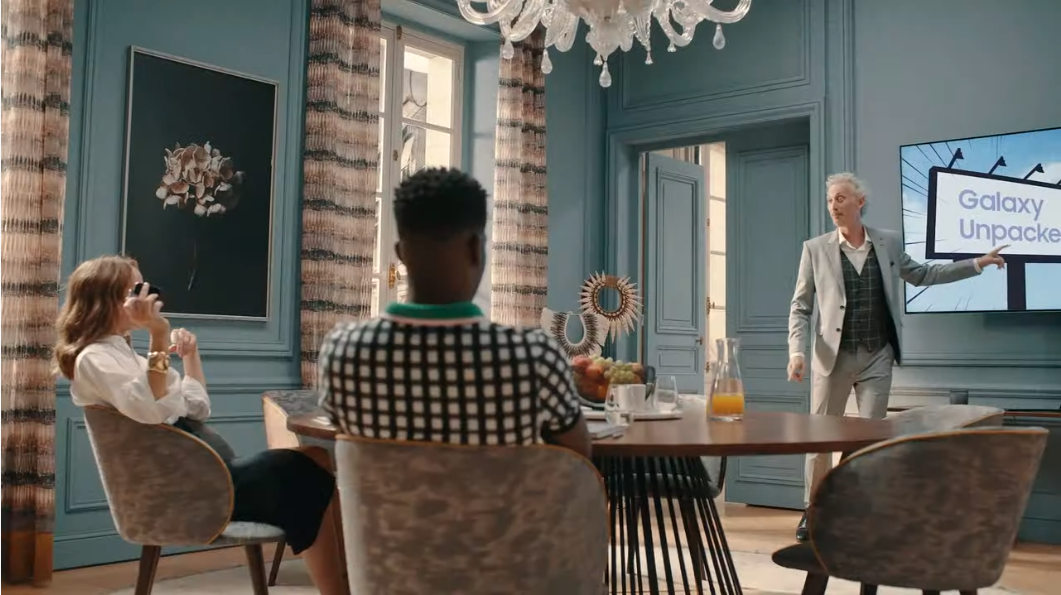 It's a comical start
Ok, Samsung Unpacked 2022 starts with a, cough, amusing sketch for the Samsung Galaxy Experience.
The word "Flex" is mentioned a lot by some crazy looking creatives.
"We need to think outside of the box! We need to reimagine the mobile experience" is spoken. And then I check out.
The creatives have a tasty lunch outside a bistro in Paris, where "respect the baguette" seems an important phrase.
What is going on?
The greater than symbol is decided upon, based on the orientation of the Galaxy Flip. Sigh.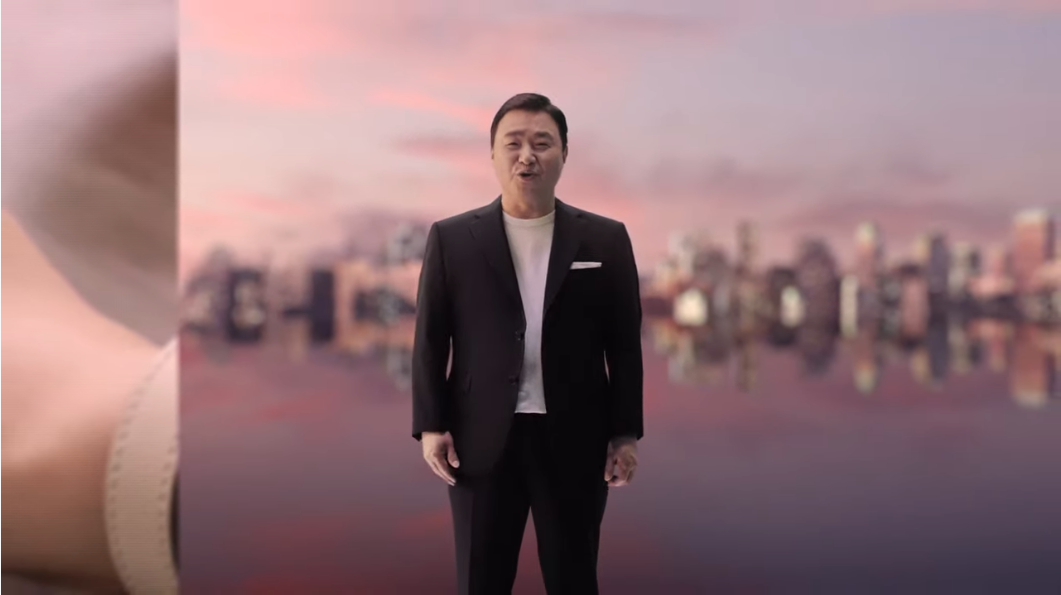 TM Roh takes to the stage
And now here is TM Roh as the show starts properly. He talks of the folding phone journey Samsung has been on for the last 8 years.
"8 years of breaking barriers" he notes.
10 million people opened a foldable last year he says, and last year saw 3x the sales as the year before.
He then introduces the fourth generation of Samsung Galaxy foldables with a video.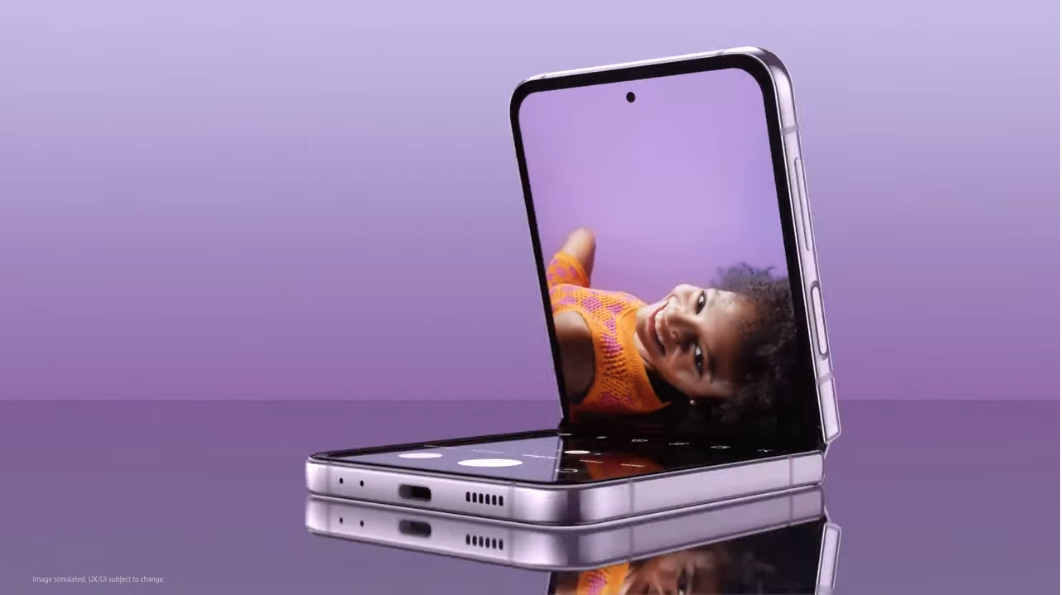 The Galaxy Z Flip 4 is here
Kim Swanson then takes to the stage to talk about the Galaxy Z Flip 4.
Kim is all hope-y-change-y for a bit, talking about vision and dreams and whatnot, before talking about inspiration.
We then get Dillon to talk about FlexCam, which he says means you can take pictures from various different angles.
He seems to be highlighting that you can hold the Galaxy Z Flip 4 in different ways to standard phones. "It's a phone and tri-pod in one".
Brighter sensors and better NPU and 1.4 to 1.8 micron increase also mean Flip 4 can take better night time shots.
The ability to prop up the Flip 4 while recording video, like on a tri-pod, is also shown.
Basically, Samsung want you to know the Flip 4 is good at the whole image taking and video recording stuff.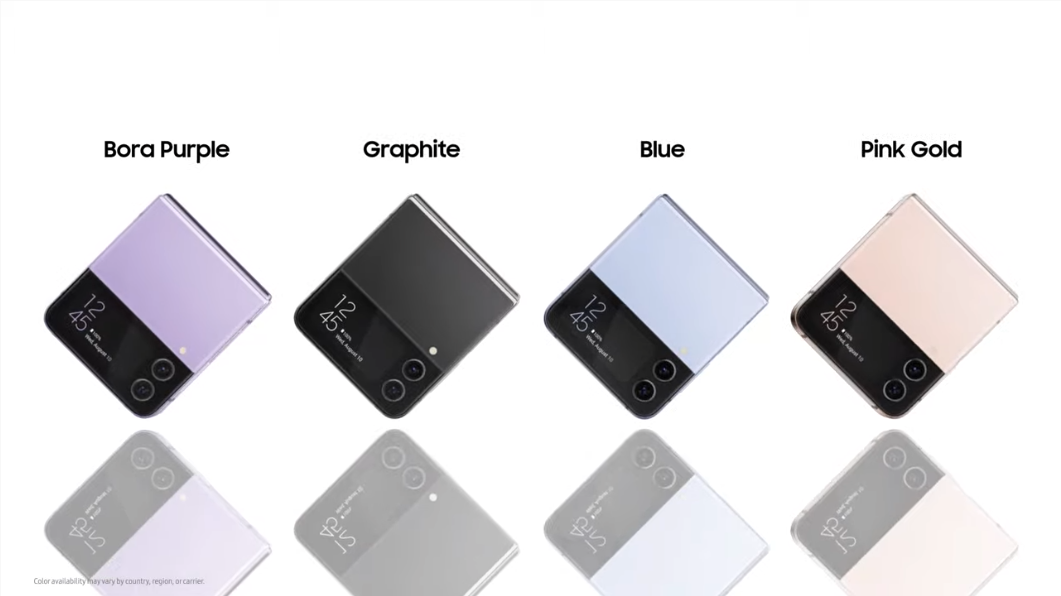 We get more on the Flip 4's cover screen and colors
Dillon says you can close the Flip to show people that you are fully engaged with them, while keeping a cheeky eye on the cover screen to see messages and notifications. Oh Dillon, you cheeky chappy.
Would that annoy me more as the person being talking too? Maybe.
That said, the Flip 4 did sound nice when he snapped it shut. That's a big plus for me. No, seriously.
We also get the 4 colours the Flip 4 is coming in, which are purple, graphite, blue and pink gold.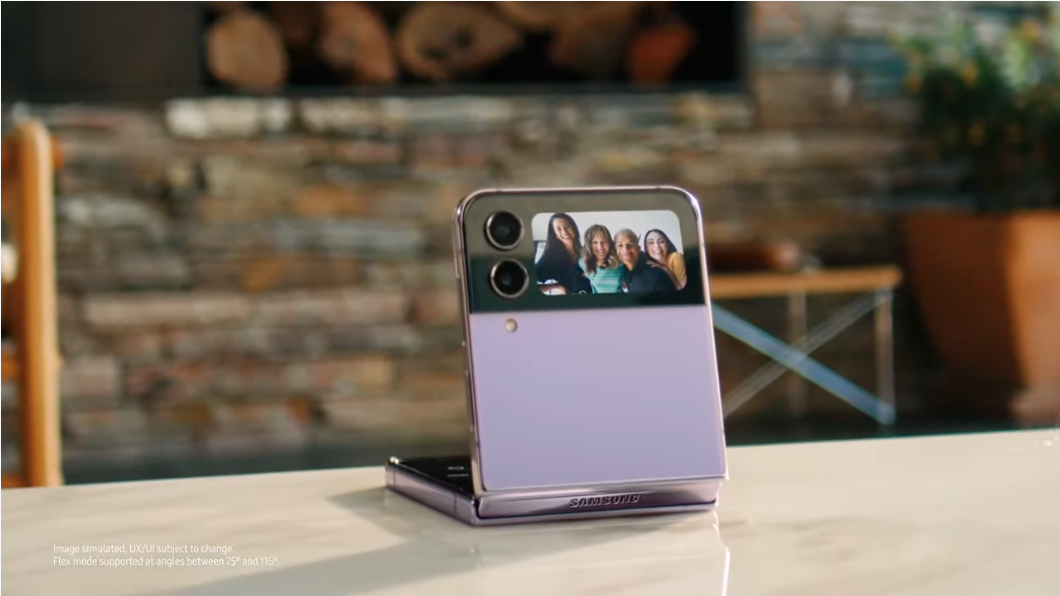 More new specs and customisation
We then get information on the Flip 4's aluminium frame, better battery life, slimmer hinge and water proof rating, which is the only in the world.
There's also tougher glass covering the folding screen.
Now we get some customisable stuff. Galaxy Z Flip 4 Bespoke Edition is a thing. As with the Flip 3, you can use this studio to design your own phone, choosing panel colors and frame colors.
Want an all white Flip 4, while you can. All gold? Yep. Technicolor? Yep.
Looks smart to me. 5 body colors and 3 frame colors confirmed for inside and outside of phone.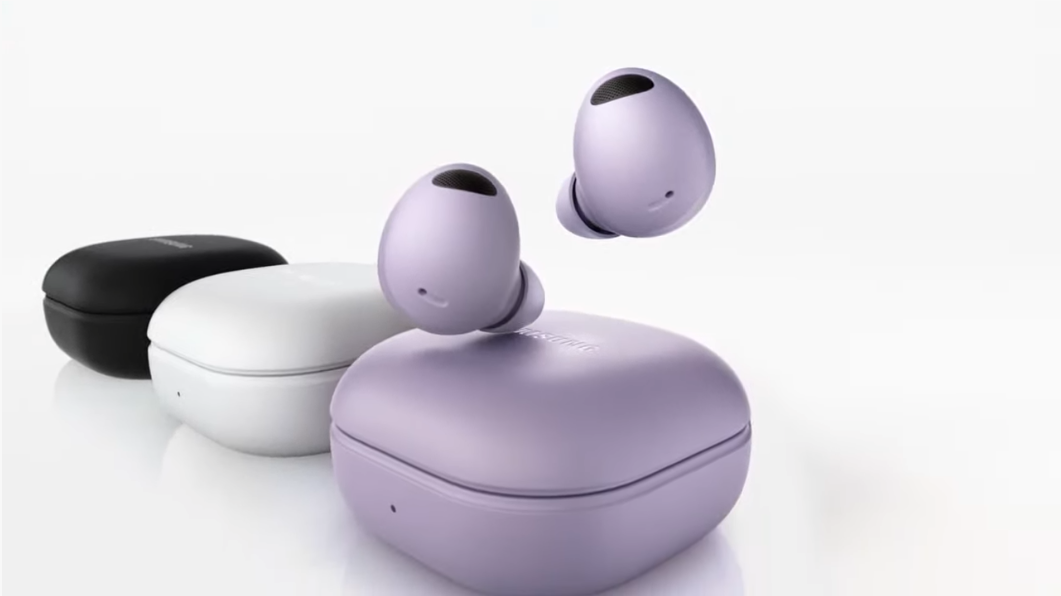 And now the Galaxy Buds 2 Pro are unveiled
Hi-fi 24-bit audio is the big thing Samsung talks about in terms of new features.
"A truly revolutionary sound experience" says Samsung.
This is delivered with Samsung's seamless codec and coaxial 2-way speaker. Improved intelligent 360 audio algorithm is also included.
There's ANC, voice detect technology, personalised beam forming, which is good for vlogging and calls, and later this year LE Audio is coming to the Buds 2 Pro.
The style of the Buds 2 Pro is very rounded, which I like. In the ear they look like smooth eggs. They feature a new design that is more comfortable.
Buds 2 Pro can pair easily with all Samsung devices, including Samsung TVs, and the Buds 2 Pro can seamlessly switch between two devices, if you're splitting audio sources.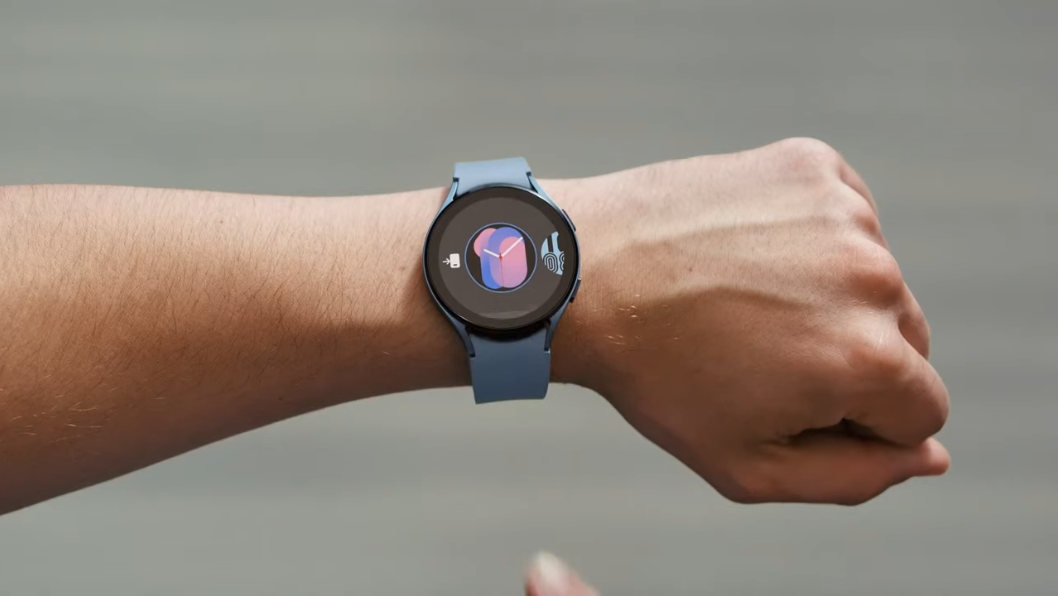 Samsung Galaxy Watch 5 is up next
The Watch 5 comes in a long thin box. Great, I guess.
You can personalise your Watch 5 face and it comes in two sizes and four colors.
The Watch 5 is coated with a sapphire screen, and has an advanced workout algorithm.
It's also got sleep tracking technology, including detecting blood oxygen levels and heart rate, as well as snoring.
An increased base surface area means more accurate body readings.
"The Galaxy Watch 5 is all about you."
And now we're hearing about a new temperature sensor in the Watch 5. Kim returns to explain.
Infrared temperature sensor is the magic new tech. It's about delivering more accurate readings, but Samsung doesn't exactly explain what it does.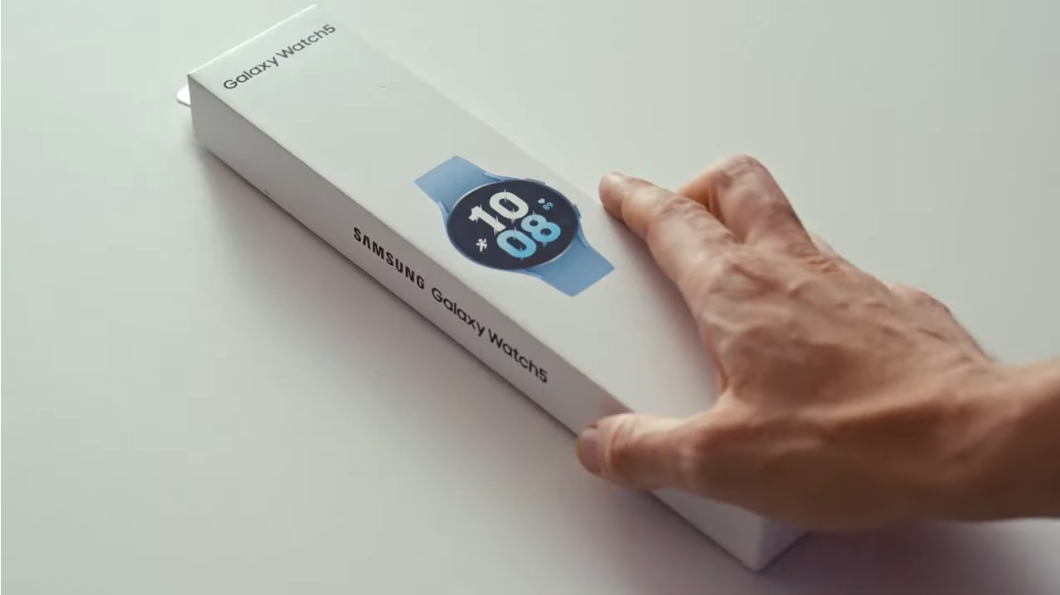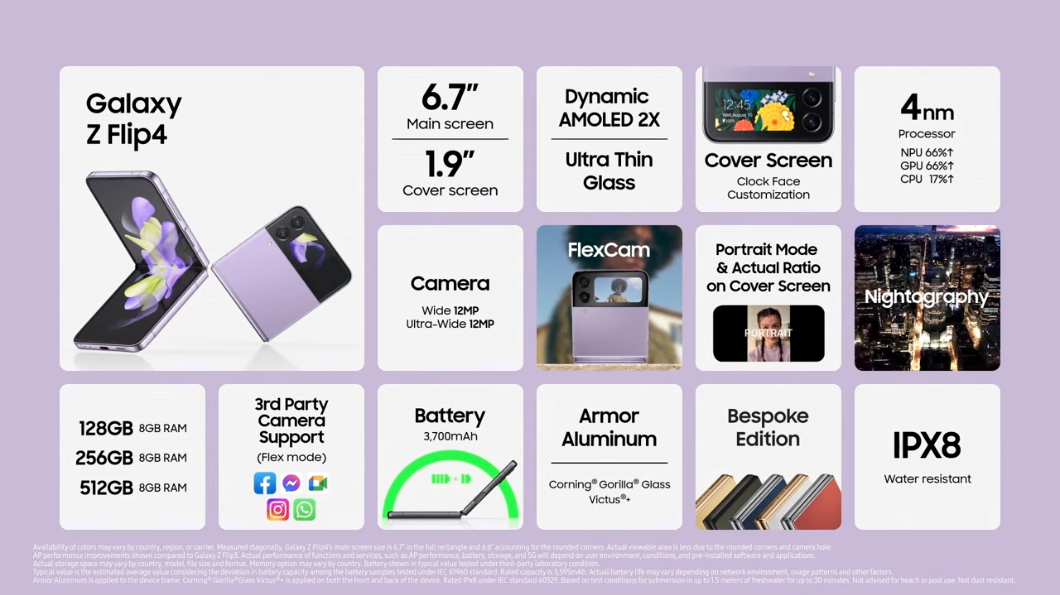 We now get prices for all these devices
Kim rapidly talks about privacy and Samsung Knox, before dropping information on the pricing for these devices.
The Galaxy Flip 4 will start at $999 dollars.
And the Galaxy Buds 2 Pro will retail for $229.
Finally, the Galaxy Watch 5 will start at $279.
The Galaxy Z Flip4, Galaxy Z Fold4 and Galaxy Buds2 Pro will be available for pre-order beginning 10th August and will be released from 26th August.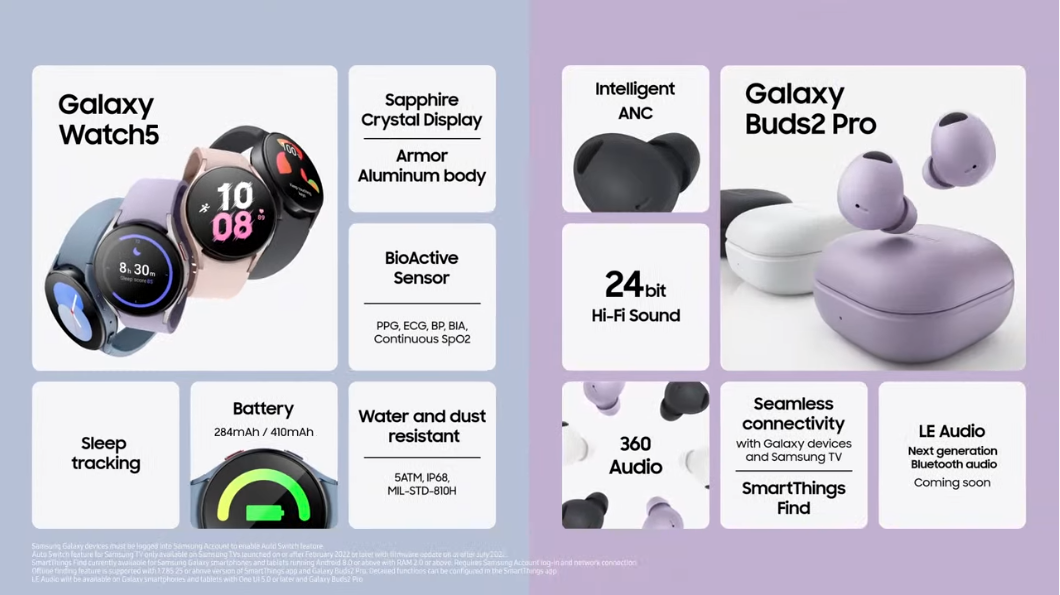 We then get some information on Samsung's sustainability efforts, which include reducing 10,000 tons of carbon emissions, and using recycled materials in packaging, among more.
It's all great for the planet. I am all for that, but let's get back to the good stuff, eh?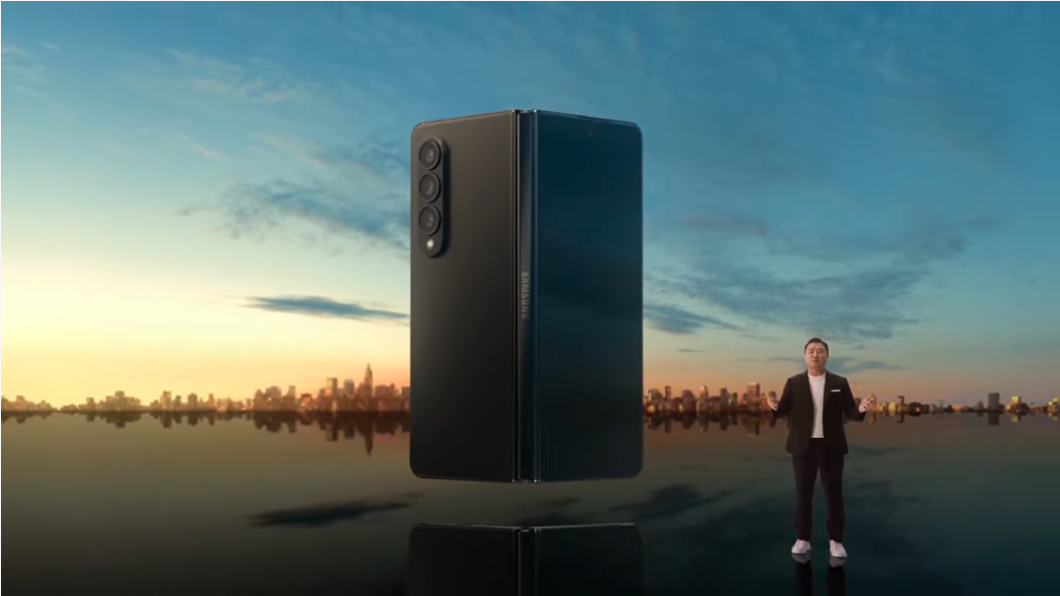 TM Roh returns to talk about "innovation with compromise", and then the Z Fold 4 is unveiled
"Foldables for the mainstream" is a phrase used, which is music to my ears.
Are we about to get the Z Fold 4 announcement?
Yes, yes we are!
The Z Fold 4 drops in behind Roh, which is "the greatest foldable phone the world has ever seen" according to Roh.
A flash video shows the phone off from every angle, including it broken down in a teardown. We get a feely goody story about Samsung engineers pushing the boundaries of what is possible.
Then get details on the updates this year.
Hinge first. Gears were used in past versions of the Fold, but gears are now gone, with a new rotational system. This means the hinge is slimmer and the phone is slimmer and lighter, too.
It's the slimmest and lightest fold yet.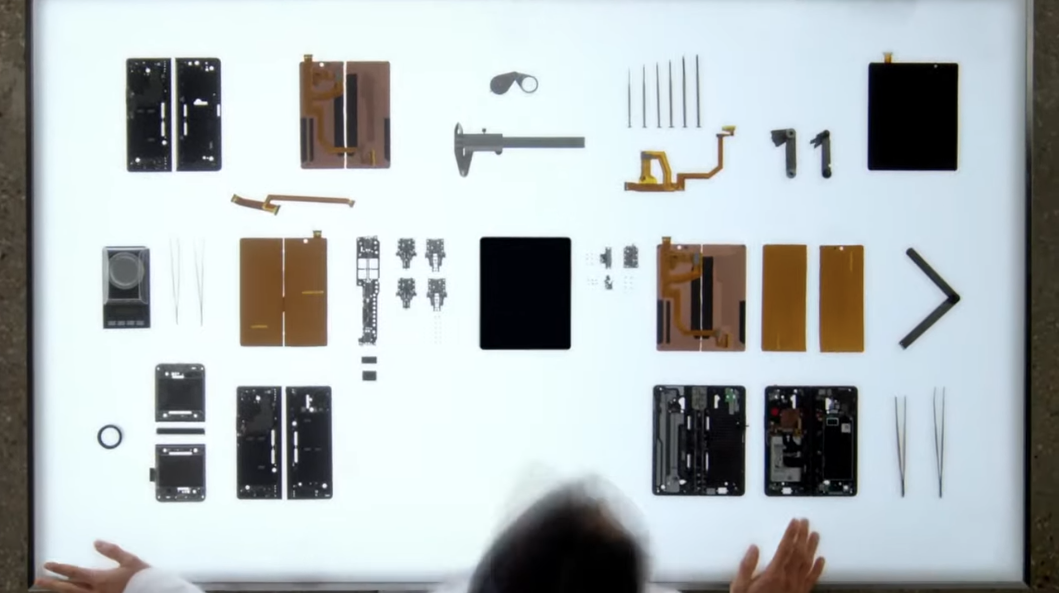 Now it's onto the display.
It's made up of multiple layers.
To make the Fold 4 lighter the display has been redesigned, and a metal layer has been removed. Samsung has then strengthened the other layers to maintain stability. Sponges are used, too! The material of the sponges has been improved too.
Wow, improved sponges!
Seriously, though, a thinner and lighter Fold 4 is music to my ears. Those two things were on my wish list.
There's thinner bezels, too, and an improved under display selfie camera as well. We'd reported on that previously, so it's good to see it happen.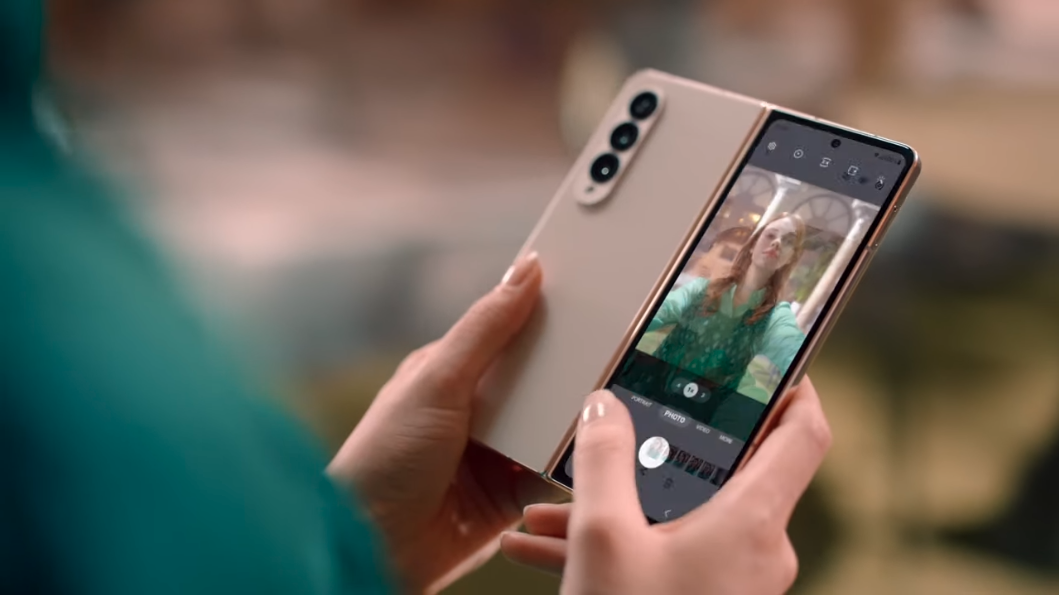 One UI 4 and Android 12L are then run through by Camille Bernal
Multi-tasking is big focus. Z Fold 4 comes in here, apparently.
Taskbar is new and designed for multitasking. You can pin most used apps to the taskbar.
Microsoft's productivity suite is designed for Fold 4. Everything can be done without a PC, apparently, when you own a Fold 4.
Shortcuts can also be added to the taskbar.
Using an S-Pen digital stylus, you can draw and write directly in email on Fold 4, and in Samsung Notes.
Microsoft Teams handsfree on the Fold 4 is also show.
Now onto cameras
50MP wide-angle lens is the main snapper. Better night time pictures are 23 per cent brighter, too.
Zoom has been improved, too.
The cover screen is mentioned again in relation to seeing your pictures instantly.
Oh, no TikTok has been optimised for the Fold 4. Well, I guess the kids will like that.
"The Fold 4 gives us the freedom to socialise as we want", says Camille.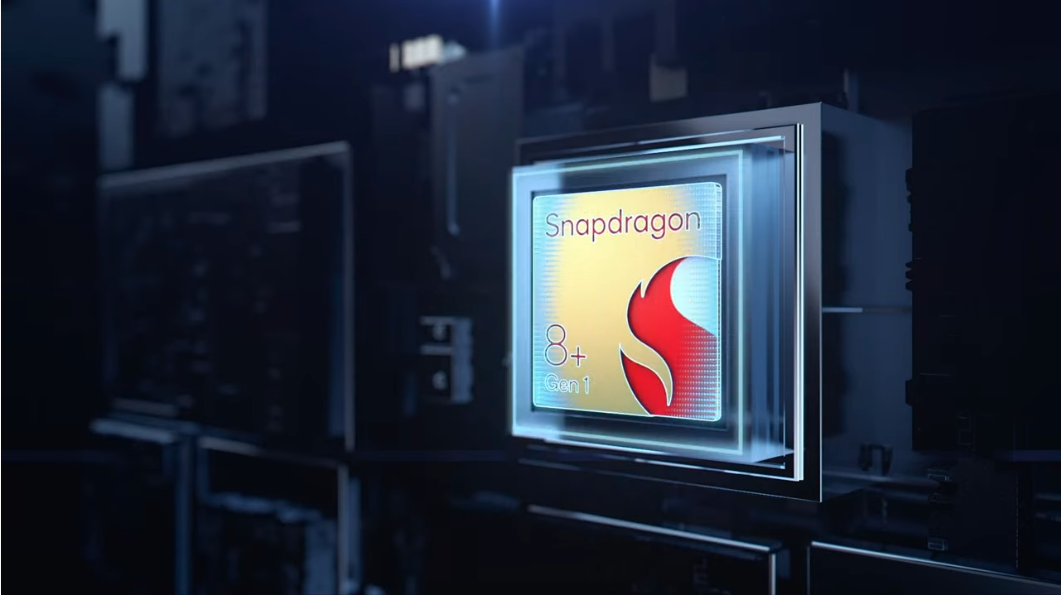 Snapdragon 8+ Gen 1 is at the heart of the Fold 4
Qualcomm's flagship Snapdragon 8 Gen 1 is revealed to power the Galaxy Fold 4. That's great news, as the previous Qualcomm chip wasn't up to scratch.
With that power you can play games on your Fold 4, apparently, to the maximum, with high framerates and resolutions.
Hopefully we see some benchmark scores back this performance up.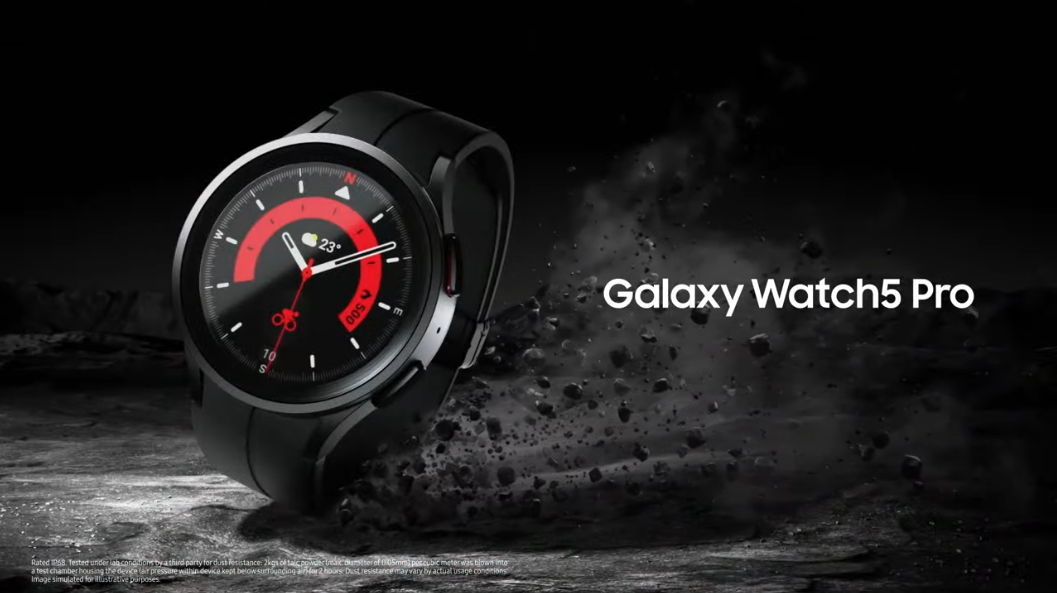 Samsung Galaxy Watch 5 Pro is also now revealed
We knew it was coming based on leaks, and now here it is.
This is the extreme new version of the Galaxy Watch 5, and it gets its own loud and epic intro video.
It's like watching a Hollywood movie trailer!
A wide selection of watch faces for outdoor workouts, is a big focus.
An all new route workout experience is also a feature.
You can sync GPS routes with your friends, too.
People doing extreme outdoor sports are shown, such as off-road mountain biking.
A 590mAh battery is boasted. That does sound big!
As 2 x harder Sapphire display, too.
The Watch 5 Pro has a titanium frame as well. Grrr... it's a watch for extreme folks.
And can be bought in Black and Grey Titanium colorways.
It's coming on August 26th and cost $449.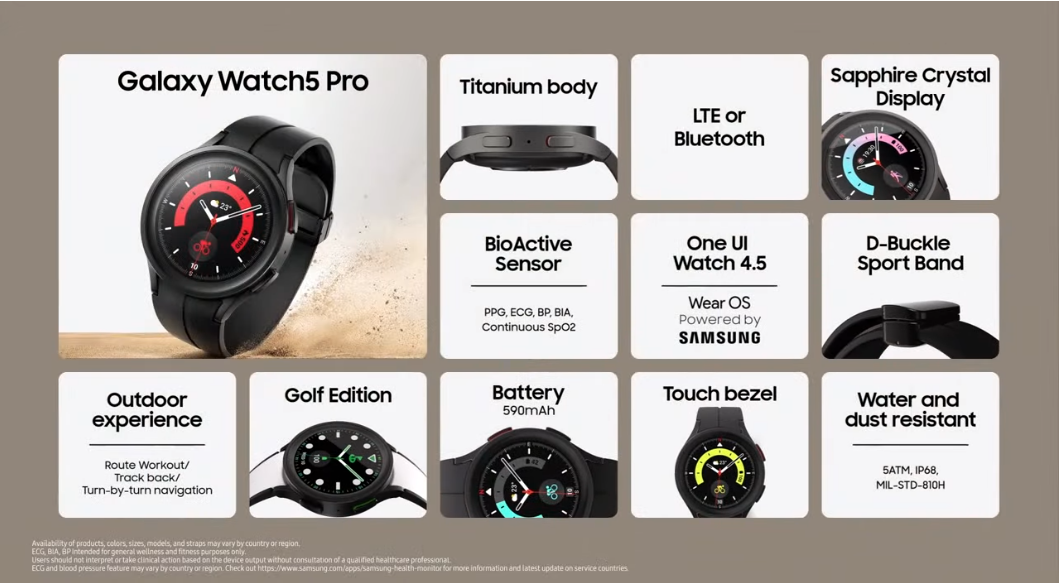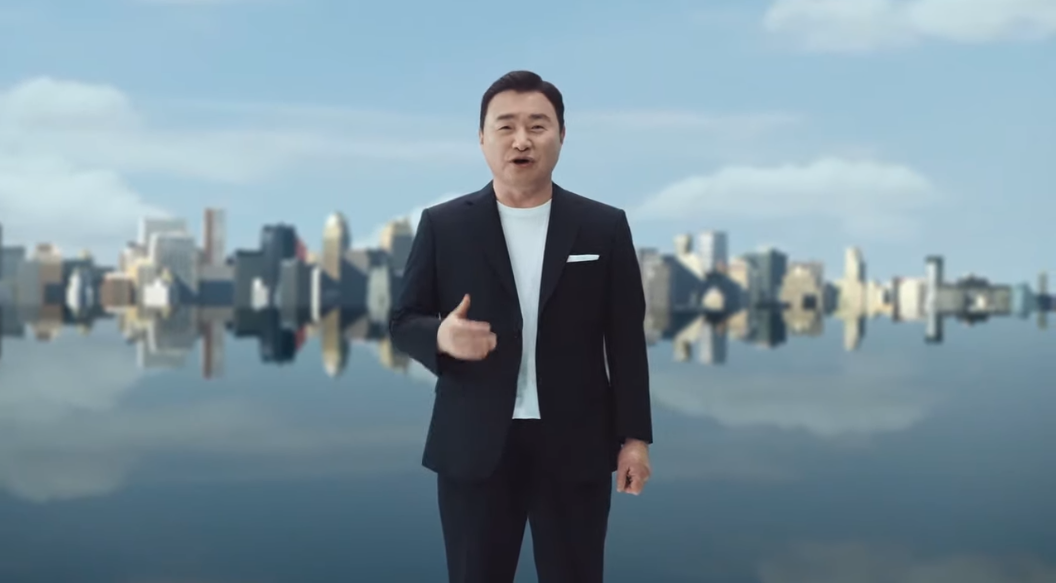 TM Roh now wraps up the show
He thanks Samsung's partners and then thanks all of us.
We are Samsung's inspiration, Roh confirms.
"Life opens up with Galaxy" is the closing statement.
And... that's the show.
Follow up events are being held in New York and London, so if you're in town swing by.
Ok, I'll try my best to wrap everything we've learned now into a concise format. Give me a moment.
Everything that was announced at Samsung Unpacked
Here's everything that was announced at Samsung Unpacked, along with key information about pricing and availability.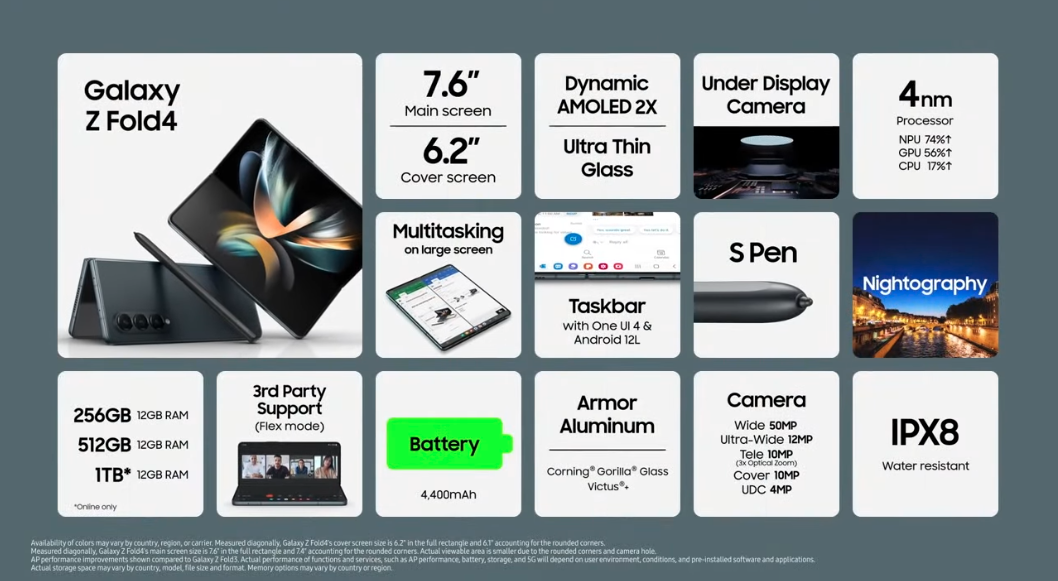 Samsung Galaxy Z Fold 4 – Samsung's new tablet-phone hybrid is here and offers a thinner and lighter design, a bigger battery and improved cameras.
Pricing: 256GB, starting at $1799 / £1,649
Release date: August 26th, 2022.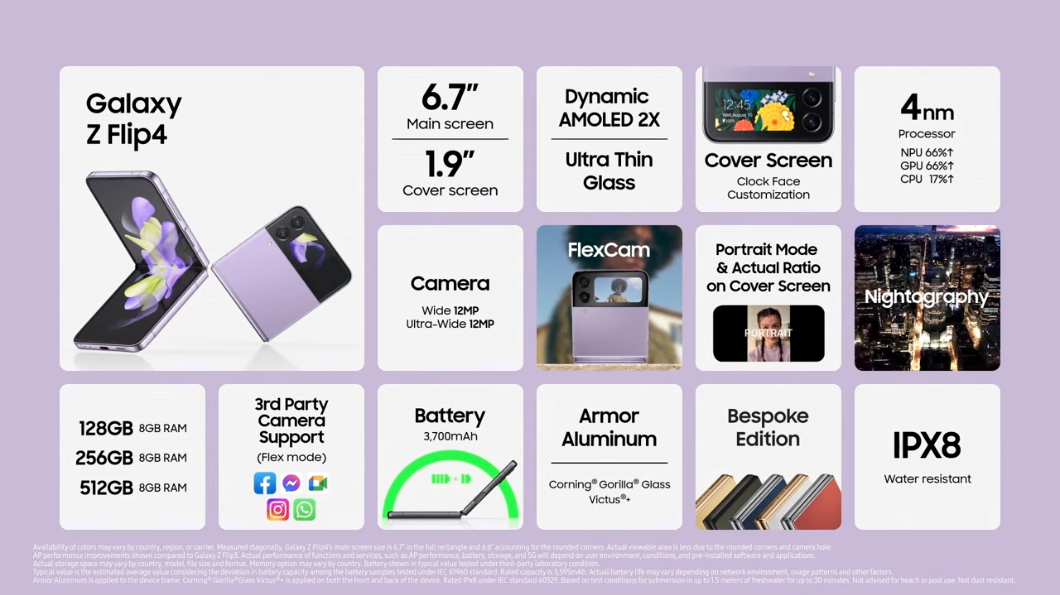 Samsung Galaxy Z Flip 4 – The new compact phone is here and comes with a bigger battery, strong screen, better cameras and expanded Bespoke Edition options.
Pricing: 128GB, starting at $999 / £999
Release date: August 26th, 2022.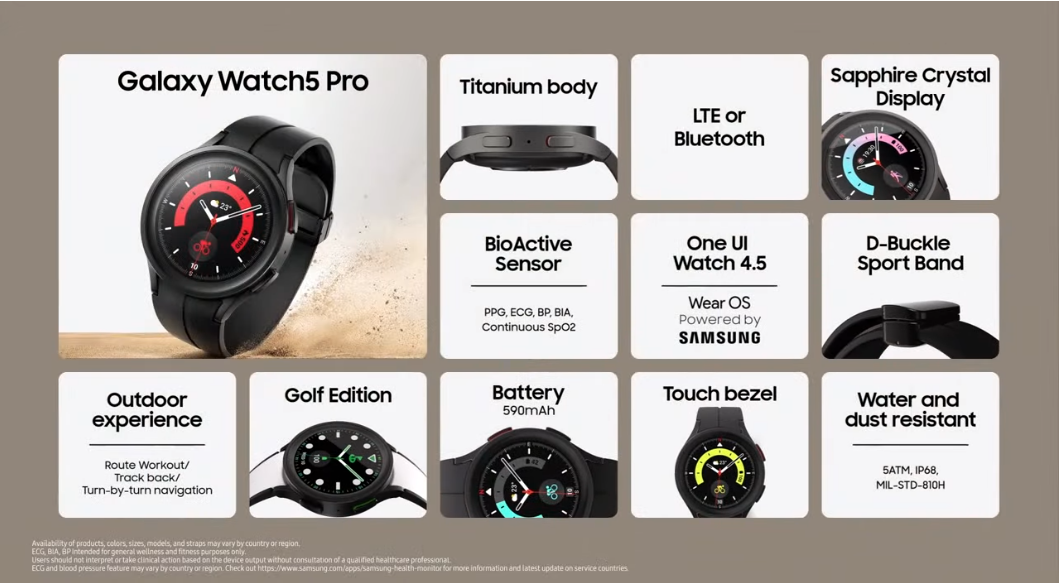 Samsung Galaxy Watch 5 Pro – This is the extreme new version in the Galaxy Watch line, and includes advanced workout modes and tracking, a big battery and a really tough Sapphire display.
Pricing: starting at $449.99 / £429
Release date: August 26th, 2022.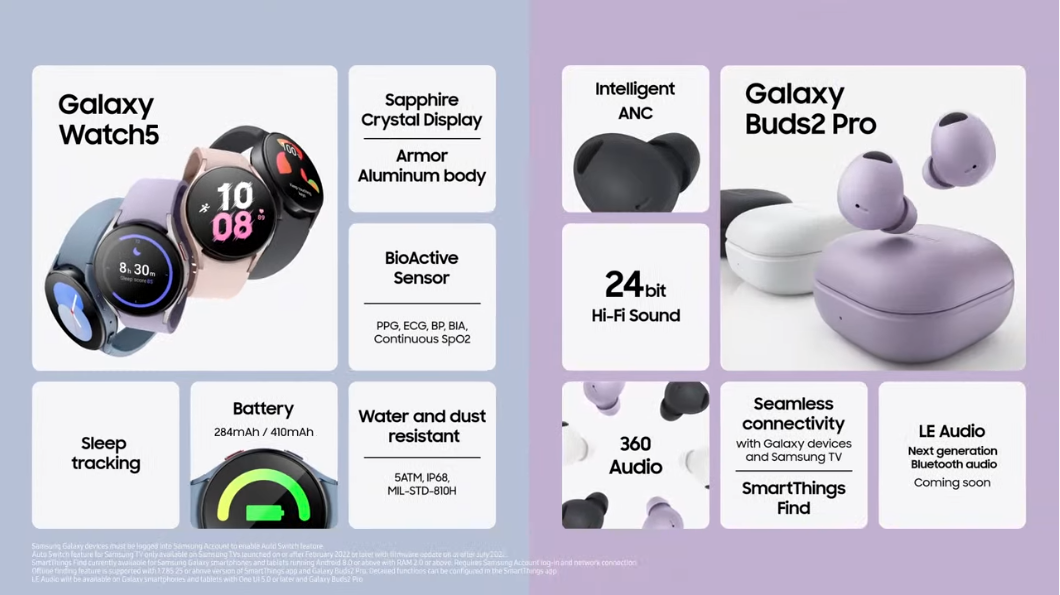 Samsung Galaxy Watch 5 – The new Galaxy Watch wearable is here, with the Watch 5 coming in two sizes and four colorways. It has a bigger battery than Watch 4, and boasts a BioActive Sensor, Sapphire Crystal Display and aluminium body.
Pricing: starting at $279 / £269
Release date: August 26th, 2022.
Samsung Galaxy Buds 2 Pro – The new Galaxy Buds 2 Pro are Samsung's new top true wireless buds, and offer intelligent ANC, 24-bit Hi-Fi sound, 360 audio and, later in the year, LE Audio.
Pricing: $229 / £219
Release date: August 26th, 2022.