Discover our pick of the best 2023 Amazon Prime Day deals
If you hate shaving, or just simply find it annoying to keep on top of, then I would seriously recommend getting an IPL machine. Whoever invented them completely knew what they were doing - it's a wonderfully easy and convenient solution to making sure your body remains hair-free. Whilst it isn't a permanent solution to hair removal, you can usually go for about a month before the odd touch-up is required! Ideal, right?
Get the Philips Lumea IPL Hair Removal 8000 Series for just £289.99!
Whilst it works similarly to a laser hair removal machine, known for being ridiculously expensive, IPL stands for 'intense pulsed light'. It instead uses different wavelengths to target pigment within the hair, heating them to a level which kills the growing cells and ultimately eradicating the hair altogether.
An IPL machine can be used every two weeks until skin is smooth and hair-free. However, it must be noted that because of the way IPL works (targeting dark hair), it's not effective on red, light blonde or white/grey hair. Nor is it suitable for dark skin.
After those initial treatments, and the hair is gone, you simply top up every four to eight weeks to stop the hair from growing back. I think it's absolutely fantastic, and let me tell you a secret, Philips IPL's take up 3 of the top 10 positions in the best IPL machines 2023 buying guide. I told you!
The Philips Lumea IPL 8000 series is specifically designed to reduce 92% of body hair in as little as 3 treatments and covering both lower legs should only take about 8.5 minutes each time. I think absolutely fantastic,
It comes with 2 smart curved attachments, designed for the body and face, as well as a useful storage pouch. The face attachment has a flat design and small window with UV filter. The body attachment is curved inward with a larger window.
One exciting thing about the Philips Lumea IPL device is that it comes with a free coaching app, which features personalised treatment programs, adaptive scheduling and tips and tricks to make it even easier to stick to the treatment plan and get the best results. Yep you heard that right, personalised hair removal.
For Amazon Prime Day, the Philips Lumea IPL Hair Removal 8000 Series has been reduced to an impressive £289.99, originally priced at £449.99. That's a massive saving of £160 and 36%! Especially if you think about how much you would spend on waxing sessions or disposable razors over the years.
Have a look: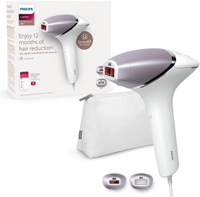 Philips Lumea IPL Hair Removal 8000 Series: was £449.99, now £289.99 at Amazon (save £160)
Save 36% with the Philips Lumea IPL Hair Removal 8000 Series. With specialised personalised hair removal technology, it's an offer you cant refuse!
Still contemplating? Have a read about the differences between IPL and an epilator.